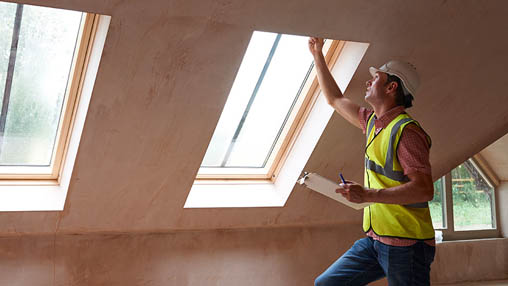 Tell me more!
I'm looking to …
Earn cash back
after close!
With Home Connect, you could earn $350 to $9,500 cash back after close.
Many of us have heard scary stories about new homeowners dealing with costly and even dangerous home repairs that they did not expect. From leaky septic tanks and radon gas, to moldy walls and things that freeze in the night, here are our home inspection horror stories, and how to avoid them.
"The builder fixed up the problems visually and repainted to make it look like nothing had happened, when in reality the whole house was covered in mold."
One way to prevent your own horror story is by paying careful attention to the home inspection process. Getting a thorough, objective assessment of your potential new home's condition is a powerful way to protect one of the largest investments you will ever make.
The Wet, the Bad, and the Moldy: Home Inspection Horror Stories
A home that looks great initially can be hiding untold horrors under the surface. From plumbing problems to failing furnaces, there is a lot that can go wrong that might go unnoticed at first glance. Keller Williams' Richard Powell has seen his share of both fantastic and frightening home inspection findings.
My worst home inspection horror story was back in late 2010; we had a couple who wanted something eclectic had been looking at homes for a few months at this point. We found a home that they fell in love with, wrote the offer, and got into escrow right before Thanksgiving. We scheduled the inspection for the morning of Black Friday (which turned out to be an ironically accurate label for the day) and I met the inspector at about 10am at the property.
In California, most agents perform a visual inspection and complete a form that records their observations. The inspector we used at the time had done about 30 inspections for us at this point and we had a good rapport during these inspections. He started in the attic and after about 20 minutes called down from the second floor and says, "Richard, I don't think you want your clients buying this home." He has never said anything like that before, but I had trusted him to make the right call and show me why he thought so.
He started by pointing out the hardwood floors on the second level were cupping (curling up at the sides of each plank). He said he noticed that the plumbing was black ABS pipe that was notorious for leaking. He also noted the furnace had been recalled due to the firebox welds failing and allowing flames to escape out into the attic.
He also suggested that I grab a screwdriver and pull the wall plate for the TV cable and look to see what kind of condition the drywall was in; I did that and when we shined a flashlight into the wall cavity, it was shiny inside. It was so wet you could push a screwdriver through the drywall with almost no effort.
Needless to say, I agreed with his conclusion, we stopped the inspection and I went to call my clients who were driving up from San Diego where they had spent Thanksgiving with family. They were, of course, devastated by the news. The home truly checked off a lot of the boxes they wanted and they didn't want to cancel.
I got the Home Inspector on speaker phone and we walked them through estimates of what it would cost to repair the damage, remediate the mold, and replace the HVAC and plumbing. Needless to say, even before they saw how bad it was, they agreed to cancel the escrow. Not the holiday weekend any of us were anticipating, but we definitely kept them from buying a money pit that would have driven them into bankruptcy.
Environmental testing expert, Robert Weitz is a microbial investigator and principal at RTK Environmental Group, a leader in the industry of testing for mold, lead, asbestos, VOCs, water, soil, radon, and overall indoor air quality. He helps homeowners and commercial property owners by assessing environmental conditions, identifying the causes of any issues, and explaining the best ways to fix any problems. He was able to use his knowledge and tools to save potential home buyers from a truly scary situation.
I had one situation that didn't turn into a horror story because we went in and did mold testing. A couple was looking to purchase a home that had been renovated by a builder. It looked pristine, but had a musty smell. When the mold tests came back, the mold spore count was through the roof.
What they didn't know is that the builder had let time elapse during the renovation, and rain soaked through all three floors of the house, causing a mold infestation. The builder fixed up the problems visually and repainted to make it look like nothing had happened, when in reality the whole house was covered in mold. The couple walked away from the sale and is lucky they did. It cost the builder over $100,000 to gut and replace the mold-damaged materials. Had they not opted for an environmental inspection, they would have had that bill in their lap after purchase.
Finding a Trustworthy Home Inspector
For many homebuyers, the central thing guiding them towards making a great investment (or warning them away from making a terrible mistake) is their home inspection report. With so much counting on your home inspector, it's worth taking the time to make sure that you find the right one.
Earl White is the co-founder and vice president of House Heroes LLC, an investment company that specializes in buying property for residential fix-and-flips, rentals, and construction projects. White relies on home inspectors, and often faces the challenge of needing to find a trustworthy inspector in a far away area where he does not have established contacts. Here is how he solves that problem.
Referrals from local real estate professionals are an excellent way to identify a suitable inspector. An experienced real estate agent likely has a list of home inspectors that assisted the agent's prior clients. Even if you're not working with an agent, don't be shy about calling a brokerage. They won't hesitate to make a referral to an inspector with hopes of either earning your business or a referral to the agent in the future.
Nick Gromicko is the founder of InterNACHI, the International Association of Certified Home Inspectors with almost 23,000 members throughout North America. In addition, he serves as Executive Director of the Master Inspector Certification Board, which approves qualifying inspectors for the designation of Certified Master Inspector. Here is his advice for finding an honest, trustworthy home inspector.
If you are worried about the home inspector your real estate agent recommended, do this: Hire a home inspector from a nearby town and offer that home inspector a little extra for travel. That home inspector likely doesn't want future referrals from your real estate agent, and probably doesn't even know your real estate agent. In addition, use only home inspectors who participate in the "We'll Buy Your Home Back" Guarantee. That way, you have 90 days after closing to test-drive your home.
Third generation real estate broker Richard Powell is a Broker-Associate and Team Lead for Powell Fine Homes Group at Keller Williams Realty in California. Having sold homes in the Conejo, Simi and San Fernando Valleys since 2004, Powell has worked with many home inspectors and shares his tips for finding an inspector with up-to-date knowledge.
There are professional trade organizations that they should belong to ... [H]ere in California there is a statewide association called California Real Estate Inspection Association (CREIA). They have continuing education, hold seminars to keep inspectors current with code changes, and share emerging trends with equipment failures and the like.
What to Look For During a Home Inspection
Even experienced, skilled home inspectors can occasionally miss potential problems, so it is worthwhile for homebuyers to take their own careful look at any property they are interested in!
Not sure where to start? J.B. Sassano led the operations team for a year before becoming president of Mr. Handyman International. Mr. Handyman refers locally-owned home repair franchises that employ professional technicians, each with an average of 10 years experience. Here is Sassano's list of important areas that every homebuyer should check in order to prevent expensive repairs later on.
Gutters: When gutters leak because of significant cracks or the seams coming apart – from wood rot, mildew and peeling paint from siding – it is usually a result of excess moisture. In the winter, clogged gutters can lead to ice dams. Ice dams can occur when warm air inside your attic warms the underside of the roof. This causes snow/ice to melt and refreeze. Clogged gutters create pockets where refreezing can damage the roof.
Windows: Window leaks are one of the top contributors to poor energy efficiency! For simpler air leaks, check the exterior caulk once a year to make sure you prevent air from escaping. If the room's temperature is warmer in the summer and cooler in the winter, blocking gaps with caulk is an inexpensive repair.
Have you noticed mildew or spongy wood on the windowsill inside your home? This could be a sign that a leak is allowing moisture in from outdoors or perhaps the humidity is set too high inside your home. You want to protect window sills made of wood before they begin to rot, which can be a more extensive and expensive repair.
Doors: Did you know that a 1/8 inch gap under your door can lead to the same heat loss—and higher energy bills you'd get if a three-inch hole was drilled into the side of your home? Natural light, dust and debris near the bottom of the door or feeling a draft are simple indications that you have a leak.
Check decks for wood rot: Wood decks deteriorate over time due to temperature changes, moisture and lack of maintenance. Telltale signs of wooden deck damage include:
Loose, soft or cracked deck boards, railing or spindles
Deck boards that feel "spongy" or bow when you walk on them
Handrails should feel secure and not wobble. Check for popped nails.
Check deck posts for signs of wood rot along the bottom. Push a screwdriver into any areas to test for softness. If the screwdriver enters the wood easily, the wood needs to be replaced.
There should not be any gaps between the deck and the house.
The home inspection process is not limited to a single inspection, or even a single type of inspector. Homeowners can bring in multiple, specialized experts to check on potential issues ranging from plumbing to chimneys to termites. One type of inspection that some homeowners may be unaware of is environmental testing. Weitz explains that environmental testing has great value for homebuyers (and even home sellers, but it does require special expertise to interpret the results correctly).
Some home inspectors are able to do environmental testing. However, most home inspectors lack the knowledge and certifications necessary to test for potentially toxic substances. A home inspector may point out what looks like a danger, but you must be properly trained and licensed at a local and federal level to test for things like lead and asbestos.
Some home inspectors will test for mold, but are untrained and don't know how to read the results. We've had many people call us to interpret reports from home inspectors who tested for mold and didn't know what the results meant. The best advice is to ask your home inspector what they are licensed to test for and what their certifications are.
Most often, the future homebuyer will pay for environmental testing because it's their health and money on the line. However, in recent years, we have seen a rise in home sellers investing in environmental testing. This is a very smart move, because it allows sellers to identify issues before the home goes on the market, which can help to sell the home faster and avoid costly rush charges to have last-minute issues fixed before the closing.
If environmental issues are found prior to going to contract, the seller may take care of them without a deadline looming over their head. It can also prevent hiccups in negotiations and a buyer potentially walking away from the sale.
Earl White shares two other special inspection items that he looks for: permits and septic tank inspections.
We are a real estate investment company the purchases houses as either rentals or fix-and-flip projects. Normally we're in the process of acquiring or selling 12 houses at a time. Since we primarily buy fix-and-flips (that pretty much always need lots of work), our inspections are very detailed. Two things we are vigilant with are the failure to produce permits and septic tank inspections.
Homeowners often renovate houses just before selling. Ask about permitting for any notable upgrades. If the seller hesitates, there is a good chance they didn't obtain city approval or the work isn't up to code. You could lose out on other opportunities if you are tied up for months while a seller scrambles to get permits (which might never be approved). If work wasn't permitted before the sale, proceed with caution.
Many homebuyers don't pay enough attention to septic tanks. Since septic tanks are underground, it is often an "out of sight, out of mind" situation. Make sure to tell your inspector the house is on a septic system and to carefully [check] it.
A Safe and Easy Home Buying Process
Buying a home can be scary for many reasons, but with the right home inspection, you should only have to clean out your storage area and conflicts over paint colors. You can count on tools like environmental testing and specialized inspections to keep you and your loved ones safe in your new home. If you are ready to make your home buying process a treat (with no tricks) begin your online application, or contact a Pennymac Loan Officer today.
The views, information, or opinions expressed in this blog do not necessarily represent those of PennyMac Loan Services, LLC and its employees.
Share
Categories