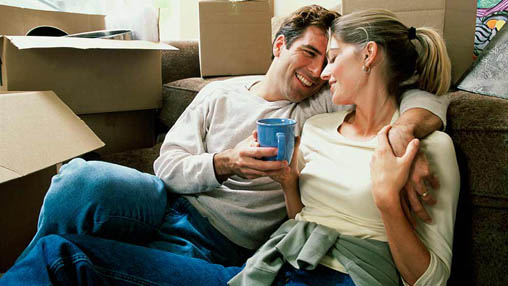 Tell me more!
I'm looking to …
Earn cash back
after close!
With Home Connect, you could earn $350 to $9,500 cash back after close.
Buying your first home can be one of the most rewarding investments you will make in your lifetime. But the experience can quickly turn sour if you're not financially—and emotionally—prepared. While it can be easy to get caught up in excitement of finding your dream home and ditching the landlord, it's critical to consider whether you're truly ready for the responsibilities of homeownership.
Renting can often feel like a vicious cycle but committing to a mortgage you can't afford can just as easily put you between a rock and a hard place. Long before you talk with a lender about your mortgage options, you need to get a 360-degree of your finances and determine if your lifestyle fits the profile of a homeowner.
Let's take a closer look at whether buying a home is right for you.
Do a Financial Reality Check
To determine if you're truly ready to buy a home, you'll need to take a very close look at your credit score, Debt-to-Income (DTI) ratio, savings and income and gauge whether you can actually afford to take on a mortgage. The last thing you want to be left with is buyer's remorse.
Your biggest homeownership readiness indicator is the health of your finances. While loan programs exist that help a wider range of borrowers, such as the FHA loan program, having a credit score of 700 or higher ensures you get the best mortgage interest rates and loan terms.
You will also need to prove that you have the verified income to cover your mortgage costs. Your lender will require you to submit various documents, such as pay stubs and W-2s, to help show that you have the financial means to cover the costs of your new home.
Whether you work full- or part-time won't matter as long as your credit score and debt-to-income ratio meet the lending guidelines. Most lenders like to see a maximum debt-to-income ratio of between 43% and 50%.
The employment verification process get a bit more complicated if you are a freelancer or self-employed, however. While it's not impossible to obtain a mortgage, there are additional steps that need to be taken to get approved.
How Long Do You Plan to Live in Your Home?
If you're a renter, you have the flexibility of moving on a moment's notice—with few strings attached. Unfortunately, the same is not true when you are a homeowner. In fact, you could lose a lot of money if you choose to leave too soon.
That's why it's important to assess how long you plan to live in your home. Typically, mortgage experts suggest a person lives in their home for at least six years. The reason has less to do with convenience, and more to do with allowing you to reap a return on your investment.
When you buy a home, you are on the line for various closing costs—which can range anywhere from 3-5% of your home's value or more. In addition, staying in your home longer gives you the chance to start paying down your principal balance, which ultimately makes your mortgage payment a better deal than paying rent.
Ultimately, you'll want to do your own calculations, comparing the total cost of the mortgage (including closing costs) against the cost of renting in your area, to determine how long you would need to stay in your home.
Gauging Your Price-to-Rent Ratio
According to recent research, the average renter shells out 30% of their monthly income for rent. A homeowner, on the other hand, spends just 15%. While the math seems clear, your personal lifestyle will dictate your optimal housing situation.
A helpful tool to determine whether to buy or rent is the Price-to-Rent ratio. This simple calculation provides a ballpark figure that can help determine which route makes the most financial sense.
The Price-to-Rent ratio compares the cost of renting vs. buying by dividing the asking price of a home by the average annual rent cost of a similar property, e.g.
Asking Price of the House ÷ Your Annual Rent = The Price-to-Rent ratio
The calculation takes into account all of the costs associated with buying a home, including closing costs, taxes, insurance, and other home expenses.
A rule-of-thumb for the industry is if the ratio is below 15, the housing market benefits buyers. If the ratio is above 20, however, the housing market favors renters. For example, let's imagine there are two condo units in the same building. One is for sale for $150,000, while the second until is available for rent at $12,000 a year. After dividing the price of the condo for sale by the annual costs of the condo for rent, your resulting ratio is 12.5 which indicates the time may be right to buy!
Learn more about the choice to rent vs. buy and the pros and cons of homeownership.
New Home, New Bills
If you've determined you will stay in your home beyond the breakeven horizon, then it's time to weigh the other costs of homeownership—beyond your monthly mortgage payment. Without careful planning, the sudden increase in monthly expenses can be jarring. A few new bills you may have to take on include:
Utilities
Home maintenance and repair
Yard upkeep
Insurance premiums
Property taxes
Condominium & HOA Fees
Utilities
Rental payments may cover utilities like cable, water, sewer, electricity, or garbage collection. But when you own a home, you are on the hook for paying all of these costs by yourself. If you want to get a good idea of what your new utility bills might be, you can always ask the current owner of the home you're interested in what they spend on average for utilities and services. You can also talk to utility companies for budget tips, or to see whether you qualify for any special discounts.
Home Maintenance & Repair
Paying the bills to keep the lights on is one thing; maintaining the structural integrity and beauty of your home is another. When you're a homeowner, performing regular maintenance to your house can help you avoid major repairs down the line. Projects such as cleaning your gutters and changing your furnace filters need to be done on a routine basis, and should be budgeted for. In addition, a sudden leaky roof, burst pipe or termite invasion can also set a homeowner's budget back, and may require outside help from professionals.
Yard Upkeep
Maintaining your home's curb appeal requires time—and money. They don't call homeowners weekend warriors for nothing! If you buy a home with a sizeable yard, you'll need to purchase various yard tools, like lawn mowers or snow blowers, to maintain upkeep. If you're too busy to keep up your yard on your own, you may want to consider hiring a landscaping professional who can help. Regardless, the costs will come out of your pocket.
Insurance Premiums
Your homeowners insurance policy, which is separate from mortgage insurance, is essential to protecting one of your biggest investments. Just like car or health insurance, your policy is a safeguard for you and your family in the event of natural disasters, theft or other unforeseen circumstances.
The cost of your policy depend on a number of risk factors, including:
Insurance replacement cost estimates
Property age and location
Regional geography (such as a flood or earthquake-prone zone)
Certain breeds of pets
Swimming pools, trampolines or other recreation equipment
Neighborhood crime activity
Poor home or yard maintenance
The average American pays between $300 and $1,000 in homeowner's costs each year. Keep in mind that some lenders may require you to pay the first year of homeowner's insurance upfront.
Property Taxes
As a homeowner, you are required to pay property taxes. Most often, your property taxes will be determined by multiplying your local tax rate by your home's appraised value. For example, if your home is worth $200,000 and your local tax rate is 1.5%, you'll have to pay $3,000 annually.
While you are paying your mortgage, your lender may collect a monthly payment for your property taxes and homeowners insurance, and place them into something called an impound account (AKA "escrow account"). This payment amount is based on an annual estimate, and will be paid by your lender on your behalf to the respective agencies when they come due.
Condominium & HOA Fees
If you purchase a home within a condominium or homeowners association (HOA), you will be required to pay a monthly or quarterly fee. Typically, an HOA fee pays for the upkeep of common areas on the condo's campus or grounds. An association fee, however, pays for the maintenance contained within a homeowner's own property (or their individual condo unit).
Association and HOA fees can range from a few hundred to a few thousand dollars each year, depending on the scope of services provided to residents.If your condo has plans for big projects—such as a new roof job or repaving a parking lot—you could be asked to contribute to its expense.
Long-Term Financial Benefits of Homeownership
Have you ever heard the phrase that "renting is just like throwing your money away?" When you make the decision to buy a home, each mortgage payment goes toward building your personal wealth rather than inflating your landlord's wallet. A few financial benefits of homeownership include:
Home equity
Tax reductions*
Establish credit
Access to loans
When you have home equity, it's almost like having a forced savings account. You can tap into equity to gain access to money through a cash-out refinance, for example, which can help you start a new business, pay for college tuition or finance a home renovation.
By the time you've paid off your mortgage, you will have built quite a nice nest egg, which you can apply toward investments or retirement, or turn into a rental property to create a passive stream of income.
Start Your Homebuying Journey Today
Owning a home has several advantages but it also comes with a lot of financial responsibility. Before you sign the deed on your new home, take the time to assess your budget and whether homeownership is right for you. Still not sure? Our Pennymac Loan Officers are always here to answer your questions and guide you through a happy homebuying experience.
*Consult a tax adviser for further information regarding the deductibility of interest and charges.
Share
Categories