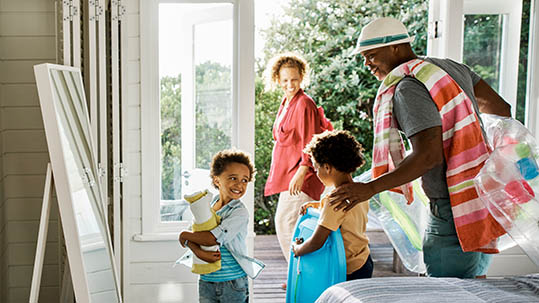 Investment Property Loans
A Home For Investments
Investing in a property is a great way to make passive income or provide a vacation home for your family. At Pennymac, it's our job to make your investment goals a reality by providing the right financing to get you started or cut costs from your bottom line.
Investing in a property? Here's why investment property loans are better with Pennymac:
Reduced origination fees on investment property loans
Variety of terms and products
Low rates
In-house servicing
What Is an Investment Property Loan?
Investment property loans are for a single-family, townhome, condo, or multi-unit property that has been purchased with the intention of earning a return on the investment, either through rental income, future resale or both.
For those interested in buying an investment property, Pennymac offers loans to fit unique investor needs. As an option, you may be able to use your current home equity to finance buying an additional property. Give us a call to see what your options are or apply online.
Why Property Investment?
Investing in a property or multiple properties can have its perks. While most people look at rental investments initially for the passive income, there's also the appreciation to look forward to in the long-term. In addition to monthly cash flow, there are also many tax benefits such as depreciation and a lower tax-rate for long-term profits.*
*Consult your tax advisor for more information and further eligibility requirements.
Who Is Eligible for an Investment Property Loan?
Are you ready for an investment property? While conventional loans are structured to make the loan experience simple for the borrower, investment loans require strong financial standing and healthy cash reserves. If you meet the qualifications below, there's a good chance that purchasing an investment property is the right choice for you and your family.
For an investment loan, a down payment is a must. For a single-family home, though it can be as little as a 15% down payment is required, but on a 2 - 4 unit property, it is as low as 25% down. If you're already in the property management game, you know that rental income can help you qualify, based upon the current rental market value.
Qualifying for an investment loan generally requires:
Good credit – the minimum FICO for investment loans with Pennymac should be in a good or an excellent score range, although depending on the loan type and terms, it may differ for your unique situation.
Cash reserves – at minimum it is best to have six months of cash reserves on hand, in addition to closing costs. However, there are different requirements based on your unique situation – the number of properties, aggregate unpaid balance, etc.
Minimum down payment can be as low as 15%– although typically about 20% is the minimum down payment required to eliminate the need for mortgage insurance
Debt-to-income – DTI, or the percentage of your income paid out to debts should be no more than 50%.
Proof of income – steady income must be shown. For the typical employee, this generally means providing pay stubs and W2s, while self-employed borrowers may also be required to provide two years of tax returns.
What Types of Investment Property Loans Are Available to Me?
Pennymac offers a number of different loans for investment properties, from fixed-rate loans to adjustable with a variety of term lengths. It is a good idea to first decide on a plan for your investment property. Do you want to renovate and sell quickly? Rent it for a passive income source? Something else? Here are the types of loans most typically used by people looking to purchase an investment property:
Conventional Bank Loan
This type of loan is typically the most common among both investors and homeowners. It's not government-backed but must follow all rules and guidelines set by Fannie Mae and Freddie Mac.
Applying for a conventional loan for an investment property is similar to applying for a conventional mortgage loan on your own home, but will have more rigorous qualifying standards. Your loan officer will want to ensure you can make payments on both your current mortgage and a second mortgage.
Home Equity Loan
You may be eligible for a home equity loan if you have an existing mortgage. A home equity loan allows you to take out a second mortgage by borrowing against your existing equity. You can usually borrow up to 80% of that equity. Qualifying is usually fairly simple as your lender will need verification of your home's value, your credit score, and your income.
However, we recommend a different loan option because of the inherent risk of a home equity loan. If you default on a home equity loan, the bank will take not only the investment property but your existing home as well.
Hard Money Loan
Some companies may offer a hard money loan. This type of loan bases approval more on the value of the investment property, and can be easier to obtain. A hard money loan can be a good option for people looking to flip an investment property.
If you are looking for a long-term investment property, however, hard money loans probably aren't the right choice for you. They are short-term loans (about a 3-year term) that usually come with high-interest rates.
It is important to note that Pennymac does not offer home equity loans or hard money loans.
Ultimately, what you do with the property will help determine what type of loan product may be suited to your needs. If your plan is to buy and rent the property, it may be best to choose a conventional mortgage.
If the intent is to use your property as a rental, you can calculate your expected income and then choose what term works best for you, from a 10-year to a 30-year. Just be sure that you can cover the payment if your property is vacant for a period of time. Talk to a loan officer to see what conventional loan options are available for you.
Popular Investment Property Types
Things to keep in Mind...
Type of Property
Single Family Home, Condo, Townhome, etc.
Why Buy
Invest in a long-term asset: Resale for a profit or use as a source of rental income.
Key Benefits
A down payment as low as 15% or higher is required

Can provide additional income
Things to keep in Mind...
State of the economy
Housing Inventory
Location
Maintenance and operating costs
Type of Property
Second Home/Vacation Home
Why Buy
Have a go-to relaxation spot or a second space

Over time the property should appreciate
Key Benefits
Only requires as low as 10% down.

Ability to enjoy a second living space/vacation spot anytime

Smaller upfront investment
Things to keep in Mind...
Annual upkeep and maintenance costs and time
Type of Property
Multi-Family Units (Duplex/Triplex, Apartment Buildings)
Why Buy
To invest in a long term asset

Additional income from tenants
Key Benefits
One loan - multiple units

Can be owner-occupied, with the other units generating sufficient income to cover all associated obligations.
Things to keep in Mind...
Larger down-payment required when compared to other property types
Maintenance and operating costs
Vacant units will have large impact on cash flow
Frequently Asked Investment Financing Questions
What types of investment properties are there?
Almost any home can be an investment property. Pennymac offers investment loans for single-family homes, townhomes, condos, or multi-units (up to 4 units ).
What is the difference between an income-producing and a non-income-producing real estate investment?
Almost any piece of property can be income-producing, if someone chooses to rent or lease it. The most common types of income-producing real estate include offices, retail spaces, industrial buildings, and leased residential homes. Each of these would be considered an investment because they are producing income for the owner. The owner can use the income generated by the tenant to help cover the costs of the property, including any mortgage payment for that property.
Non-income-producing real estate investments include the home you currently live in, or second homes that are not used as rentals. Because rent is not received on these properties, all the equity earned is through capital appreciation or through the paydown of any debt attached to the property. The owner must have sufficient income to cover any obligation associated with that property because there is no tenant to provide an income stream.
Why Choose Pennymac as Your Investment Property Lender?
As one of the top national lenders, Pennymac has earned a reputation for focusing on your unique needs with superior customer service. Whether you're a first-time investor or you manage several properties, choosing the right team and lender can greatly improve your loan experience. Our Loan Officers are equipped to help you each and every step of the way through the investment loan process.
Dedicated to helping you invest in a new property or refinance an existing property, we will continually work to help you find the right home loan for your unique needs. To learn more about our competitive rates on a wide range of investment products and see how Pennymac can help with your next property, please contact a Loan Officer today.
Sorry the service is unavailable currently. Please visit Birdeye.com website to view Pennymac, LLC. reviews