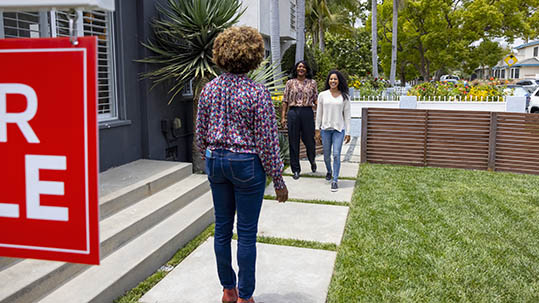 First-Time Homebuyer Guide to Mortgages
Everything you need to know as a first time homebuyer.
Our First-Time Homebuyer Guide to Mortgages demystifies the process and helps you prepare to buy the home you want.
Found the perfect home? Experience the advantages of purchasing with Pennymac
Not all applications will be pre-approved.
Conventional, FHA, VA and flex-term options available
Lock and Shop: Lock in a low rate with a 60-day lock period and shop for a new home
A top-2 lender in the U.S.*

A publicly traded, national lender (NYSE:PFSI)





*Based on results from Inside Mortgage Finance 12M ended 6/30/23. Includes PMT loan acquisitions, for which PFSI earns a fulfillment fee upon loan funding.
First Steps When Buying a Home
Purchasing a first home is a major milestone in life — but the process of obtaining a mortgage can feel overwhelming. The paperwork, requirements, and fees alone can be complex and confusing, particularly the first time you deal with them.
The first step is to determine if you are ready, both financially and mentally, to take on the responsibility of homeownership. Once you're confident that you want to move forward, the next steps are to examine and evaluate each of the loan options available so you're sure to get the best rates and terms possible.
Are You Ready to Be a Homeowner?
Though you're probably aware that over time, homeownership makes more sense than renting, that doesn't always mean it's appropriate to your situation.
Besides being financially prepared, housing experts suggest you should plan to stay in your home for at least five years—that way you have a chance to start paying down your principal balance and reap the financial benefits of homeownership (such as earning home equity).
When deciding if you're ready for homeownership, there are a few questions you should ask yourself:
Am I ready to commit to living in a single location for at least five years?
Am I up to the tasks of regular house and property maintenance?
Do I plan to maintain or grow my income level for the foreseeable future?
If you answered "yes" to each of the questions above, then you can move on to this final question to be sure you're ready for owning a home:
Am I financially ready for the responsibility of a mortgage, including monthly payments, insurance, and taxes?
This is a complicated question and one you should carefully consider before deciding to apply for a loan. Some of the major financial factors involved in obtaining a mortgage for the first time include:
Credit score
Available funds for a down payment and the closing costs for your loan
Pre-approval eligibility
Proof of income
Affordability of mortgage payment
Types of mortgages you may qualify for
Let's take a look at each item in turn.
How First-Time Homeowner Programs Work
There are government, state, and nonprofit programs that offer closing cost aid, down payment assistance, tax benefits, and other types of support.
Down Payment Assistance
A first-time home buyer usually qualifies for programs that lower down payment minimums from the typical 20% to as low as 3%. If you're still concerned about covering down payment costs, there are down payment assistance (DPA) loans and second mortgage options that help new homeowners afford down payments. For example, some people opt for a deferred payment loan that must be paid if homeowners move, sell, refinance, or pay off their primary mortgage.
Similarly, some loans can be forgiven after a set number of years; however, the loan will have to be repaid if the homeowners move, sell, refinance, or pay off their primary mortgage before the set period.
There are also DPA grants that are provided by the government that don't have to be repaid, but because eligibility requirements may vary by location, homeowners should research the local or state government programs and the qualification standards.
Closing Cost Assistance
Closing costs can also be covered by loans and grants. Like DPA, closing cost assistance can come through both government and private programs, depending on where you are purchasing your home. Eligibility is often dependent on income and the purchase price of the property. Closing costs can include attorney fees, real estate tax services, and title insurance, but sometimes sellers can help pay for these expenses via seller concessions.
Federal and State Programs
Government-backed loans can help first-time borrowers (even with low credit) to purchase a home with lower interest rates and lower down payments—and sometimes with no down payment. These loans include FHA, USDA, and VA loans, which all have different eligibility standards.
The Department of Housing and Urban Development (HUD) also sponsors the Good Neighbor Next Door program, which directly benefits emergency medical technicians, firefighters, law enforcement officers, and pre-K–12 teachers. For those that qualify, homeowners can get up to 50% off of specific HUD properties, which are usually foreclosure properties that aren't very expensive to begin with.
Nonprofits and Charities
There are also non-profit opportunities for families in need. Low-income households can apply for Habitat for Humanity, the largest international nonprofit builder in the world that specializes in affordable housing.
Low-income households can also consider the nationwide program Neighborhood Assistance Corporation of America (NACA). NACA loans don't require down payments or credit scores to qualify, and no closing costs, either. As an additional perk, NACA often offers counseling and education that is designed to empower and inform new homeowners about mortgage practices and opportunities.
As always, look into what the qualifications of each program are since different states and different associations require different things. Plus, while these large-scale programs are good options, new homeowners should look at all their available options. Check for local nonprofits to see if there is any assistance in your area.
Which Home Loan Is For You?
Now that you have an understanding of how much you can afford to borrow to buy your dream home, it's time to determine which mortgage products may be right for you. Here are a few popular mortgage products:
Mortgage Type
Conventional Mortgages
While a fixed-rate mortgage will give you a rate that never changes, an adjustable-rate mortgage will offer a rate for the initial period and then adjust to a variable rate that changes annually.
Rates & More Info
Key Benefits
Great low rates, either for the life of the loan (fixed) or the initial term (ARM)
No mortgage insurance with 20% down
Flexibility for homeowners to decide what term makes the most sense for their future plans
Mortgage Type
FHA Loans
These mortgages are insured by the government and offer more flexible lending guidelines than conventional loans.
Rates & More Info
Key Benefits
Low down payment requirements
Allows a broader range of income, debt, and credit history than conventional mortgages
Access to streamline refinancing program
Mortgage Type
Jumbo Mortgages
A Jumbo Loan is a non-conforming loan used to finance amounts above the standard loan limits traditionally accepted by government-sponsored enterprises for the region. This option allows a borrower with a high credit score and healthy reserves to secure sole financing for a high-value home.
Rates & More Info
Key Benefits
Loan amounts up to $3 million
Eliminates the need for secondary financing
Allows borrowers to finance higher loan amounts in counties where the financed amount exceeds the conforming loan limit
No prepayment penalties
Mortgage Type
VA Loans
These mortgages are reserved for US service members and their spouses.
Rates & More Info
Key Benefits
No down payment required
No monthly mortgage insurance payment
Typically lower interest rates than conventional loans
Access to VA Streamline program
FHA vs. Conventional Loans
When you're purchasing a home for the first time, it can be difficult to understand the differences between an FHA loan and a conventional mortgage. Let's take a closer look and compare two of the most common mortgages on the market:
What is it?
An FHA loan is a mortgage insured by the Federal Housing Administration.
Who is it for?
FHA loans are a good option for first-time borrowers who don't have a lot of funds available for a down payment or who need a loan with more flexible income requirements.
Benefits?
The FHA offers flexible lending standards, and down payments as low as 3.5%, making this loan an attractive option for first-time homebuyers.
Costs?
An FHA loan requires two types of mortgage insurance: an upfront fee to be paid at closing and a monthly premium. In addition, you'll be responsible for closing costs and fees.
What is it?
A conventional mortgage is a home loan that conforms to a set of guidelines set by Freddie Mac and Fannie Mae
Who is it for?
Conventional loans are geared toward homebuyers with larger down payments and good-to-excellent credit.
Benefits?
These loans may have shorter approval times. In some cases, mortgage insurance isn't required.
Costs?
Down payments on conventional loans are typically 3-20%. In addition, you'll be responsible for closing costs and fees.
Frequently Asked First-time Homebuyer Questions
What Is Mortgage Insurance and How Does It Affect My Monthly Payment?
Conventional first-time homebuyers are required to pay mortgage insurance if their down payment is less than 20% of the property's value. Mortgage insurance can be charged in the form of either a single up-front charge at the funding of your loan, or a monthly premium that you make with your monthly payment. The mortgage insurance covers risks to Fannie Mae or Freddie Mac if you happen to default on your loan. With a few exceptions, mortgage insurance is cancelled once you reach 78% equity in your home. FHA first-time homebuyers always pay an up-front charge and an annual premium that you make with your mortgage payment. Pennymac Loan experts can help you figure out exactly how insurance affects your monthly payments.
Mortgage Insurance vs. Homeowners Insurance: What's the Difference?
Though these types of insurance sound related (and are often confused), there is actually a pretty big difference between the two.
Homeowners pay mortgage insurance to cover risks to Fannie Mae or Freddie Mac in the event that you default on your loan. This is generally something that your lender will arrange so you won't have to shop for it. This generally applies when you make a down payment of less than 20% on conventional loans.
Homeowners insurance, on the other hand, prevents you (the homeowner) from absorbing total financial risk in the case of losses or physical damage to your home. You may choose to get homeowners insurance from a number of different vendors and either pay them directly or through escrow.
I'm Ready to Apply for My First Loan. Why Should I Choose Pennymac?
When you're a first-time homebuyer, you want a lender you can trust to help you through the process. As a top national mortgage lender, Pennymac's loan experts are specifically trained to help entry-level home buyers through the mortgage process and ensure a seamless homebuying experience. In fact, we are dedicated to fulfilling the aspiration of homeownership for everyone interested in taking the next step with a new property. We're working every day to improve the experience of finding the right home loan for your unique needs and offering competitive rates on a wide range of products. Interested to learn more about what Pennymac can do for you? Get a customized quote today.
Sorry the service is unavailable currently. Please visit Birdeye.com website to view Pennymac, LLC. reviews