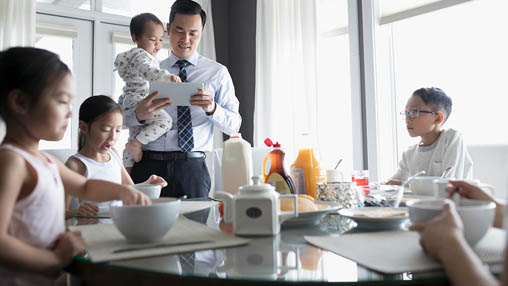 Tell me more!
I'm looking to …
Earn cash back
after close!
With Home Connect, you could earn $350 to $9,500 cash back after close.
Under the Fair Credit Reporting Act, you are entitled to one free credit report per year from each of the three national credit bureaus. However, not all credit reports are truly "free," so it's important to get your credit report right from the source.
Taking advantage of your right to a free credit report is a great way to be a more informed consumer and prepare yourself for a major purchase. Read on to learn how to get a truly free credit report.
How to Obtain Your Free Credit Report
The best way to get your free credit report is through AnnualCreditReport.com, the website created by the three main credit bureaus — Equifax,TransUnion, and Experian — to comply with the Fair Credit Reporting Act. This site provides an instant and actually free credit report with no strings attached.
You can choose to get all three credit reports at once or you can get it from one credit bureau at a time. In order to get your free credit report, you will have to provide:
Your name
Your address
Your Social Security number
Your date of birth
You may be asked to verify your identity by providing some information only you would know. Each bureau has different security requirements, so if you request multiple reports at once, you may be asked to answer multiple sets of questions.
You can access the same credit reporting service by calling 1-877-322-8228. (Keep in mind that if you order the report by phone, it may take up to 15 days to process and mail the report to you.)
There are plenty of "free credit report" services out there, but most of these sites are actually selling credit monitoring services for a monthly fee. Double-check the terms of other services labeled as "free" if you decide to try something other than AnnualCreditReport.com. Never give your personal information to a source claiming to provide free credit reports without verifying the service itself.
How Many Free Credit Reports Can I Get Per Year?
Under U.S. law, everyone is entitled to one completely free credit report from each credit reporting agency every 12 months. You can request a report from all three agencies at once, or you can space them out by requesting a report from a different agency every four months.
The Fair Credit Reporting Act also gives individuals the right to one additional free credit report if you meet one of these requirements:
You are unemployed and planning to apply for employment in the next 60 days
You are receiving public welfare assistance
You believe your credit report contains inaccurate information due to fraud
You have been subject to a denial of credit or insurance (or another adverse action) within 60 days
Why Do I Need My Credit Report Anyway?
Your credit score affects whether you can get a mortgage, what type of credit card you qualify for and what other types of credit you can get. You may already know your credit score, so why should you bother with a full credit report?
Your full credit report can help you spot inaccuracies, outdated information, or even signs of fraud that negatively impact your credit score. By reviewing your full credit report, you can:
Find opportunities to improve your credit score before making a major purchase
Dispute errors and resolve inaccuracies
Spot signs of identity theft (and file a claim for fraudulent activity to repair your credit)
Knowing what's in your credit report will give you more control over your finances and more peace of mind — whether or not you're in the market for a major purchase.
Get Your Free Credit Report Today
When it comes to applying for a mortgage, your credit matters. It's worth your time to get your credit score — especially when you can do it for free. For more information about how your credit score factors into getting a home loan, call a Pennymac Loan Officer today.
Share
Categories