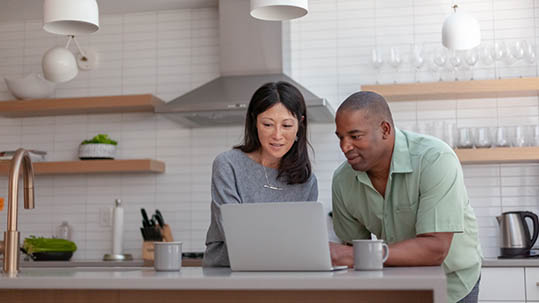 Tax & Insurance Information
Property Insurance
When you purchase or refinance a home, one of the things you have to think about is insurance on the property securing your loan. There are several types of insurance, and various requirements for the amount of coverage, deductibles, and whether or not you have to have an escrow account for these policies. It is important to keep Pennymac up to date with your insurance information, especially if you update anything on your policy or policies, change insurance carriers, change your mortgage servicer, or even if you change your name. To find out who is currently responsible for paying your insurance premiums, log into your Pennymac account and select Escrow, Homeowner's/Hazard Insurance(s), and Responsible Party. You may be asked annually to provide Pennymac with proof of coverage for required insurance policies.
Let's review the types of common insurance policies:
Homeowners Insurance - Also known as hazard or fire insurance, it is insurance that covers your home or residence. Your coverage must be equal to or more than the total amount of all loans on your home or have the full replacement cost guaranteed.
Flood Insurance - Required for properties located in an area designated by FEMA as a special flood hazard area (SFHA). The coverage must be the lessor of the total amount of all loans on your home, replacement cost guaranteed, up to the maximum allowed by the National Flood Insurance program. You may also be required to maintain an escrow account for flood insurance.
Wind/Hurricane Insurance - In states that are prone to tornadoes and hurricanes in the Gulf States or Hawaii, a separate wind/hurricane policy or endorsement may be required in addition to your regular hazard insurance policy.
Homeowner Association (HOA) Insurance - Not to be confused with your monthly or annual dues, this type of insurance is sometimes known as a Master Condo policy, which covers the structure and areas owned in common by all the unit owners. You will need to also get an individual policy to cover the items in your condominium in case of fire or theft.
Earthquake and Subsidence Insurance - These types of voluntary policies insure your property against damages from earthquakes or landslides.
Condominium Unit Owner Insurance (H06 or "Walls In") - Covers the contents of your condo and the interior walls. The Master Condo Policy will not cover these items.
Mortgagee Clause
A mortgagee clause in an insurance policy reflects the name and address of your mortgage lender or servicer, which would be a co-payee on any amounts paid by the insurer for a covered claim based on the lender's interest in your property that secures its mortgage loans. Make sure that your insurance carrier has Pennymac's mortgagee clause and your Pennymac loan number for all of your policies:
PennyMac Loan Services, LLC
Its Successors And/Or Assigns
P.O. Box 6618
Springfield, Ohio 45501-6618
Proof of Insurance
We want to make it easy and convenient to provide all of your insurance information in a single step right from your home computer!
If you received a notice from Pennymac requesting verification of your homeowners, flood, and/or wind/hurricane insurance policy
You recently changed your coverage amounts
You changed your insurance company and have a new policy
You changed your name on your policy
Please go to our insurance service website and follow the prompts to upload a copy of your insurance policy declaration pages. You may also call (866) 318-0208 to speak with a representative.
You can also send it directly to Pennymac at the following address:
PennyMac Loan Services, LLC
P.O. Box 6618
Springfield, Ohio 45501-6618
Insurance Claims
In the event that you suffer a loss to your property, we want to make the process easy for you to get the assistance you need. For information on insurance claims, to download claim packets, and to electronically submit completed documents, go to our insurance service website. You can also call (866) 314-0498 to speak with a representative who can walk you through the process. As part of the insurance claims process, you may receive a settlement check payable to both you and Pennymac. Call a Customer Service Representative at (866) 314-0498 and we will provide the information you need to negotiate the check.
Property Tax Bills
Property taxes go hand in hand with homeownership so let's try to clear up some of the mystery surrounding them.
You will have regular property tax payments for the entire time you own your home. Depending on where you live, you can have one consolidated property tax bill or several different property tax bills payable to your County, City, School, or Township. You may be responsible to pay the taxes or Pennymac may pay them if you have an escrow account. To find out who pays your property taxes, log into your Pennymac account then select Escrow, Taxes, and Responsible Party. If you pay your taxes directly, Pennymac may require that you provide proof of payment from time to time.
If you receive a copy of your regular tax bill, it is not necessary for you to send that information to us. Pennymac will typically obtain that information directly from the tax authority. If we need you send it to us, we will let you know.
One Time Only Tax Bills
When you buy a home, there are some additional taxes you may owe and these tax bills are your responsibility to pay, even if you have an escrow account for taxes. Pennymac does not collect a monthly amount to pay these bills for escrowed accounts.
These bills are known by different names: Supplemental taxes, Interim taxes, or New Construction taxes are most common. These taxes are a one-time tax bill issued by the tax collector, usually assessed to make up the difference between the taxes paid by the previous owner and what they expect you to pay the following year. However, if you have an escrow account on your loan and you would like for Pennymac to pay one of these tax bills, please do one of the following:
PennyMac Loan Services, LLC
P.O. Box 514387
Los Angeles, CA 90051-4387
Make sure that your Pennymac loan number is clearly written on your tax bill and include your request that we pay these taxes from your escrow account. Please note that payment out of your escrow account for these bill types may, and probably will, cause a shortage or deficiency that will result in an increase in your monthly mortgage payments next year.
Tax Exemptions
Do you want to reduce your property tax liability when you buy a home? The first thing you should do is check with your local tax assessor to see if you qualify for a homeowner or homestead exemption. Your local officials may reward you for buying that home and living in it by giving you a predetermined percentage discount off of your property taxes. Additional exemption opportunities may exist for our Veterans, Disabled, or Senior Citizens - contact your local tax assessor for more information.
BE AWARE OF FORECLOSURE & LOAN SCAMS!
Pennymac does not charge fees for a modification or other loss mitigation plans when you are facing a delinquency
Pennymac does not accept payments from Money Gram
Funds are always payable to Pennymac and not to an individual
Pennymac will work with you to ensure every option possible is explored to retain home ownership. No fees. No strings.