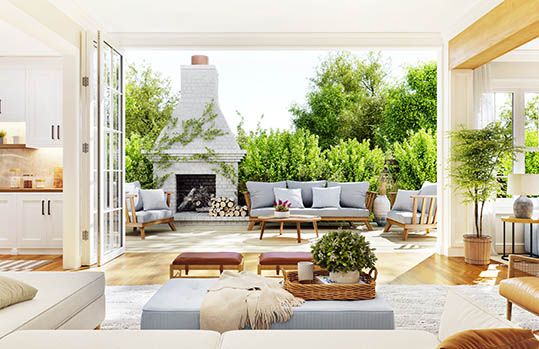 Refinancing
What is mortgage refinancing?
There are many reasons people refinance their mortgage, but the most common are to either save money on their monthly mortgage payment or reduce their interest rate.* Some people also take advantage of refinancing to shorten the length of their mortgage or to access some of the available equity in their homes to cover other expenses.
Regardless of your reasons for refinancing, it's important to weigh all your options to arrive at a strategy that makes the most sense for your personal financial goals.
*By refinancing your existing loan, your total finance charges may be higher over the life of the loan.
What are some good reasons to refinance your mortgage?
Lower your payment
Take cash out to pay off high interest debt or improve your home
Pay off your loan faster
Get a low rate for the life of your loan
Refinancing Loan Options
PennyMac Loan Services provides the flexibility you need to consider refinancing your mortgage. We have loan products for primary residences, second/vacation homes and investment properties. Here are our most popular offerings:
Worth Considering If You…
Mortgage Type
Adjustable-Rate Mortgages (ARMs)
The lowest rate for the first 5-10 years of the loan for eligible buyers. After the initial term, your rate will adjust according to current market rates and may increase.
Rates & More Info
Key Benefits
The lowest short-term rates
The lowest monthly payments for at least the introductory period of the loan
Worth Considering If You…
Think you'll be moving before being exposed to the risk of higher rates
Have good credit
Possess the funds for the required down payment
Mortgage Type
Conventional Fixed-Rate Mortgages
The lowest fixed interest rates for eligible buyers.
Rates & More Info
Key Benefits
The best fixed rates
Your rate never changes for the life of your loan
Worth Considering If You…
Plan to stay in your home for a longer period of time
Have good credit
Mortgage Type
FHA Mortgages
Loans with as low as 3.5% down payment and less stringent credit score requirements.
Rates & More Info
Key Benefits
Low down payment options
Current FHA borrowers can do a streamline refinance without an appraisal
Option of fixed-rate or adjustable-rate (ARM) loans
Worth Considering If You…
Lack a good credit history
Don't have the funds available for a larger down payment
Mortgage Type
Flex-Term Mortgages
You choose the term of your mortgage based on what works for you.
Rates & More Info
Key Benefits
Refinance without extending the length of your loan
Set your own payoff date
Worth Considering If You…
Want to take advantage of a lower rate but don't want to extend the length of your loan
Would like your loan to sync up with a specific date, like your retirement
Mortgage Type
Home Equity Loans
A home equity loan is a form of consumer debt that allows you to borrow money against your home's equity.
Rates & More Info
Key Benefits
Get the entire lump sum as soon as your loan is approved
Keep the low rate on your first mortgage
Have cash to make home repairs, consolidate debt & more
Worth Considering If You…
Have good credit
Are consolidating debt or other important costs
Mortgage Type
Investment Property Mortgages
Loans for a property used to produce a return on the investment.
Rates & More Info
Key Benefits
Competitive rates
Reduced origination fees
Can be fixed or adjustable-rate loans
Worth Considering If You…
Have good credit
Possess substantial cash reserves
Are looking to invest or diversify your investment portfolio
Mortgage Type
Jumbo Mortgages
A larger loan for borrowers with high credit scores and healthy reserves.
Rates & More Info
Key Benefits
Loan amounts up to $3 million
Eliminates the need for secondary financing
No prepayment penalties
Worth Considering If You…
Have good credit
Want to avoid multiple loans
Mortgage Type
USDA Mortgages
Loan program for individuals or families who plan to occupy a single-family home in a designated rural area as their primary residence.
Rates & More Info
Key Benefits
No required down payment
Competitive rates on fixed-rate loans
Flexible qualification guidelines
Worth Considering If You…
Live in a designated rural area
Don't have the required funds for a down payment
Mortgage Type
VA Mortgages
Government-backed loans offered exclusively to our valued members of the military.
Rates & More Info
Key Benefits
Low or no down payment
No mortgage insurance requirement
Flexible qualification guidelines
Worth Considering If You…
Are an active military member or veteran
Are the surviving spouse of a deceased service member who lost their life in military service
Why should I choose Pennymac?
We service the loans we originate.
While other lenders may be looking to sell your loan as soon as you sign on the dotted line, Pennymac is dedicated to being the lender you can depend on far beyond your closing date. When you originate a loan with Pennymac, we'll remain as your servicer for the entire life of your loan because we honor your trust in making us your lender of choice.
We don't waste resources on expensive brick-and-mortar retail offices.
That allows us to pass on the savings to our customers with some of the lowest, most competitive rates and fees available today. Home loans are the primary focus of our business, not upselling you and adding services you don't need.
We're committed to being your partner.
Being a Pennymac customer means having a partner that never stops looking for ways to save you money and help fulfill your dream of homeownership.
Resources & Tools
Accreditations and Certifications
Frequently Asked Refinancing Questions
How often can I refinance my home?
Limitations on refinancing can vary from state to state, so you'll want to check the regulations for the specific state where the property is located. Another factor to weigh is payoff fees, which are different from prepayment penalties. While prepayment fees are meant to prevent you from paying off additional principal, an early payoff fee is a fee paid to the originating lender for loans that have only been on the books a few months. Your loan officer can tell you which types of loans carry these kinds of restrictions.
How much does it cost to refinance?
There are many options for managing closing costs for different kinds of refinance loans. Regardless of whether or not you receive closing credits from your lender, you often have the option of folding closing costs into your loan to avoid having to put up cash at closing. You may hear that 1.5% of your loan amount is a good rule of thumb for closing costs but it is always best to ask your loan officer about all your options.
Pennymac also offers a refinance calculator to see if refinancing your home can help you lower your monthly payment or consolidate your debt. This is a great place to start as you weigh costs against benefits.
How long does it take to refinance a mortgage?
Many refinance loans can take 30-45 days to close but there are lots of exceptions if your finances are complex or you're refinancing at a particularly busy time of year.
There are, however, steps you can take to limit your exposure to delays. Much of the documentation that you'll need to provide for processing can be determined as soon as you know what kind of loan you will be applying for. Collecting and scanning documents like tax returns and income verification is a good start and can save you time during your application process.
What is equity? Why is it important for refinancing?
Equity is the appraised value of your home minus the amount you still owe on your loan. This is an important factor for refinance loans that require a minimum loan-to-value (LTV) percentage and for cash out refinances where you want to take a specific amount of cash out of your existing equity.
If you're interested in estimating the current equity in your home, Pennymac has created a Home Value Estimator to help. To determine your estimated equity, just subtract the outstanding balance of your loan from the estimated value of your property and you will have a great starting point for determining what types of refinance loans will work for you.
What documents are required to refinance?
Your documentation allows underwriters to verify that you're a good fit for the loan option you've selected. Here is a list of some of the most common documents that your loan officer may ask for:
Proof of income – You will be asked to provide pay stubs (typically for the past 30 days) in order to verify income. Self-employed borrowers may be asked for different documentation.
Copy of homeowners insurance – Verifying that your property is insured, or will be insured, is important to all lenders.
Copies of your W-2 forms – Providing your W-2 forms will give your lender a much broader picture of your financial picture.
Copies of asset information – Lenders are required to verify that you have the funds available to cover the various expenses of the loan. You may be asked for checking, savings and 401(k) statements, as well as investment records for mutual funds or stocks.
Copy of title insurance – A copy of your title insurance is important to help your lender verify your taxes, names on the title and the legal description of the property.
Your lender will also need to pull your credit report as a part of the refinance process, so have your Social Security number handy when it's time to apply.
Will a refinance help get rid of my PMI?
In many cases, yes. As rates have dropped and home values have risen, many homeowners have an opportunity to remove their PMI while reducing their overall monthly payment. Talk to your loan officer about the specific requirements of the loan products you qualify for.
Keep in mind that many loans have a 'seasoning requirement' that requires you to wait at least 2 years before you can refinance to get rid of PMI. So if your loan is less than 2 years old, you can request that your PMI be removed with a new refinance but you're not guaranteed to get approval.
What refi options are available to me if I have bad credit?
There are many loan types that cater to borrowers with sub-optimal credit. The best way to find out about all your options is to let a loan officer pull your credit and explain the benefits of different programs to you.
What is a Streamline Refinance?
Streamline refinancing was created to expedite the process of obtaining a new loan by referencing existing paperwork and data on a borrower. The process is not only faster but also easier for the borrower, since it can be completed without the full documentation required on standard conventional loans.
Opting for a streamline refinance can be a viable option for borrowers who want a lower interest rate or need to transition from an adjustable-rate mortgage (ARM) to a fixed-rate loan. Both the FHA and VA offer beneficial streamline refinancing programs to qualifying borrowers.