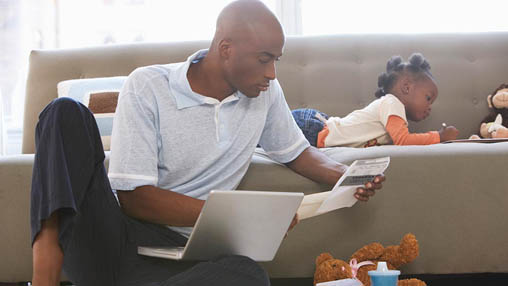 Tell me more!
I'm looking to …
Earn cash back
after close!
With Home Connect, you could earn $350 to $9,500 cash back after close.
With some mortgage experts projecting rates to remain near historically low numbers, it's no surprise that refinancing continues to be a popular home loan option. Before you start comparing lenders, however, it's important to take a 360-degree view of your options.
Before mortgage refinancing, you should run through the checklist below and answer each of the questions.
1. What are your goals?
Are you trying to lower your monthly payments?
Do you want to shorten or extend the life of your loan?
Would you like to use equity to pay off debt or fund home upgrades?
Do you qualify for a government-backed conventional refinance program?
2. Does refinancing make financial sense?
Is the interest rate lower than your existing rate?
Will the new rate increase your monthly payments?
Will you pay more money over the entire length of the loan?
3. Can you afford closing costs and fees?
Are you prepared to pay the application fee?
Have you determined title insurance, attorney and closing costs?
Do you have these funds to pay upfront?
4. Have you determined what the payoff amount will be (including any prepayment penalties)?
Calculate the payoff amount (balance + interest)
Determine any payoff penalty fees
Request a copy of the payoff statement
5. Do you know what mortgage refinancing documents are needed to apply? Can you obtain them?
Paystubs
Tax Returns, W-2s, and/or 1099s
Credit Report
Statement of Debts
Statement of Assets
Determining Mortgage Refinancing Goals
Refinancing allows homeowners to lower their monthly mortgage payment or switch to an alternative loan type or term. Yet, similar to purchasing a home for the first time, homeowners must keep their goals top of mind.
Are you trying to lower your monthly payment? Shorten or extend the length of your loan? Use the equity to pay off debts, or apply toward home upgrades?
By replacing the existing mortgage, homeowners can use the savings to shore up their budget or pay off their mortgage sooner. In fact, one study shows that at least 5.2 million homebuyers could benefit by refinancing their mortgages, saving an average of $215 per month!
Understanding your needs can also help you determine whether you should choose a traditional refinancing loan, a cash-out refinancing loan or a home equity line of credit (HELOC).
Does Refinancing Make Financial Sense?
As attractive as mortgage refinancing might be, it won't make sense if the numbers don't add up. Here's a good rule of thumb: if the current interest rate is at least a half percent lower than the interest rate in your existing mortgage, then refinancing may be a good option for you.
For example, if you have $390,000 remaining on an original $400,000 loan at 4.25%, replacing your current mortgage at 3.75% could save as much as $162 per month.
In addition to interest rates, homeowners also need to consider the length of the new loan term. If you're five years into your current mortgage and refinance into a new 30-year fixed-rate loan, you'll be making monthly payments for a total of 35 years — which could result in paying more interest over the life of your loan.
If you're having trouble determining how much you can save with a new rate, you can use a refinancing calculator to help you determine how much your monthly payment would be.
Don't Forget Refinancing Costs and Fees
Mortgage refinancing means you're entering into a new home loan — and that change comes with a price. Depending on the requirements of your lender, these costs may include bank fees, appraisal fees, attorney fees, or title insurance, and could total anywhere between $3,000 to $5,000.
If these costs are more than your total savings from refinancing your mortgage, then it might not be worth the trouble. However, if these fees can be recouped over a reasonable amount of time, refinancing still makes good sense.
Don't let these costs come as a surprise. Talk to your lender, thoroughly review the product details and crunch the numbers ahead of time to make sure you break even.
Understanding Payoff Amounts and Penalties
When you refinance your mortgage, your lender "pays off" your existing mortgage. As such, the refinancing lender will request a payoff statement from your current mortgage loan holder (even if it's from the same lender). This statement varies, but typically includes:
Principal balance of existing loan
Interest amount to be paid through the payoff date
Daily interest charges
Payoff statement fee
Any escrow shortages or overages
Many homeowners fail to understand that the mortgage payoff amount is usually higher than the balance owed, due to those pesky interest charges and/or additional fees. One tactic to determine the payoff amount is to add a mortgage payment to your current balance.
Homeowners should also determine whether or not their current lender charges a prepayment penalty fee. Most lenders enact a prepayment penalty if the homeowner pays more than 20% of their mortgage within a year. This can happen if a homeowner sells a home, pays a lump sum or refinances their mortgage.
Pre-payment penalties are usually about 80% of six months interest, which can run in the tens of thousands of dollars. However, it is your right to request a copy of the payoff statement before you choose to enter a refinancing loan.
Mortgage Refinancing Documentation Requirements
A refinanced mortgage is generally reserved for qualified borrowers — those homeowners with sufficient income, good credit and typically at least 20 percent equity in their homes. As such, borrowers must prove their mortgage worthiness by submitting the designated documents to the prospective lender.
What if I Do Not Have All the Documents Required for a Refi?
Sometimes a homeowner cannot produce the required documents to apply for refinancing. If you're too busy to locate your copies, or if you've lost them (it happens!) and you don't have time to obtain replacements, you may not feel a refi is worth the hassle. What then?
Well, there's another option called a Streamline Refinancing for government-backed loans that may be what you're looking for. A Streamlined Refi is designed to save time and money by expediting the refinance process. With VA, FHA, USDA or other government-backed loans, you may not need all of the documentation typically required to qualify for a Streamline Refi.
If you have a government-backed mortgage and would like to explore your refi options with fewer documentation requirements, send a message or give us a call.
Refinance Required Documentation Checklist
If your loan is not government-backed, you will need to produce all of the standard documentation. Review this checklist to make sure you have all of the required documents to apply for mortgage refinancing.
1. Pay Stubs
When applying for a home loan refinance, your lender will need proof of income. Lenders want to ensure that you have the financial means to pay off your new mortgage, as well as any other long-term debts (such as car loans) or other living expenses.
As a result, borrowers are generally required to submit recent pay stubs from the past 2-3 months. So, be sure to make copies of all these documents and keep the originals in a safe place.
If you are self-employed, your lender may also require a little more information to verify your source of income. Copies of your last two federal income tax returns, as well as profit-and-loss statements may be requested for review.
2. Tax Returns and W-2s and/or 1099s
To provide further proof of employment and income, be sure to prepare copies of your last W-2 and/or 1099 statements and tax returns. Typically, lenders will ask for two years' worth of information.
Remember, a W-2 form is used by company employees. This form shows a person's income and how much of the money was taken out for taxes. In contrast, a 1099-MISC is used by independent contractors or the self-employed. This form shows a person's income, but does not show how much money was taken out for taxes.
These documents are important because they not only verify your salary but also show trends in your earnings, as well as details about investment gains or losses. Most importantly, this information can affect your total income level and subsequent loan approval amount, as calculated by the lender.
3. Credit Report
Before you are approved for a refinance, lenders will perform a credit check. While each loan program may have its own minimum credit score requirement, it's always better to be safe than sorry. So, even if you are just considering refinancing, it is never too early to check all three FICO scores to make sure that you're on the right track.
By taking this precautionary step, you have the opportunity to review your credit rating before your lender does. And, you get the chance to take care of any necessary credit repair work. This means getting rid of those extra credit cards you don't really need, paying down your account balances and making sure you pay all your bills on time from this point forward. Remember, the best refinance rates are almost always reserved for the borrowers with the best credit.
4. Statements of Outstanding Debt
Even though your lender will be able to see your existing debts via your credit report, you will still have to provide documentation detailing your current outstanding financial obligations. You will need to gather account statements on all remaining debts, including your existing mortgage, home equity lines of credit, car loans and student loans.
5. Statement of Assets
Just as when you first purchased your home, your lender will want to verify that you have enough cash in your savings accounts to cover any out-of-pocket closing costs and at least two months' worth of mortgage payments.
Therefore, copies of statements for saving accounts, retirement account, stocks, bonds and certificates of deposits will also be needed. All of these documents will provide proof of any additional assets you own in addition to your regular salary.
The advantages of collecting these documents before shopping for lenders is twofold: it not only allows borrowers to truly assess their refinancing readiness, it is also likely to help them score a better refinancing deal later on down the line.
Your Refi Checklist Is Complete, What's Next?
Now, that you've set your goals, gathered all of the necessary documents and decided whether a mortgage refinancing makes sense for you, it's time to move forward with the application process. Contact a qualified lender to get a loan estimate, submit your documents, and get started on the path to a successful refinancing.
Share
Categories