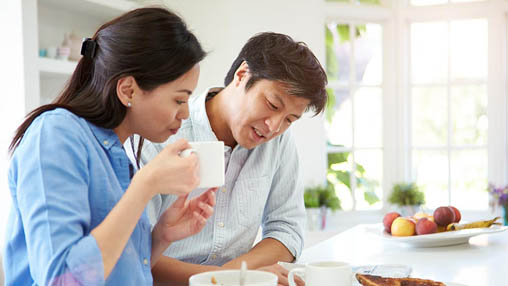 Tell me more!
I'm looking to …
Earn cash back
after close!
With Home Connect, you could earn $350 to $9,500 cash back after close.
A conventional loan is a type of mortgage that is not part of a specific government program, such as Federal Housing Administration (FHA), Department of Agriculture (USDA) or the Department of Veterans' Affairs (VA) loan programs. However, conventional loans are commonly interchangeable with "conforming loans," since they are required to conform to Fannie Mae and Freddie Mac's underwriting requirements and loan limits.
There are two primary categories of conventional mortgages: conforming mortgages and non-conforming mortgages.
Conforming: Follows the guidelines put in place by Freddie Mac and Fannie Mae, including loan limits.
Non-conforming: Includes "jumbo loans" which exceed the loan limits imposed by government-backed agencies, niche products for unusual circumstances and riskier products that are much less common these days.
How Does a Conventional Loan Work?
Because conventional loans are not guaranteed by the government, they don't offer many of the same advantages provided by FHA and other government secured mortgages. These include reduced eligibility requirements related to qualification, credit scores and down payments. With that said, the stricter requirements of conventional loans often mean better loan rates and terms overall.
Prospective homebuyers with a credit score of at least 620 may qualify for a conventional loan. However, people with credit scores of 660 or higher will likely be able to secure better rates, allowing them to pay less interest over the life of the loan. Although conventional mortgage lenders may offer loans with down payment requirements as low as 3%, those who put down at least 20% typically qualify for loans without having to pay for private mortgage insurance.
Lenders typically offer conventional loans at 30-, 20- and 15-year terms. To secure a conventional loan, the borrower must complete a mortgage application, provide the lender with relevant financial documentation and submit to background checks on their credit score and credit history. The lender will then decide whether to approve the loan based on these and other relevant factors.
The borrower will work with the lender to choose between a fixed-rate mortgage and an adjustable-rate mortgage (ARM). A fixed-rate mortgage allows borrowers to 'freeze' interest rates so they remain constant throughout the entire life of the loan. Alternatively, ARM loans feature interest rates that adjust to reflect market conditions.
What Are the Requirements for a Conventional Loan?
here are a number of requirements that must be met before most lenders consider offering a conventional loan. These include the following:
Down payments of at least 3% of the total loan amount for single-family homes and first-time home buyers. Lenders may also require higher down payments depending on the type and circumstances of the loan. For example, if you are not a first-time homebuyer, if you're getting an adjustable-rate mortgage or if you make less than 80% of the median income for your area, you may be required to pay 5%. If you're borrowing to purchase a second home, the down payment will need to be at least 10%. If you are buying a multi-family home (a property with more than one unit) you may have to put down as much as 15%. Likewise, refinancing a conventional loan will require larger down payments.
Private mortgage insurance (PMI) for loans with down payments of less than 20%. Although it's possible to secure a conventional loan for as little as 3% down, paying less than 20% means you will be required to purchase PMI. Lenders need to know they will be protected from losing their investment in the event you default on your mortgage. Mortgage insurance lowers the risk to the lender, and is generally paid as part of the monthly mortgage payments (though other payment options may be available). Once borrowers reach 20% home equity on their regular loan payment schedule, they can have their lender remove the additional cost from future payments.
A credit score of at least 620. Having a credit score of less than 620 will probably disqualify you from a conventional loan. If your credit score isn't where it needs to be, consider looking into FHA loans and other government-backed options with lower eligibility requirements.
A debt-to-income (DTI) ratio of no more than 50%. The DTI represents how much you currently owe compared to your current monthly income, or what percentage of your income goes towards paying debts. The more debt a borrower holds, the higher risk they represent to the lender, and those who pay 50% or more of their income towards debt may be considered too risky to qualify for a conventional loan.
Why Choose a Conventional Loan?
Most homebuyers choose conventional mortgages because they offer the best interest rates and loan terms — usually resulting in a lower monthly payment. Since most people choose a fixed-rate loan over an adjustable-rate mortgage, they don't have to worry about rising mortgage rates, making it easier to budget.
What Are Interest Rates for a Conventional Loan?
Interest rates on conventional home loans are dynamic, changing daily to reflect evolving economic and market conditions. At the same time, rates for individual loans also depend heavily on the terms of the loan itself, including the size of the loan, its length and whether it's a fixed-rate or adjustable-rate mortgage.
If you are considering taking out a conventional loan to put towards purchasing a house and want a clearer idea of what current interest rates look like, check out Pennymac's free mortgage calculators. Mortgage calculators provide estimates for monthly mortgage payments, including interest, taxes and other factors.
What Are Non-Conventional Loans?
Examples of non-conventional loans include all government-backed loans and loans that do not meet Fannie Mae or Freddie Mac's requirements. Government-backed loans include the FHA, VA or the USDA. Jumbo loans are also non-conventional because they are not required to follow the guidelines and exceed the loan amounts set by Fannie Mae, Freddie Mac, FHA, VA and USDA. In general:
How Do I Qualify for a Conventional Loan?
Without the backing of the government, conventional loan borrowers pose a bigger risk to the institutions who issue the mortgage. As such, borrowers must meet three basic requirements.
1. Make a sizeable down payment
The standard down payment for a conventional loan is anywhere between 3% and 25% of a home's value depending on the borrower's credit and financial condition. For example, a $100,000 home could require a $20,000 down payment.
However, depending on a lender's unique specifications, a borrower may be able to put down as little as 3% at closing. Just keep in mind, this option is typically only available to those who meet additional requirements, like being a first-time homebuyer. Remember, with a larger down payment, homeowners also enjoy immediate equity in their home.
2. Prove a stable income
To qualify for a conventional loan, your monthly mortgage payments and monthly non-mortgage debts must fall within certain ranges. For instance, a lender may require your monthly mortgage payments (which may include taxes and insurance) not exceed 28% of your gross monthly income. In addition, your monthly mortgage payments, when combined with your other monthly debt payments (car loans, student loans, credit card bills, etc.), may be limited to a maximum of 36% of your gross monthly income.
3. Have a good credit score
Your credit score also plays an integral role when qualifying for a conventional loan. In fact, most lenders require a minimum FICO credit score of around 620 to obtain approval.
Benefits of Conventional Home Loans
While there are several benefits to securing a conventional mortgage, the type of loan you receive will be driven by factors that may not be in your control - such as FICO scores and other factors described above. However, if you have the option to choose your loan type, there are key advantages. For example:
Faster Home Loan Processing
Conventional loan processing tends to be more streamlined since the borrower deals directly with the lender and isn't dependent on government approvals. As a result, conventional loan applications typically have shorter and less complicated approval processes.
Reduce or Avoid a Mortgage Insurance Premium
It's more likely that you can avoid mortgage insurance premiums (MIPs) with conventional loans than with government insured loans, largely because conventional loans require higher down payments. However, when you put down less than 20%, you will still need mortgage insurance (MI). The amount may be less than what you would pay for a government loan with the same down payment, depending on your credit profile and other factors.
Lower Mortgage Interest Rates
Private lenders may compete for your business if you are deemed a good credit risk because of income, credit score and other factors. Because of this, you may be able obtain a more attractive interest rate.
Compare Lender Fees
Conventional loans are offered through private lenders and the fees are not set by the government. This means the fees can vary widely among lenders - which can potentially save you money. The key is to educate yourself and comparison shop.
Disadvantages of Conventional Loans
The benefits of a conventional home loan are generally a result of lenders being willing to provide better rates and terms for lower-risk borrowers. The downside of conventional loans is they are much more exclusive than government insured options. Conventional loans have strict eligibility requirements related to your credit history, current financial situation and how much of a down payment you are capable of providing up front.
Is a Conventional Home Loan Right for You?
In many cases, it's the best option for rates and terms - but only if you qualify. The bottom line is that conventional loans are really only available to borrowers with good credit and some available cash for down payment. If you are fortunate to be an attractive borrower, then you might have the ability to obtain a loan at a lower cost and have it processed faster than with a government insured loan.
However, before you decide to apply for a conventional loan, make sure to speak with at least a few mortgage professionals. Remember, each lender offers different rates, terms and fees, so it's best to receive a Loan Estimate (LE) prior to committing to one institution. This additional research will help you secure the best mortgage terms possible for your future home loan.
FAQ
What documentation do I need for a conventional home loan?
Your lender will likely require a number of different documents detailing your financial history, current financial situation and eligibility. These may include:
A copy of your driver's license or other government-issued identification
W2 forms from the past two tax seasons
Full tax returns including all pages and schedules (for self-employed borrowers)
Two most recent pay stubs
Two most recent asset statements
Renting history documentation (for borrowers who don't currently own a home)
Copy of current mortgage statement (for borrowers who do currently own a home)
Is there a limit to how much I can borrow on a conventional loan?
Conforming conventional loans must fall within loan limits set by Fannie Mae and Freddie Mac, which change on an annual basis. As of 2023, conforming loan limits are set at $726,200 in most of the U.S., with certain high-cost areas allowing loan limits of $1,089,300. Non-conforming loans, such as jumbo loans, allow for higher loan limits set by individual lenders.
Do I need mortgage insurance for a conventional loan?
Whether a lender will require you to purchase private mortgage insurance depends on the size of your initial down payment. If your down payment is less than 20% of your loan, you may be required to purchase mortgage insurance to help reduce the risk to the lender.
What credit score do I need to qualify for a conventional loan?
In most cases, lenders won't consider you for a loan if you have a credit score lower than 620. Higher credit scores help ensure better terms and rates.
What types of homes can I purchase with a conventional loan?
Unlike government-backed FHA loans, conventional loans can be used to purchase nearly any kind of home, including single-family homes, multi-family homes, secondary homes, condos, investment properties, vacations homes, etc.
Share
Categories