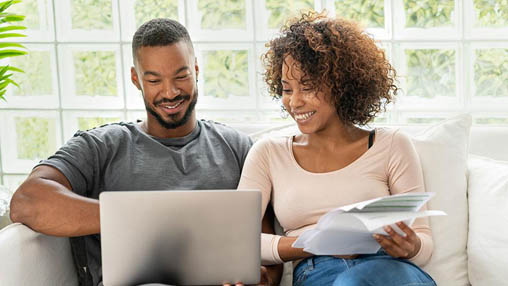 Tell me more!
I'm looking to …
Earn cash back
after close!
With Home Connect, you could earn $350 to $9,500 cash back after close.
The answer is, no. The down payment amount can vary depending on the type of loan for which you're applying. Fortunately, there are numerous ways to save, as well as down payment assistance programs and other funding sources for buyers. We compiled a list of alternative options for your down payment. Let's first see what the down payment amount is for the type of loan you're looking at.
Down Payment Minimums
So you've started saving up, now it's time to figure out how much you need for your down payment. Putting down 20% of the total home cost isn't required to obtain a home loan; most mortgage options have much lower minimum down payment requirements. Let's take a look at the most common types of loans and programs, and examine each of their specific minimum down payment amounts.
Get Help With Your Down Payment
So you've done your best to trim expenses, establish a savings pattern, find extra income, and you're still falling short of the minimum down payment requirements. Don't give up on homeownership—there are helpful options for almost everyone. Here are four down payment assistance options that potential homebuyers should consider.
Option 1: Gift Funds
A gift of funds from an immediate family member, depending on your program of choice, can be a great option for those struggling to come up with their down payment. Lenders always require the benefactor to sign a "gift letter." This letter must include the donor's contact information (name, address, and phone number), the donor's relationship to the buyer, the amount of the gift, the date the funds were transferred to the buyer, and the address of the property being purchased. This form will also certify that all gifted funds will not be subject to repayment to the donor. Your lender may also request proof of funds from the donor, such as a copy of their bank statement or retirement account statement. Talk to your lender about how and when to bring these funds to the table.
Guidelines vary based on the loan program, so make sure you check with your lender regarding your gift to determine if it is allowable.
Option 2: 401k Borrowing
Do you have retirement money in a 401k account? If you answered yes, you may have the option of borrowing against or withdraw from your 401k to help satisfy your down payment requirement.
If borrowing from your 401k, you can use up to 50% of your vested account balance (or $10,000, whichever is greater) and the maximum amount borrowed cannot exceed $50,000. Remember loans from your 401k are subject to repayment, and may have interest included in the repayment period.
If you're leaning towards cashing out your 401k, rather than borrowing against it, make sure to read all of the fine print before you sign. Most early withdrawals are subject to a penalty if you are not of retirement age, however some accounts will waive the penalty for a first-time homebuyer, if funds are being used towards the purchase of their home. Before you decide if this funding source is the right option for you, make sure to review all documentation for withdrawal stipulations before committing to cash-out of your 401k.
Option 3: Employer-Assisted Programs
Some employers will offer down payment assistance as an employee benefit. Check with your Human Resources department to see if this is a benefit that is offered.
Option 4: Community Service Programs
In order to help them live in the communities that they serve, many community service professionals receive down payment assistance through local or federal programs (such as HUD's Good Neighbor Next Door program). Police officers, firefighters, public school teachers, health care workers, and social workers are just a few areas of employment that may be eligible for down payment assistance.
Low Down Payment Loan Programs
Now that you have searched and saved to come up with a down payment, it's time to look for a program that makes the most of what you have. Here are four loan options that can help your down payment dollars go further.
FHA Home Loans
An FHA home loan is a mortgage insured by the Federal Housing Administration. This kind of mortgage is common among first time homebuyers and buyers who desire to put less than 20% down on their home purchase. FHA loans typically have more flexible lending guidelines than other investors. FHA typically offers down payments as low as 3.5%, however, FHA requires mortgage insurance regardless of your loan to value.
Fannie Mae's HomeReady® Mortgage
With the HomeReady® program, borrowers can make a down payment as low as 3% of the cost of the property, and they may use funds from other sources (including gifts, tax refunds, and down payment assistance programs) to make the minimum down payment.
If you make a down payment less than 20% of the cost of the home, you will have to pay Private Mortgage Insurance (PMI). The HomeReady® program provides a reduced mortgage insurance requirement, which, in many cases will result in a monthly cost savings when compared to a standard Conventional or FHA loan with PMI.
Freddie Mac's Home Possible® Mortgage
This program offers loans with down payments as low as 3%, and is not limited to first time home buyers. With flexible down payment and PMI options, Freddie Mac's Home Possible Mortgage can allow lower-income buyers to benefit from stable monthly payments on fixed-rate mortgages.
USDA Rural Development Loans
If the home you want is in an eligible rural area as defined by USDA, and you meet the income limits, you may be able to use this program to purchase with no down payment. The US Department of Agriculture's rural development mortgage guarantee program is typically only for first-time buyers, but there are occasional exceptions.
Home Buying Help For Military Members and Veterans
From low- or no-down payment options for great mortgage interest rates to help with closing costs, there are numerous government programs and nonprofits that support and give back to veterans as well as individuals currently serving in the military.
VA Loans
If you're looking to purchase a home with no down payment while also avoiding Mortgage Insurance (MI) payments, a VA home mortgage may be exactly what you're looking for. VA loans are designed to make homeownership more attainable for veterans and active military by offering more relaxed requirements with great affordability. VA Loans are guaranteed by the U.S. Department of Veterans Affairs and offered by independent lenders, like Pennymac.
The program offers these benefits not only to veterans, active military and their spouses — but also Reservists and members of the National Guard who served for more than six years.
Military Housing Assistance Fund
The total amount of cash that you have to pay in order to buy a home includes your down payment, and fees such as closing costs. The MHAF offers servicemembers funds to help cover closing costs, reducing the total amount you need to pay.
Help For Disabled Veterans
The Veterans Affairs' Specially Adapted Housing grant program offers funds to Service members and Veterans with certain permanent and total service-connected disabilities toward a home purchase or remodel. In addition, the Homes for our Troops nonprofit is available to help permanently injured vets build, buy or retrofit their own homes.
Demographic-Based Down Payment Assistance
Native Americans and people with disabilities are among the demographics that have specific home buying assistance programs. These are just a few examples, talk to your real estate agent and lender about additional, specific programs that may be able to help you.
Native American Homeownership Initiative
Through this program, the Federal Home Loan Bank of Des Moines provides up to $15,000 per eligible household to help with down payments, closing costs, home repairs, and more. In order to qualify, at least one adult member of the home buying household must be an enrolled member of a Federally Recognized Tribe, a member or shareholder of an Alaska Village or Regional Corporation, or a Native Hawaiian eligible to reside on Hawaiian Home Lands.
Programs Helping Disabled Homebuyers
From Government agencies like the HUD Homeownership Voucher Program to private charities like Habitat for Humanity, there are numerous ways that people with disabilities can get help along the road to home ownership.
Local Down Payment Assistance: Help From Your Community, City, or State
There are numerous city, state and even specific community programs aimed at helping home buyers with down payments, closing costs, education, and other barriers to homeownership. HUD offers grants to state and local organizations through the HOME Investment Partnerships Program and Community Development Block Grant Program.
State and local housing finance agencies use this money to fund homebuyer assistance programs, which may vary by state. Certain cities offer financial incentives to buy or renovate homes in certain locations, often as a part of a redevelopment program.
Under most programs, as long as you own and occupy your home for a certain period of time, you do not have to repay any grant funds you receive. If you decide to sell the home before the agreed-upon time has elapsed, you may have to pay it back in full.
Many lenders offer specific loans that complement these down payment assistance programs. These programs are typically restricted to owner-occupant buyers, so investment properties will not qualify. Under most down payment assistance programs, you must make a minimum investment, qualify for a first mortgage, complete homebuyer education, and meet the eligibility requirements for sale price, homebuyer income, and homeownership history.
Choosing the Right Down Payment Assistance Program
Down payment assistance programs are offered by numerous sources around the country, but they are often overlooked since many homeowners aren't aware of them, or don't think they'll qualify. This is a mistake, as down payment assistance is available for a wide range of potential homebuyers in many different situations.
If you're ready to purchase a home, don't let the down payment scare you away! Check with your lender as there are plenty of homebuyer assistance programs waiting to be used by potential homeowners like yourself. For more information about mortgages and your down payment options, call a Pennymac Loan Officer or begin your online application today.
Share
Categories