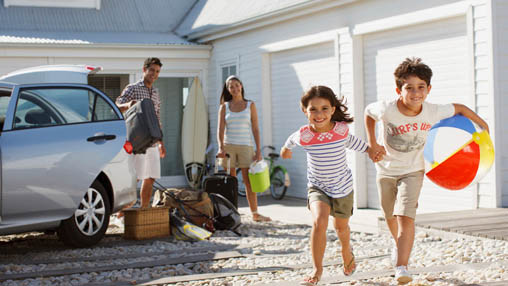 Tell me more!
I'm looking to …
Earn cash back
after close!
With Home Connect, you could earn $350 to $9,500 cash back after close.
So, you've finally found your dream vacation house. Sure, it may need a little work — okay, a lot of work — but you're confident it will all be worth it in the end. That is, until your home renovation projects start to go down the toilet (or worse, the toilet starts falling through the floor). Buying a vacation home? Here's how to know if the property you're considering is a great investment, or just a great way to empty your wallet.
Factor 1: Is a Fixer-Upper the Right Choice for You?
The right fixer-upper can be a great investment and a lot of fun. 
The rise of home renovation television shows has made many homeowners eager to transform rough diamonds into neighborhood jewels. Couple this with the improved job market and an upswing in home values, and you have a tidal wave of homeowners willing to invest in fixer-upper dwellings.
In 2018, homeowners reported an average of $7,560 or more on major home improvements, up 17% over the previous year. But that doesn't mean these projects always go as planned — the same Home Advisor study shows an average of $416 on emergency spending. What many homeowners believe to be a simple "fixer-upper" can quickly turn into a "money pit," transforming a dream project into an expensive nightmare.
Denise Krogman, general contractor, designer, and co-owner with her husband Rob, at RDK Design and Build, LLC offers this advice for those considering buying a vacation home:
Probably the most important advice to consider when buying a vacation home — advice that may fly directly in the face of economics and market dynamics — is to choose a property that you absolutely love. Yes, researching average nightly prices and occupancy rates helps in identifying a property that will generate cash flow. But way deeper than that is an owner's affection for the home and the surrounding area. An owner's pride for their vacation rental seeps into all layers of the business: if you have it, all the other cards fall into place.
By doing smaller sections at a time, you will see gradual progress and also have a better chance of maintaining your decluttered spaces than if you were to attempt an entire room in one sitting. Smaller decluttering tasks also fit better with busy lifestyles, so that no matter how little time you have, there will still be time to make progress on your decluttering.
You may want to consider which vacation home markets are hot, and which are trending down. With over 14 years of experience in financial analysis and real estate, Mihaela Bordea is a senior analyst at Point2Homes. Bordea shares what she's discovered in her own research:
We look into the international vacation/second home market periodically, to track any changes in trends.In our most recent April 2018 study, Mexico takes the cake when it comes to U.S. residents looking for vacation homes abroad. Compared to 2015, when it ranked fourth, Mexico is the most sought-after destination for Americans. Canada, Puerto Rico, Costa Rica and Belize follow suit in the top five hottest destinations for U.S. residents wanting to step away from their day-to-day life. Most definitely, Latin America is hot and seems to keep its upward trend in Americans' preferences.
As for national markets, [one of] our partners evaluated homebuyers' preferences based on the number of homes purchased as non-primary residences. They ranked Ocean City, NJ as the most attractive location, followed by Salisbury, MD-DE, Crestview-Fort Walton Beach-Destin, FL, Barnstable Town, MA, and Panama City, FL.
Andra Hopulele is a senior writer with Point2Homes whose data-driven articles have been quoted by publications including Yahoo Finance, Statista and Business Insider. She reminds homebuyers that buying a vacation home may sound easier and more exciting than buying a "regular" home. However, buying property is buying property, and for things to work out, you must have a well-thought-out plan, which includes selecting the right location.
Location is always a key factor when choosing a vacation home. If you want to make your investment worthwhile, choose a property that you can visit often; otherwise, it might turn into a burden, both financially and in terms of accessibility. Think about how often you're reasonably expecting to visit and calculate the cost per night for your paid-for vacation home as opposed to the cost per night at a hotel or any other type of tourist accommodation.
Home loans aren't just for first-time homebuyers. See what the options are for your ideal vacation home.
Factor 2: What Is Your Budget?
Not all vacation homes have to be luxurious compounds, but even small rustic cabins can come with unexpected costs. Make sure you understand what your actual expenses will be, as well as whether you're able to afford the property.
Christopher Linsell, real estate analyst for The Close, is an expert on real estate topics ranging from marketing to lead generation to transactional best practices. Linsell has aided home buyers with everything from modest rural starter homes to massive waterside compounds. Here is his advice for vacation home buyers on a budget:
The purchase of a vacation home can be the realization of a long-held dream for many. But, the emotional nature of a vacation home purchase can often cloud the judgment of the purchasers. Here are a couple of things to hold in mind when considering a vacation home purchase:
Property taxes are going to be surprisingly high — in most states, a property owner can claim a single residence as their "homestead property," or what the state considers their primary residence. Any residential property you own in addition to your primary residence will be taxed at the "non-homestead" rate, which is close to double the homestead rates in most states. If you're purchasing your property from a homestead owner, using their current property taxes as an estimate for what you'll pay as a vacation property owner can be a costly mistake.
[In addition,] even a part-time home requires full-time maintenance. Just because you only spend six or eight weeks a year in your new vacation home doesn't mean that it won't require maintenance year-round. The home care tasks that homeowners often take for granted in their primary residence can become a real hassle or a serious expense when you add up the annual costs. For instance, mowing your lawn at home might take 90 minutes on a Saturday 25 times a year. But for a vacation home owner who needs to hire a lawn care company, $60 per trip adds $1,500 to annual expenses.
Hopulele also warns vacation homebuyers to be cautious of overspending, and to remember that small, recurring costs can add up.
It is very important to determine what you can actually afford. The cost of owning a vacation home is not only what you pay for it, but also associated taxes, utility costs, HOA, upkeep costs, insurance etc.
Also, keep in mind that, even if you visit often or not that much, the chores pile up, and simple tasks like mowing and cleaning the inside and outside of the house add to the costs, whether you spend your own time or pay somebody to do it. Add travel expenses and you'll have a clearer picture of how much a vacation home will weigh on your budget.
Want to know how much that vacation home will cost? Use our mortgage calculator to estimate how taking on an additional mortgage might affect you.
Factor 3: How Much Time Do You Really Have?
For most buyers, a vacation home represents a greater focus on relaxation and an overall more enjoyable lifestyle. It's important to keep that focus in mind as you evaluate your options, while understanding that even a low-maintenance second home will still require investments of both your money and time.
Luke Babich is the co-founder and chief strategy officer of Clever Real Estate. He's an active real estate investor and licensed agent in St. Louis and his writing has been featured in Homeland Security Today, Mashvisor, Payments Journal and Bigger Pockets. Here are Babich's tips for evaluating potential vacation home purchases:
… the first question potential vacation home buyers should ask is, "[How] will I use it?" While owning a lake house or beach property is nice, consider how much time out of the year you'll actually be able to enjoy your holding.
Once you know your yearly vacation time, compare that to the cost of lodging in the area for the same time frame(s). Next, you'll need to decide if this will serve as a future retirement location and/or if you want to rent out your property. Buying a vacation home can be a great investment to provide additional income and add value if you intend to use it as a retirement home. No matter how you plan to use your vacation home, you'll need to outline the costs to maintain your new getaway.
John Bodrozic is a co-founder of HomeZada, a digital home management software app that helps homeowners stay organized while they manage and improve their homes. Bodrozic is responsible for product strategy and has over 25 years of experience. He suggests the following:
Having a preventative maintenance schedule and sticking to it is really important. Vacation homes tend to be near beaches or in the mountains, and thus are more exposed to extreme weather. This weather beating [on] the home means that staying on top of preventative maintenance is even more important, in order to preserve the useful life of the home's various building materials, equipment, etc...This also helps reduce monthly energy bills and avoids expensive, early replacement costs.
You know the factors involved, now learn how to buy your perfect vacation home.
Factor 4: What Is the True Cost of Maintenance?
Chances are, some of the features that make your vacation location so desirable can also take a toll on your home: Snowy mountain weather, the hot desert sun, salty ocean air and humid tropical conditions are just a few factors that may increase your maintenance costs.
If you want to stay organized during your many projects (and protect your investment), Bodrozic has the following advice:
Many people will invest in home remodel projects with vacation homes to get them updated and more attractive to renters. It is important to plan, manage, and track all these remodels to not only stay on budget, but to keep good records and to know what your tax basis is in the home. It's also helpful to keep contractors accountable for the remodel work they perform.
[Additionally,] vacation homes tend to be bought and sold frequently. So, when you buy your vacation home, start keeping good digital records of maintenance, remodels, and other important property documents. These records can be very useful in the future when you decide to sell the home, as you can use them to differentiate from competing homes for sale by marketing the digital history, and upkeep of the home.
An Informed Choice Is the Right Choice
Owning a vacation home may not be all pool parties and sweet ski runs, but if you take the time to consider all of the required needs and logistics, you will make a choice that is right for your budget, time commitment and long-term goals. Plus, it can be a great investment. If you're ready to start enjoying the vacation home of your dreams, contact a Pennymac Loan Officer or apply online today.
The views, information, or opinions expressed in this blog do not necessarily represent those of PennyMac Loan Services, LLC and its employees. The inclusion of links to third party sites is not intended to assign importance to those sites or to the information contained therein, nor is it intended to endorse, recommend, or favor any views expressed, or commercial products or services offered on these third party sites, or the vendors sponsoring the sites.
Share
Categories