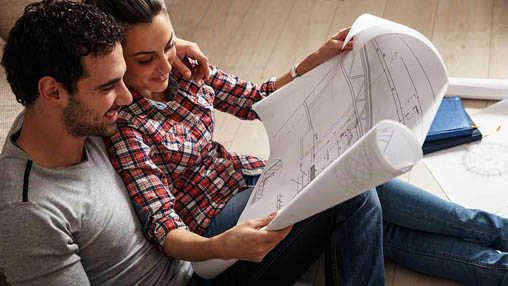 Tell me more!
I'm looking to …
Earn cash back
after close!
With Home Connect, you could earn $350 to $9,500 cash back after close.
Deciding whether to transform your current house into your ideal home or start over with a fresh new space requires careful thought and consideration. There are two options to consider — stay and renovate or move to find something more suitable for your needs. This choice may make some people feel like they are at a crossroads.
Here are some steps you can take to help guide this important decision.
Get an Idea of How Much You Can Afford
If you're considering moving, it's important to understand how much of a mortgage you'll qualify for and how much you can afford to spend on your new home. Connecting with a lender like Pennymac is a great first step. Our Home Connect resource can help set you up for success if and when you're ready to begin your home search. Explore mortgage options, get BuyerReady Certified and receive advice from trusted real estate professionals.
Get a Comparative Home Analysis
Ask a realtor to provide you with a comparative home analysis to estimate the value of your current home. Determine if your home's features align with your desires and needs. For example, do you need an extra bedroom to accommodate a new member of the household or your new work-from-home plans?
Understand Your Location Limits
Do you love where you live right now? Suppose you adore your neighborhood or town, but your house just isn't appropriately sized for you and your loved ones. In that case, consider adding on to your house, whether that's another bathroom or a second story.
On the other hand, If you have children, you may weigh the desire for a new school district with better academic programs. Or maybe you want to move closer to work. It really boils down to what your main priorities are.
If you're looking to move to a larger home, keep in mind that a bigger house in your preferred area will likely have higher taxes, utility bills, homeowners insurance premiums and maintenance upkeep costs. On the flip side, if a move means you'll have a shorter commute, you will save time and transportation costs. Prioritizing your location needs and determining what you are willing to spend or sacrifice to achieve your goals will help influence your decision.
Renovation Reality Check
Choosing whether to remodel or move depends on a lot of factors. Can you be creative with your existing rooms and make relatively easy and straightforward renovations, or are your requirements complex, expensive and challenging to complete?
Hire an architect or contractor to help pinpoint issues with your current house and decide what you need from your home. Want to add a second story? Get estimates on how long that might take and how much it might cost, and determine if you're okay with living through such a major renovation.
Understanding Your Time Commitment Matters
Buying and selling at the same time can be a lengthy process. Organizing your home and putting it on the market can take months, plus there can be some financial and emotional uncertainty when buying and selling. It may take time to get the sale price you want and to find your ideal next home.
If you decide to move forward with buying and selling your home simultaneously, you'll want to work with a real estate agent and have a plan for how you'll manage the process. Timing everything right is essential since you don't want to be paying two mortgages at once if you're still waiting to sell your current home.
You'll also want a savings buffer to help financially manage any complications or slowdowns. For example, you may need to temporarily stay in a hotel or put your furniture in storage.
Contingency Acceptance
A contingency clause in real estate is part of a purchase agreement that outlines specific conditions that must be met in order for the contract to be valid and binding. In some markets, home sale contingency offers are allowed, which means your bid for a house is contingent on the sale of your former abode.
In other markets, home buyer-feeding frenzies can prohibit contingent offers. When you put your house on the market, you have to decide if you'll buy a new house first or make a contingent offer. If contingent offers are out of the question, you may require a temporary rental after escrow closes on your old home and you're still looking for your next one.
Closing Costs
In addition to your down payment, you'll have to pay closing costs, just like you did when you purchased your existing home. After figuring in closing costs, commission, title insurance and additional transaction costs involved in your home sale and purchase, it may be much less expensive to stay in your house and renovate. So don't forget to calculate closing costs when deciding whether or not to move, but don't hesitate to negotiate any of those costs either.
Current vs. Past Mortgage Rate, Cash-Out Refinance and Second Mortgage Considerations
A cash-out refinance is when a homeowner refinances their existing mortgage, taking out a new loan for more money than they currently owe. The difference between the new loan amount and the old mortgage balance is given to the homeowner in cash. This allows the homeowner to tap into their home's equity and use the money for various purposes, including home renovations.
If you have a higher interest rate than the current market, compare keeping your mortgage — and perhaps refinancing at a lower rate and taking cash out to make upgrades — to getting a new house with a new mortgage at a lower rate.
Either way, a lower-rate market can prove to be very favorable whether you stay and renovate or go and start fresh.
However, if your current rate is lower than the current market, it may be in your best interest to explore a second mortgage option that allows you to access the equity in your home while maintaining your low rate on the first.
Evaluate Your Motivators to Move
Many individuals who decide to sell have outgrown their current house and don't want to build an addition or are too busy to manage an extensive renovation project. There are also those homeowners who have too small a lot to work with, need to move closer to work or are not that vested in remaining in the neighborhood.
Aside from the desire to upsize your home, some other motivators for selling can be:
The need for a less expensive home
Readiness to downsize
The ability to pay cash for the next home
The want or need to relocate for a job, school district, family situation, better climate, etc.
Favorable market conditions
Identifying the primary motivators for your move can help you decide if you should sell your house now or wait.
Ready to Downsize?
Those in a life stage where they are often uniquely ready to leave behind the maintenance of their current home. Trading in the three-bedroom house for a low-up keep city condo provides more opportunities for enjoying the retirement years.
Here are some signs downsizing may be right for you:
Housing expenses have increased and you want to cut costs
There are unused rooms in your home
You desire a more low-maintenance lifestyle
You want a change, such as being closer to family, relocating to a different climate or moving into an amenity-filled active community.
So, What Is the Bottom Line? Should I Sell My House Now?
Making a final decision as to whether or not you should sell your house is as personal and individual as the home you're thinking about giving up or buying. But with the right calculations and information, you're closer to finding a long-term solution that will work best for you. Ready to sell your home and begin looking for your new one? Chat with a Pennymac Loan Expert, or use one of our mortgage calculators and start your home buying journey today.
Share
Categories
buying a home selling a home home improvement renovations real estate