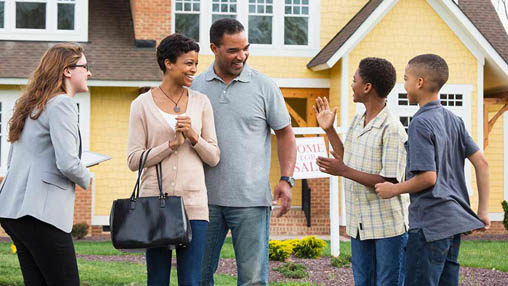 Tell me more!
I'm looking to …
Earn cash back
after close!
With Home Connect, you could earn $350 to $9,500 cash back after close.
When it comes to putting your home on the market, timing is crucial. Believe it or not, there is a right time, and knowing when that is can get your home sold faster and at a higher asking price.
Many considerations go into selling your home. It can often be a chaotic time—you'll be choosing a real estate agent, making necessary improvements, coordinating showings and open houses, and possibly shopping for your new home as well. However, one consideration many people overlook is how the time of year affects the sale.
What Is the Ideal Time to Sell a Home?
Spring and summer are typically the best times to list a home, but the optimal selling season ultimately depends on your specific housing market.
Selling In the Spring or Summer
If you're looking for a speedy sale, the end of spring through the beginning of summer is the best time to list your home. According to a study by Zillow, homes listed between mid-March and mid-April traditionally sold the fastest; however, a declining number of available homes on the market has now pushed back the window of opportunity.
Still, spring and early summer remain your best bets. Families with children may want to finish out the school year in their current district before starting anew. The longer days don't hurt, either—more daylight means more opportunities to get people in the door.
This time of year typically features the best weather, meaning you'll be able to showcase your lush green grass, beautiful flowers and other attractive landscaping. An in-ground pool looks a lot more inviting beneath a bright blue sky than it does surrounded by piles of dead leaves or mud puddles from a recent rainstorm.
Selling In the Fall or Winter
If you don't have very many options and need to sell quickly, you may need to try and sell during the winter season. Though it's not the best time of year to list a home, there's still opportunities to sell, especially in a booming housing market. You can also do things to make your home appealing or inviting, like leaning into the cozy and gathering elements of colder weather, updating appliances, keeping up on curb appeal, etc. It's also important to consult a professional so you can estimate the value of your home and set the right listing price.
Drum Roll, Please: The Best Month to Sell a Home Is…
The best time of year to sell a home falls in the first two weeks of May. Homes sold during this time frame sell quicker (18.5 days on average) and often for a marginally higher asking price, according to Zillow.
As with every rule, there are exceptions. While May shows the highest average odds, your mileage may vary for the following reasons:
Climate. If you're selling a home in Southern California, where summer seems to last all year, you may be able to benefit from the weather much earlier than someone who lives in the Pacific Northwest, where warm, sunny weather is rarer. Adjust your selling window accordingly.
Location. While an NYC condo will be snatched up quickly, suburban and rural properties may take longer to sell. Even nicer homes in planned subdivisions take longer to sell if they're in sparsely populated areas. If your home is off the beaten path, you should begin the listing process earlier, or plan for a longer listing period, to give yourself and your potential buyers a bit more time.
A Competitive Market. Amid a housing crunch, some markets are much more competitive than others, meaning you may need to jump the gun a bit to beat out other early listers. In highly competitive markets, it's also generally easier to sell in the off-season since eager buyers are more plentiful year-round.
How to Put Your Home on the Market
Selling your home doesn't happen overnight. There are several steps – some more time-consuming than others – that you must take. You should decide when you'd ultimately like to close, then count backwards from that date to ensure you have a good chance of meeting your target.
Once you've chosen your listing agent, they'll gather all the details on your home: number of rooms, square footage, lot size, upgrades, etc. They'll take pictures from many different angles, and they may stage the home for sale.
When they have what they need, they'll put your home on multiple listing services for the public to see. This part of the process goes quickly – typically, it takes less than a week.
As of February 2022, the National Association of Realtors (NAR) indicates that the average home remains on the market for 18 days, but again, that can be influenced by your market and the time of year you list. Closing takes an average of 50 days, according to Realtor.com.
Other factors that can impact the time it takes to sell include:
Finding an agent. Your real estate agent will be with you from start to finish, so it's important you find someone you're comfortable with. Do not rush this step!
Repairs and upgrades. Your home inspection may reveal issues that need to be addressed, such as wiring that isn't up to code. You may also want to make upgrades to the home or property to increase its value.
Contingencies. If the sale of your home includes any contingencies, such as the buyers finding a buyer for their property, the process can take longer.
Knowing If and When Selling Is Right For You
It's not always easy knowing when it's time for you to sell your home. There are plenty of personal reasons to sell and move. Sometimes, those reasons give you the flexibility to wait until the best opportunities pop up, and other times, your personal needs are more important or demanding. Here are some things to consider in the "stay versus go" equation.
As a rule of thumb, it's best to stay in a home for at least five years because you build home equity during that time, which can at least prepare you for the next home purchase. Those costs can add up quickly as you transition from the selling to buying phase, even for previous homeowners.
The longer you stay in your home, the more equity you build. If you only stay in a home for three years, it may not be much of an investment—especially considering the cost from the last home purchase – closing costs, real estate agent fees and added interest. You must consider capital gains tax as well, which is a fee homeowners pay when they sell their home and make a profit. If you've been in your home long enough, at least two years, the home can be considered your primary residence and you may be able to avoid capital gains.
Remember, if you're satisfied with the majority of your home or property but need to make some updates, remodeling is a good option, especially if you're tempted to sell during a difficult time. If you're concerned about making payments, refinancing a mortgage may be a better option than reselling when housing demand is low.
With that said, selling your home can be exciting when the time is right. If you've lived in your home for at least five years and you're ready to start the next chapter, keep an eye on what's happening in the market before diving in head first. Try to sell when there is a high housing demand in your area—unless you're selling out of necessity, it's always best to sell when market conditions are favorable. The best time to sell a home involves personal and market factors, and both are important to consider.
Best Time to Sell: The Bottom Line
While there is no magic day to sell your home, putting your home on the market in late spring or early summer increases your chances of a quick sale and a higher profit margin. Decide on your target sell by date and work backwards from there to ensure you hit your mark.
Do you have questions? Pennymac has answers. Contact a qualified Pennymac Loan Expert today and let us know how we can help.
Share
Categories