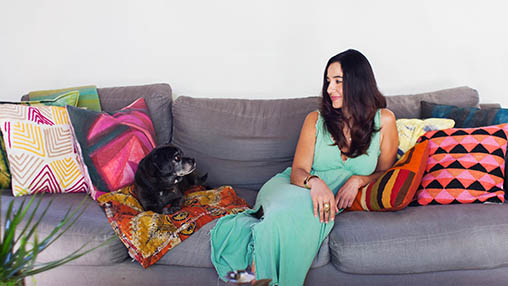 Tell me more!
I'm looking to …
Earn cash back
after close!
With Home Connect, you could earn $350 to $9,500 cash back after close.
There are many incremental tasks to complete as you prepare to sell your home, but a successful transaction starts with looking at the big picture. Before you take a single interior photo or begin painting your trim, it's crucial you take a moment and assess your situation properly. Are you emotionally ready to sell your home? Will you use a real estate agent? Is it a good time for you to sell? Let's examine the factors that go into answering these questions.
Am I Ready to Sell My Home?
Whether you are sad to leave behind a family home full of memories, or can't wait to get out and into your new upgrade, selling a home can often be an emotionally charged process. There are many considerations to take into account before you decide to sell, which should be done as dispassionately as possible.
Once you're confident you truly want to sell, it's still important to not be overly swayed by the attachment to your home during the selling process. Homeowners should try to contain their emotions as much as possible and treat the process like any other business transaction in order to ensure a smooth and timely sale.
An important way to minimize your feelings as a factor in preparing to sell a home is by trying to see things from a prospective buyer's point of view:
What types of buyers are likely to be interested in your home and neighborhood (e.g., large families with children, single professionals or retired couples)?
How can I make my home more desirable to them?
What are their long term goals and concerns?
Aligning your property with the needs of your prospective buyers can help you sell it quickly and for a great price. But remember that other people don't have the same attachment to your home as you do, so a fair market price may be lower than your own perception of its value.
Timing is another factor to consider in order to sell your home successfully and for the most return. If possible, it can be beneficial to list your home during the most popular times of the year for the average homebuyer. Spring and summer are typically the best times to list, but the optimal selling season ultimately depends on your specific housing market. For example, communities popular with retirees in warm states like Florida or Arizona may see more action in the winter. A real estate agent can help you determine your area's prime selling period, or you can do the research yourself. The same goes for conducting the sales process itself.
Real Estate Agents vs. For Sale by Owner: Which Is Better?
If you have a timing plan and are ready to get your home on the market, one of the first decisions you need to make is whether to go it alone, or use a real estate agent. Both methods have their own pros and cons — Let's examine each option.
Using a Real Estate Agent to Sell Your Home
Real estate agents take a commission, which can typically be 5 to 6 percent of the sale price of your home. And for the average seller who does not make a living in the real estate industry, the choice to use an agent in exchange for this commission can not only save precious time, but also increase the amount received for the home, making the investment well worth it in many scenarios.
The right agent will help you with everything from setting the most advantageous selling price, marketing your home (including photography, videos and staging the property to look its best), arranging showings and open houses, negotiating with interested buyers, to helping you choose the right escrow company and getting the transaction closed without any snags. They are also ideally there for you as an ally and asset if any issues or questions arise during the selling process. They understand all of the required paperwork and typically have contacts and other resources that can help you solve nearly any possible problem. They can also strategically provide a buffer between you and potential buyers, and will have the experience and knowledge to ensure that you only invest your time engaging well-qualified buyers.
If you want help locating the perfect agent to sell your home, you can be matched with one in your area through Pennymac Home Connect, a nationwide network of top-producing real estate agents. You may even be able to earn $350 to $9,500 back at closing if you buy or sell a home with an agent you met through the network.*
For Sale by Owner
Real estate agents can be extremely helpful but it is also possible to sell your home on your own, a process commonly known as "for sale by owner." In order to sell your home yourself, you will need to:
Do your own research in order to come up with a suitable selling price.
Manage all of the marketing, including getting your home on the Multiple Listing Service (MLS).
Show the house and interact with prospective buyers on your own.
Negotiate the sale with the homebuyers and/or the buyer's real estate agent.
Ensure you have the proper documentation and that you adhere to all of the relevant laws and regulations.
If you are not going to use a real estate agent, it's still wise to consider hiring some help in the form of a real estate attorney to make sure that the transaction goes smoothly, including setting up a real estate escrow account.
A Checklist for Selling Your Home
Now that you have determined which method you want to use to sell your home, it's time to get to work. A smooth, successful home sale can be influenced by many factors, some large and some small. Fortunately, you can do many improvements yourself, with time and sweat being your biggest investments. Here are some moves you'll want to consider in order to get ready to sell your home.
Interior Updates and Curb Appeal Improvements
For interior improvements, consider painting walls in contemporary, neutral colors and upgrading the lighting, even with small investments like additional lamps or upgraded light bulbs.
To boost your home's "curb appeal" — the first impression and level of attraction prospective buyers feel for your home from the street before they step inside of it — consider making some inexpensive improvements to your home's exterior and yard such as pressure washing, painting trim, and landscaping additions and touch-ups. Such simple beautification efforts can help improve your chances of attracting the right buyer.
Clean and Stage Your Home
You'll want to thoroughly clean your home. A muddy hallway, messy garage or dusty bedroom will only reduce its appeal. Keep rooms as orderly and as uncluttered as possible for all showing appointments. Use a storage unit to temporarily house extra or unsightly items if necessary — that old recliner may be quite comfy, but it could be a ratty eyesore as well. Your real estate agent will likely have a professional home stager you can hire to make your home look its most appealing to buyers. And you can always ask a stylish friend to help you with organizing or decor. In either case, a second set of eyes is always helpful.
Provide Numerous High-Quality Photos
The right photos can make or break your listing. Most agents work with professional photographers, or you can hire one on your own. Ask a friend or neighbor for objective input when selecting pictures and don't be afraid to speak up if you don't like the photos used in your listing.
Set a Realistic Price
Setting a price for the home you are selling involves getting input from numerous sources. Start by checking area comps, or comparable sales, and get price suggestions from a couple of real estate agents. Consider all of these numbers, and add in the factors that make your home unique — in both positive and negative ways. Don't use a property tax assessment since that figure is typically much lower than the current market price.
Still not sure how to price your home? Appraisals will determine how much money a lender will lend, so you should get a professional appraisal before listing your home. Appraisals are not inexpensive, but in certain markets and situations they could save you a lot of time, and that easily translates into saved money.
Create a Plan to Accommodate Showings
It's a bad idea to conduct ad hoc showings. For all intents and purposes, you're putting on a sales presentation so you should always put your best foot forward. Having a plan means adequately preparing for your customers (i.e. the potential buyers), while also minimizing the chances something could go wrong during the showing. Some important points to consider when scheduling a showing:
How much time does your work schedule and family/personal life allow for?
Do you have pets that you will need to remove from the home?
How much lead time will you need from your agent to ensure that it is in show-ready condition?
If you have small children, how will you manage their needs throughout each showing?
How will you deal with the unexpected, such as last minute viewing appointment changes, prospective buyers that show up early, or inclement weather concerns?
How to Sell Your Home Fast
No one wants to have their house sit on the market forever, but if your move is being influenced by a time-sensitive factor like a job change, a family situation, or financial issues, you may need to sell your house as quickly as possible. Here are our best tips for speeding up the home sale process.
Have your own home inspection: One part of the homebuying process that can drag on for a long time is addressing the findings of the buyer's home inspection. Before you even list your home, you can hire an inspector yourself. Use their findings to create a to-do list, or factor the cost of repairing any issues into your sale price. This will allow you to start one step ahead of your potential buyers' negotiations.
Accommodate (but also vet) potential buyers: Offer buyers whatever you can, whether it is showings on short notice or flexibility with their closing date. However, don't act too much in haste to sell and don't sign contracts with unqualified buyers. Spending time in limbo with a buyer whose offer might fall through can waste valuable time and miss connections with more qualified buyers.
Spread the word yourself: Ask for help from your friends, family, and other contacts. Share your listing on social media, carry flyers with you at all times and even consider hosting events like an open house party.
Consider offering incentives: Paying all or part of your buyers' closing costs, a home warranty and flexibility with closing are all ways that you can attract potential buyers.
Consult with a lender: Knowing what financing options are available to potential buyers can help you market your home. For example, are there low down payment options available?
Ensuring a Successful Home Sale
Our final, and perhaps most important, tip for selling your home is to make sure that you prepare mentally and financially for the many possible offers and issues you may encounter. What if you don't get the price that you want? If you are trying to sell your home fast, what if it sits on the market for a long time? If you can come up with contingency plans for these worst-case scenarios, you will be ready to handle anything that you encounter in the home selling process.
Being prepared is the key to success in the home sale process, from your first showing appointment to the closing of the deal. If you'd like additional insights into selling your current home or buying your next one, consult with a Pennymac Loan Expert today.
*Pennymac Home Connect is offered in partnership with HomeStory Real Estate Services, a licensed real estate broker. HomeStory Real Estate Services is not affiliated with PennyMac Loan Services, LLC, and PennyMac Loan Services, LLC is not responsible for the program provided by HomeStory Real Estate Services. Obtaining a mortgage from PennyMac Loan Services, LLC is optional and not required to participate in the program offered by HomeStory Real Estate Services. The borrower may arrange for financing with any lender.

Qualifying for the reward requires using a real estate agent that participates in HomeStory's broker to broker agreement to complete the real estate buy and/or sell transaction. You retain the right to negotiate buyer and or seller representation agreements. Upon successful close of the transaction, the Real Estate Agent pays a referral fee to HomeStory Real Estate Services. All Agents have been independently vetted by HomeStory to meet performance expectations required to participate in the program. If you are currently working with a REALTOR®, please disregard this notice. It is not our intention to solicit the offerings of other REALTORS®. A reward is not available where prohibited by state law, including Alaska, Iowa, Louisiana and Missouri. A reduced agent commission may be available for sellers in lieu of the reward in Mississippi, New Jersey, Oklahoma, and Oregon and should be discussed with the agent upon enrollment. No reward will be available for buyers in Mississippi, Oklahoma, and Oregon. A commission credit may be available for buyers in lieu of the reward in New Jersey and must be discussed with the agent upon enrollment and included in a Buyer Agency Agreement with Rebate Provision. Rewards in Kansas and Tennessee are required to be delivered by gift card. In Kansas the reward is set to $1,000 regardless of the sale price of the property.

HomeStory will issue the reward using the payment option you select and will be sent to the client enrolled in the program within 45 days of HomeStory Real Estate Services receipt of settlement statements and any other documentation reasonably required to calculate the applicable reward amount. Real estate agent fees and commissions still apply. Short sale transactions do not qualify for the reward. Depending on state regulations highlighted above, reward amount is based on sale price of the home purchased and/or sold and cannot exceed $9,500 per buy or sell transaction. Employer-sponsored relocations may preclude participation in the reward program offering. PennyMac Loan Services, LLC is not responsible for the reward. The reward is valid for 18 months from the date of enrollment. After 18 months, you must re-enroll to be eligible for a reward. Offer subject to change or cancellation without notice.

PennyMac Loan Services, LLC ( Lender NMLS 35953 ) does not perform any activity that is or could be construed as unlicensed real estate activity, and PennyMac Loan Services, LLC is not licensed as a real estate broker. Agents of PennyMac Loan Services, LLC are not authorized to perform real estate activity.

PennyMac Loan Services, LLC loans subject to credit approval. Offer subject to change or cancellation without notice.

The trademarks, logos and names of other companies, products and services are the property of their respective owners.
Share
Categories