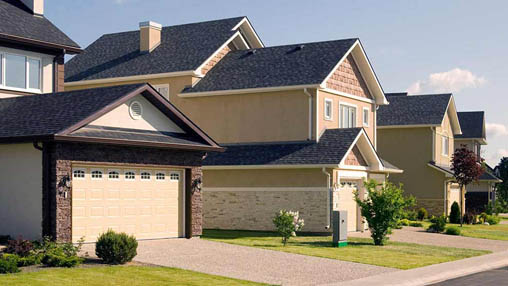 Tell me more!
I'm looking to …
Earn cash back
after close!
With Home Connect, you could earn $350 to $9,500 cash back after close.
A colorful flower bed, a freshly mowed lawn, a newly painted front door—these attractive aspects of your house and yard exterior, when first viewed from the street, is typically known as "curb appeal."
While creating a welcoming exterior environment for your family and visitors, curb appeal can also make or break a home sale. About 99% of Realtors® believe curb appeal is important in attracting a homebuyer, and 94% have directly asked sellers to improve their curb appeal before listing a home, according to the most recent joint report issued by the National Association of Landscape Professionals (NALP) and National Association of Realtors® (NAR).
So how are homeowners increasing their curb appeal? Beautifying your home's first impression can include landscape upgrades, such as brick edging, along with exterior aesthetics, like a new mailbox, door numbers or solar lighting.
Additions can range from a new front porch to simple window planters. Of course, there are always practical aspects requiring attention, such as resealing a driveway, replacing broken or worn garage doors, or finding a clever way to disguise outdoor recycling bins.
Updated Appeal.
An annual trends report recently released by NALP, based on a member survey and input from U.S.-based landscape professionals, tells us which upcoming trends may help your home look more contemporary.
Whether you're a buyer about to become a new owner, or already living in your home, it's clear that "homeowners seek beautiful, easy-care spaces," says Missy Henriksen, public affairs vice president at NALP.
One major factor in curb appeal is a groomed, lush lawn. New technologies can make accomplishing that goal a little easier, including robotic lawn mowers, programmable irrigation, and "smart" outdoor lighting.
Price ranges can vary greatly, and some homeowners may have tough choices to make — from an average of around $1,500 for a DIY programmable installation system to $2,000 for a robotic lawn mower to $3,500-$4,500 for "smart" LED outdoor lighting installation.
Some recent trends, like new wood or composite-based pergolas with space heaters and sound systems can work no matter what type of lot you have. Multi-use landscape design features combining function and style are also on-trend for 2019. Examples include a retaining wall with built-in seating around an outdoor fireplace; or a colorful, vertical garden on a graceful trellis, which doubles as a privacy fence.
Easy Appeal.
"Spring is a perfect time to do some basic, low-expense, DIY curb appeal fixes, such as cleaning up landscaping, and removing older or dead plants," says Seattle Realtor® Nancie Kosnoff of GrowingSeattle.com.
It's not difficult to quickly improve your yard's look. "It should be easy to see the definition between plants," she says, "and make sure the plants aren't touching one another. Then, add in new flowers to fill in any dead space, and place a big pot full of flowers or plants on the front porch."
To give your house a facelift, Kosnoff suggests removing the screen door and painting your front door, then "clean the outdoor light fixtures, and consider pressure-washing the house and surrounding walkways, steps and sidewalks."
Update your home over the weekend, by adding warm pink floral touches and shiny metals to the front yard, NALP suggests. Landscape professionals are planting more coral (rich pink) petunias, zinnias and other flowers, and even bringing in lighter pink stones for hardscaping. Steel, iron and other metals are shining up water features, furniture and outdoor décor.
No time to take on a curb appeal project? You're not alone. Landscape professionals are frequently hired by homeowners when the owner lacks either time or expertise for lawn or landscape care, according to NALP.
Planned appeal.
Thinking big? "A plan is essential when transforming your home's curb appeal," Henriksen says, "and a professional (such as a landscape planner or architect) can assist in creating and executing such a plan."
Recouping the cost of curb appeal upgrades is important to some homeowners planning to sell soon. At resale, curb appeal projects that pay off at sale include standard lawn care services (recovering 267% of the project cost at resale) and landscaping and tree care (recouping 100%), according to NALP's 2018 Remodeling Impact Report: Outdoor Features.
For many, the homeowner's current happiness is a key consideration, too. "Joy Scores" are what NALP calls the happiness a project brings a homeowner (or potentially, a future homeowner).
For example, yard irrigation system installation recovers 86% of a homeowner's investment at resale, but also provides one of the highest "Joy Scores" possible — a perfect 10 out of 10.
Other 9+ "Joy Score" projects include adding a new wood deck or water feature, upgrading your landscaping, and generally tidying-up and maintaining your lawn. These projects provide homeowners with a greater desire to be at home, increase their at-home enjoyment and provide a sense of accomplishment.
Need cash for your large renovation? Talk to a licensed Pennymac Loan Officer today to see how you can use the equity in your home to improve your home or apply today.
Whether focused on a luxurious lawn, a cluster of pink blooms, an eye-catching, produce-laden trellis or a vibrant maple tree, your new curb appeal can reap big rewards outside and in, for years to come.
Increasing your curb appeal ultimately increase your equity and even help your home sell more quickly when the time comes. Find out what your home is worth using our free Home Value Estimator.
Share
Categories