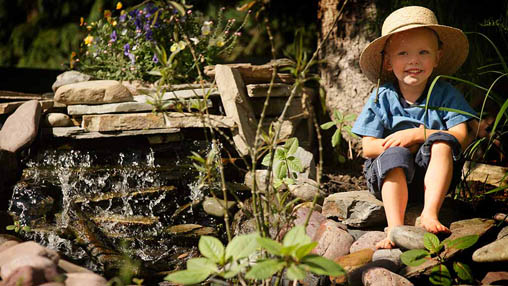 Tell me more!
I'm looking to …
Earn cash back
after close!
With Home Connect, you could earn $350 to $9,500 cash back after close.
Front-yard fountains and backyard pools can help a home feel summer-ready, but they aren't the only H2O delights available. Water features such as ponds and waterfalls added to landscapes or even fountains are a growing trend we see in the homes we inspect, says Kathleen Kuhn, president of HouseMaster, a national home inspection company.
The tranquility of running water can be a great addition to minimize noise or simply add a relaxing element to an outdoor space, she says. We are seeing more and more water features particularly in newer construction.
Check out these cool alternatives to the traditional residential pool and see if one might be a good fit for you – then research prices, as installation can vary widely depending upon location.
Pondless Waterfalls
Perfect for smaller yards -- but suitable for larger ones as well -- pondless waterfalls attract wildlife (both human children and birds alike), but aren't complicated by the same safety and space concerns associated with a traditional swimming pool. The water streams over natural rock arrangements and through a tucked-away water reservoir, much like any other water fountain – but can be programmed to run on a timer.
Pondless waterfalls can range from small, mellow rivulets to dramatic, tall drops – but either way, they're low-maintenance and energy efficient, when compared to an in-ground pool.
Water Gardens
For larger yards, water gardens or koi ponds primarily serve as an aesthetically and aurally pleasing setting for tranquility. The low-maintenance ponds can include white-topped water lilies, curious goldfish or koi fish, footbridges, running fountains and other features. Birds, attracted by the water, will also become regular visitors – although it's wise to offer fish safe harbor via natural features from predators.
Not much room to work with, or want to keep your water feature quite contained? A bowl filled with recirculating water creates a "pond" with plants or small fish, and a small bamboo fountain can help keep water fresh and adds enjoyable, quiet background bubbling to any gathering.
Natural Swimming Ponds
A newer player on the scene, a natural swimming pond typically includes a heated swimming zone and a planted water garden. Instead of chemicals, the water is cleaned by moving through the biological and plant-based filters. Maintenance is much the same as a traditional pool regarding cleaning, vacuuming and filter cleansing – along with upkeep of the water garden, such as removing dead plants and cutting back seasonally.
Natural swimming ponds or pools may be a more costly investment due to size and plant installation, but ongoing maintenance can be less expensive due to lack of chemicals and lower energy consumption.
Splash Pads
Whether you've spotted them at the local community center or a large theme park, splash pads are chill ways to boost summertime fun for kids and adults alike. Whether spouting water from ground-based nozzles or buckets that fill, dump water, then refill, a splash pad's characteristics are often fun. Residential splash pads are even offered as DIY kits from some manufacturers.
Splash pads can be tricked out with water cannons, showering flowers, and sun-shading umbrellas, among many other extra features. Water can either be recirculated, or fresh each time; the latter can be better for kids with sensitive skin.
Dog Water Park
Another newcomer on the scene: the dog water park. My Splash Pad makes a "portable splash pad" for residential customers, a DIY kit that attaches to a normal garden hose. Cool add-ons may include a dog bone, a dog wash, and a platform with a hydrant. For a backyard feature, a fresh water-to-drain splash pad is a solid choice, says John Foraker, owner of My Splash Pad. Dogs routinely drink the water (unlike children), so less chemical treatment is preferable.
Another bonus: "portable splash pads travel with you if you move," he notes. And that certainly isn't true of an in-ground pool.
If you're considering purchasing a home with a water feature already installed, Kuhn suggests asking the owner to demonstrate operation, along with detailed information on how to maintain or care for the feature.
The views, information, or opinions expressed in this blog do not necessarily represent those of PennyMac Loan Services, LLC and its employees.
Share
Categories