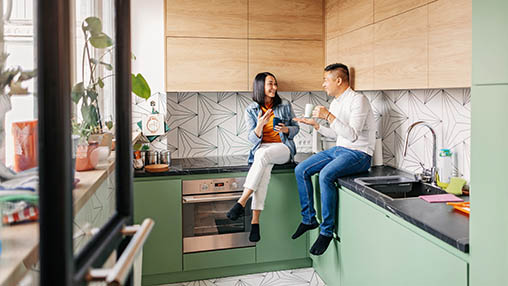 Tell me more!
I'm looking to …
Earn cash back
after close!
With Home Connect, you could earn $350 to $9,500 cash back after close.
Do you know the return on investment (ROI) of your renovation project?
Not all renovations automatically make your home more valuable. In fact, some projects may provide very little or no return value at all. It's important to research and plan ahead before you begin so you can make sure you're spending your money wisely.
When you're a homeowner, any Saturday morning spent shopping the aisles of your local home improvement store is a win in our book. After all, it feels good to finally snag the supplies needed to remodel the master bedroom suite; replace the broken front door; or remake that awful, outdated, pink bathroom.
Studies show that home renovation projects of all types are on the rise. At least 53% of U.S. adults will make some type of home improvement this year, and a slightly higher percentage will spend $1,000 or more while sprucing up their homes.
But how many of these homeowners will see a return on their investment?
Well, it depends. Getting a full recoup of remodeling costs isn't very likely. And while smaller, DIY projects probably won't break the bank, homeowners should address whether a project is worth its weight in salt — especially before diving into large scale remodels.
When it comes to making home improvements, too often homeowners rely on instinct rather than research to decide which projects to embark on. So, while converting the garage to an extra bedroom might seem like a good idea at the moment, the inconvenience of street parking isn't likely to entice a potential homebuyer anytime soon.
Don't Rely on Reality TV for Ideas
Did you know that the single most valuable home improvement project is adding fiberglass insulation to a home's attic?
Probably not. But watching contractors stuff the ceiling with insulation on popular home improvement shows just isn't as interesting as watching designers discuss the layout of a total kitchen overhaul, complete with high-end fixtures, granite countertops, and top-of-the-line commercial-grade appliances.
Therein lies the rub. An overly pricey, sophisticated kitchen may backfire once a home is back on the market. A minor kitchen remodel on the other hand (say painting the cupboards or replacing the laminate flooring with ceramic tiling) actually earns homeowners more return on their investment.
A popular way to determine whether a home improvement makes sense is to look at a project's cost vs. its value assessment. This resulting renovation-to-resale value assessment number, "cost recouped", can then be used to rank the financial benefit of comparable projects across the country, as shown in this chart of more than 30 popular home remodeling projects and their ROI values.
Take a look. You may be surprised at what tops the list.
Top 5 Best & Worst Remodeling Projects for ROI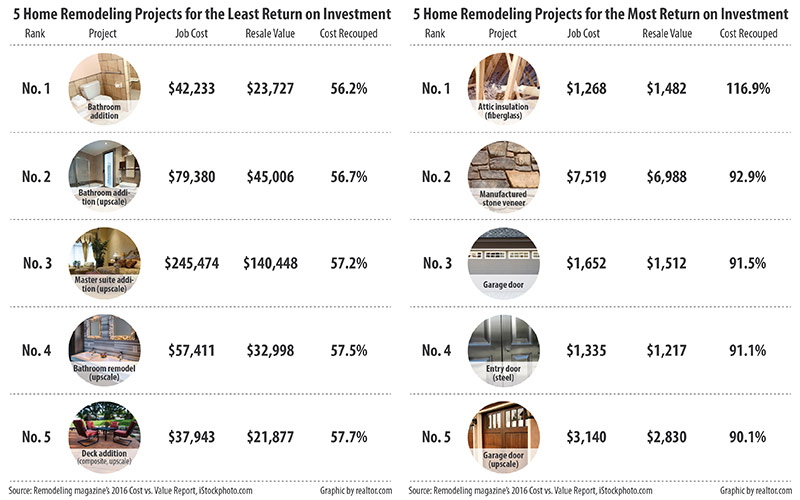 Pre-Renovation Checklist
Long before you start tearing down walls or ripping up floors, you should consider the following:
Have you budgeted for the renovation costs?
Is the remodel a temporary fix or a long-term lifestyle change?
How long do you plan to live in the home?
Can you afford the renovation without recouping a full or near-full ROI?
How long will the renovation last?
Will the improvements add value to your home equity?
Still unsure if your project is worth the cost? Here's a more in-depth look at the questions above.
1) Don't Guesstimate Your Renovation Budget
No matter how much homeowners try to nail down a renovation budget, there are likely to be unforeseen costs along the way. Plan ahead by getting a clear view of how much you can spend.
Talk to contractors, compare their rates, and get your priorities in check. It's easy to spring for granite countertops over laminate when you're visiting the showroom, but if you need to rewire electrical to install the new kitchen appliances later, you might be out of funds — and out of luck.
2) Quick Fix or Lifestyle Upgrade?
While the size of a project is largely dependent on budget, in some cases a quick fix repair may cost more money over time than a large-scale renovation that solves a major headache.
For example, if mold is growing on your first floor ceiling due to a leak in an upstairs shower, simply replacing the grout may be enough to resolve the problem in the short term. However, in order to maximize your return on investment — and to be sure the mold stays away for good — instead consider completely redoing the tile and upgrading the quality while you're at it. In some cases it's worth tearing it all out so you can replace the drain and pipes too.
3) Will You Stay - A Forever Home or Prepping for a Sale?
If you're preparing to put your home on the market, make sure your renovations will appeal to buyers. One of the biggest misconceptions among homeowners is that major home improvements equate to more money in the final sale. That's not always the case. If you're planning to live in your home for several years, make sure you can realistically live with the changes long term.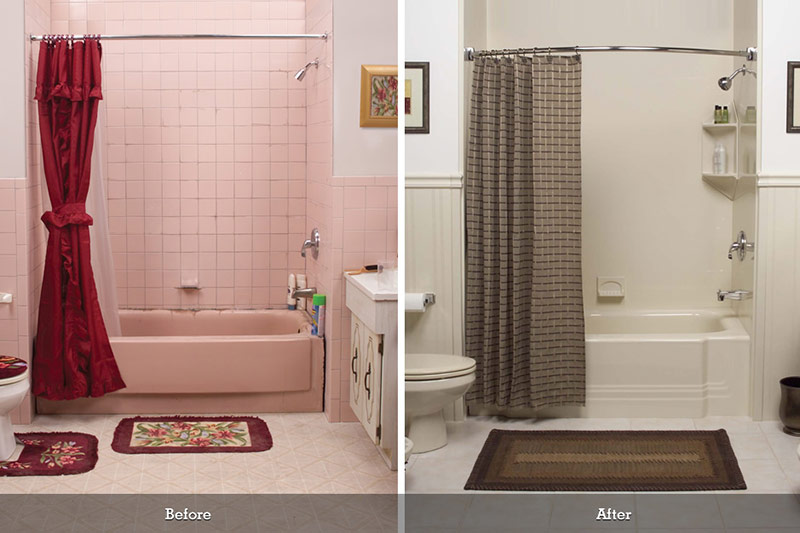 4) Research Your Project's Regional ROI
It's important to consider the value of renovations in your region—not just on a national scale. Energy efficiency projects may reap more value in colder climates, while a swimming pool may dissuade buyers.
On the other hand, in warmer regions, a pool may actually attract buyers to your home. Other areas of your home, say an office, may fit your personal lifestyle, but pouring your money into building a home office may not make sense before selling your home to somebody who will use that office as a playroom.
5) Living Through the Renovation Chaos
Home improvement projects can get stressful and can't always be completed over the weekend. Be sure to plan a realistic project timeline as well as for any arrangements needed to get through the chaos of a renovation. With major renovations, it's often pragmatic to set aside funds in case you need to stay overnight in a hotel or simply plan a fun day out if you'll have to spend several hours away from home while contractors complete their work.
6) Reap the Benefits of Increased Home Equity
Sometimes home improvement projects solely benefit you — and that's okay! Increasing your home's value has several benefits. If you're staying in your home, you might be able to apply the equity to secure a home equity line of credit (HELOC), a home equity loan (HOL), or even a cash-out refinance to help pay off debts, pay for college tuition, or purchase a new car, for example. And if your home is on the market, it could sell faster and for more money.
Make Your Plan
Whether you're a first-time homebuyer with a growing family, or a near-retiree looking to sell and downgrade, it's important to understand which home renovation projects will make the most sense for you. So set aside a budget, plan ahead, and do your homework! After all, you have to live with(in) the results.
Share
Categories