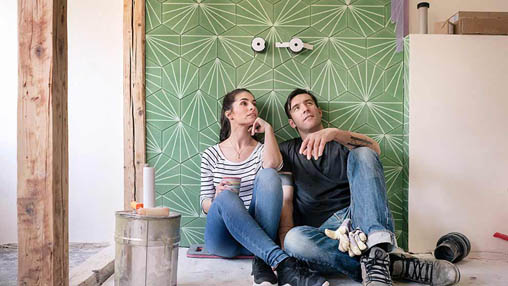 Tell me more!
I'm looking to …
Earn cash back
after close!
With Home Connect, you could earn $350 to $9,500 cash back after close.
Recently, interior designer Christina Salway and her husband took a week-long vacation, sent their son off to grandma's… and renovated the bathroom.
Salway is the author of Home Improvements Tips and Tricks, and works on the Animal Planet show, "Treehouse Masters." She also runs the YouTube channel, Room for Improvement, demonstrating inspirational small-scale projects, such as painting like a pro, doing a paneling project or a manageable bathroom renovation. Nothing requiring professionals or use of a tile saw, she says, and laughs.
It's very possible to complete big projects in just a week. "There's something gratifying about that kind of timeframe," Salway says. "By the time Sunday afternoon is rolling around and you're getting ready to go back to work, you're putting on the final finishes and last touches, you really feel like you accomplished something."
This kind of transformation is tiring and messy during the usual workweek, she says: "You go to work all day, then from 5 p.m. to midnight you're working on the house, while living in a construction site, right down to hammers in the sink."
Sometimes the renovations you want require more cash than what you have. But rest assured, you can always access the equity in your home by refinancing. Plan ahead to see if a cash-out refinance is right for your renovation project.
Five Steps to Your Dream Renovation Staycation
Here are some important tips to keep your renovation project on track and stress-free.
1. Envision outcomes.
In the bedroom, for example, you might want to create the feel of a relaxing oasis for summer, Salway says. What could you change to achieve this desired effect? Perhaps paint the walls a soft pastel hue, and add lightweight, summery bed linens and new curtains to match. You might even install a ceiling fan for increased comfort, which Salway calls a "life changer," where comfort is concerned.
2. Goals should be productive and pleasurable.
Skip long, practical punch lists of boring work, she suggests. If you take a week to upgrade your bathroom or bedroom into an oasis, you'll enjoy it for the rest of the summer. After all, you didn't pass on a summer holiday to clean the gutters. However, you might consider the project's profitability too — the financial return on your upgrades, not just the emotional return. Consider easy DIY projects that will improve your home's value.
3. Plan the project.
In the weeks leading up to the vacation, Salway mentally walks through the project, figuring out all necessary supplies, to avoid spending vacation time going to and from Home Depot, she says. Paint swatches on the wall to decide colors in advance, and shop for the perfect new paint or linens you love — don't just rely on whatever's available or on sale during that week of work.
4. Wrap up by Sunday.
Doing advance legwork ensures you're finished by Sunday before the workweek starts. "There's a real sense of completion when the last step is hanging the shower curtain," Salway says. "It's the frosting on the cake."
5. Don't reach beyond your skills or means.
Don't create a situation where it's hard to "staycation" in a house undergoing heavy renovation. For example, refinishing floors can temporarily create a smelly, off-limits home, and ambitious projects may require additional work after returning to the office.
"You'll feel the regret in a tangible way," Salway says. "If you bite off more than you can chew with a painting project, in a worst-case scenario, you end up with a bad paint job. If a plumbing project goes wrong, you can end up needing a new house."
Week-Long Transformation Options
Ready to handle a more advanced renovation? If you're ready to take on a bigger project, below are a few suggestions that can be tackled in seven days.
Kitchen Revamp
In a week, it's possible to install a backsplash, and give your kitchen cabinets a makeover. Over the course of several days, Salway took down her kitchen cabinets and methodically painted the cabinets and doors and swapped out the pulls.
"Put in a new backsplash, paint the cabinets and you have a new kitchen...," she says.
Paint Walls
While saturated colors require more coats, you should be able to paint more than a few rooms in a week. "I can't advocate enough for the power of paint," she says. "It doesn't require a master's degree or a ton of time, as far as freshening up your house for summer."
A little-known side effect: You have to clean a room to paint it, she notes. As well, a new, beautiful wall might encourage you to reevaluate those piles of books, that messy bed or an inadequate dresser. "Paint gives you a fresh start," Salway says.
Bathroom Makeover
In the bathroom, some cosmetic remodeling can make a big difference – such as cleaning the grout, whether that requires digging out and regrouting, or cleaning with a bleach pen. Consider adding a fresh coat of paint on the walls and an atmospheric dimmer switch overhead, so your bathroom doesn't "feel like an interrogation room," Salway says.
You can also trade up to plush towels and a new, mildew-free shower curtain and a caddy for bath supplies.
"At the end of a week-long vacation you've created a spa," she says. "The bathroom is often overlooked, but it's so valuable to have that space feel soothing and serene."
Kid Room 2.0
When children are home from school, transition periods between schools (such as starting kindergarten, middle school or high school) can invite a fresh perspective on a child's room – maybe she's ready to trade pale-pink walls seen as "babyish" for a favorite grass-green hue, better expressing an emerging identity.
"You can really engage your kid and get them to participate," Salway says, whether choosing artwork or new colors, or buying new bedding. "You can even lasso them into doing some paint rolling."
Outdoors
It's possible to transform your outdoor space in a week or less. For example, you might construct a clay paver path that leads through a simple, flowering garden archway to a backyard fir lounge chair. All three projects are detailed in the step-by-step handbook "Best 1-Day Projects," one of three new May-release titles focused on fast fixes (109 Best Weekend Projects, 101 Saturday Morning Projects) from Thunder Bay Press.
You might also think about integrating easy space-saving yard changes, or improving your landscaping with trees and native plants.
Typically, vacations create lasting memories, outside of and away from a busy work and life schedule. A renovation staycation can also create memorable moments when you also include relaxation. Work hours are between 9 a.m. and 6 p.m. for Salway family. At 6 p.m., it's "hammers down," she says. "[My husband and I are] committed to making a real sit-down dinner, and enjoying a glass of wine."
To finance your weeklong renovation staycation, consider a cash-out refinance. Use our Home Value Estimator to see how much your house is worth, then start the process by applying today using our online application or contact a Pennymac Loan Officer.
The views, information, or opinions expressed in this blog do not necessarily represent those of PennyMac Loan Services, LLC and its employees. Further, the inclusion of links to third party sites is not intended to assign importance to those sites and the information contained therein, nor is it intended to endorse, recommend, or favor any views expressed, or commercial products or services offered on these third party sites, or the vendors sponsoring the sites.
Share
Categories