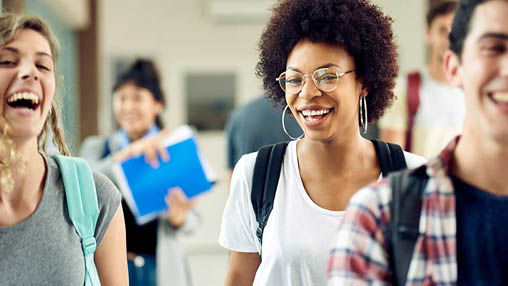 Tell me more!
I'm looking to …
Earn cash back
after close!
With Home Connect, you could earn $350 to $9,500 cash back after close.
If you're headed back to school this fall, or paying for your child's education, you may be worried about that upcoming tuition bill. Depending on your financial situation there are different options available for each circumstance.
There are federal education loans, such as PLUS and Grad PLUS loans, which are intended to fund the gap between student aid and the cost of attendance, for parents and those seeking grad degrees. However, PLUS loans in most cases are accompanied by comparatively high interest rates and a sizable fee. For the 2018-2019 school year, the interest rate has been a fixed daily interest rate of 7.6%, with a fee of 4.264%. When you get a private student loan through a private financial institution, your APR can run as high as 13.99%.
For that reason, using home equity to refinance — with a lower rate — may be a smarter money-saving option, says Paula Bishop, a certified public accountant specializing in higher education and financial aid. Borrowing against a home's equity for post-secondary education may save borrowers thousands of dollars over time instead of using private student loans, she notes.
When you refinance, you replace your existing mortgage with a new loan. If your home has increased in value or you've paid off a portion of your loan, you may be able to access the equity you have in your home with a cash-out refinance, or borrow against your home's equity with a home-equity loan, known as a home-equity line of credit (HELOC).
Refinancing may also be a consideration if your surviving student loans don't seem to be shrinking due to high interest, large balances, or both. One option: pay off a student loan with your home's equity. You could potentially get a lower interest rate and have one less monthly bill to worry about.
Here are some factors to consider when comparing refinancing and student loans:
How much do I need?
Be sure to think through how much home equity you want to borrow. Take out only as much as you project to spend on college expenses not covered by aid received, or current savings. Remember that any money sitting in a bank account may supplement next year's student aid offer, if you qualify for aid.
If you or your family don't qualify for the amount of aid needed to cover all college expenses, a cash-out refinance loan can offer a secure fund for the next four years — or even a cushion to bolster any other school expenses, such as books, housing and other necessities. A cash-out loan can also be a less costly option for those who have a short-term need — for example, a one-year business degree or an 18-month graduate program.
Time.
Sometimes, taking cash out with a refinance can restart the amortization process, which means the length of your loan may increase.
Already paid 10 to 15 years on your original mortgage? Ask your lender about shorter term options, such as a 15 or 20-year loan, which will keep you on your current repayment path.
If you're considering whether to roll your student loan into your mortgage, compare how much time you have left on your student loan. After 20 to 25 years, student loan balances may be forgiven. Ask a student loan consultant to see whether you may qualify for student loan forgiveness. If not, consider talking to a Loan Officer to find out how much you can save in interest by refinancing.
Credit caveats.
Good credit is also critical to securing the lowest rate possible when refinancing. Home loans do incorporate consumer credit history and scores, so you'll want to ensure your credit is in great shape before applying. The same rule applies to student loans through private lenders, who also could charge varying rates based upon credit.
On the other hand, U.S. government loans don't typically offer lower or higher interest rates based upon credit scores; most are given the same blanket rate. However, if that blanket rate is higher than the low-rate refinance you qualify for with your good credit, that blanket rate will cost you a lot more in the long run in interest charges.
Tax considerations.
Up to $2,500 of annual student loan interest paid can be deducted from your taxes, as long as you make under $165,000 (for married couples) and $80,000 (single or head of household), 2018 forward, Bishop says.
Interest paid on the home mortgage may be tax deductible. Talk to your tax advisor for more details about what options are available to you.
Payment plans.
"There are a lot of repayment options with student loan servicing companies and the federal government," Bishop says, including student loan forbearance, forgiveness, cancellation or discharge, depending upon your circumstances.
Mortgage lenders and servicers can work with borrowers to find loan modifications in cases of hardship. You'll also start paying your loan right away, so you'll have a jump on the amount owed after graduation, which is helpful for those who have a steady income while paying for an education.
Additional benefits.
When done well, refinancing can help you tidy up your financial house in additional ways: It could lower your monthly payment, enable you to remove private mortgage insurance (PMI), help you pay off your loan faster, or facilitate a switch from an adjustable-rate mortgage (ARM) to a fixed-rate mortgage.*
Ultimately, whether refinancing is the best choice for you will depend on many factors. Think about how long you plan to stay in your home, your projected future income, personal plans and all the factors mentioned above and then do the math. Refinancing may end up being a great opportunity for long-term savings.
Wondering if a cash-out refinance is the best way to fund your education? We're here to help. Call a Pennymac loan officer today to receive the guidance you need to make the right decision for you. Want to test the numbers? Calculate your rate options to see how you might benefit.
The views, information, or opinions expressed in this blog do not necessarily represent those of PennyMac Loan Services, LLC and its employees. Further, the inclusion of links to third party sites is not intended to assign importance to those sites and the information contained therein, nor is it intended to endorse, recommend, or favor any views expressed, or commercial products or services offered on these third party sites, or the vendors sponsoring the sites.
*By refinancing your existing loan, your total finance charges may be higher over the life of the loan.
Share
Categories