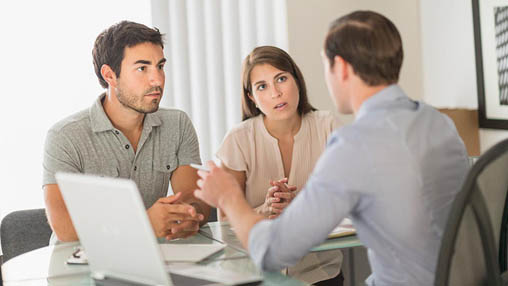 Tell me more!
I'm looking to …
Earn cash back
after close!
With Home Connect, you could earn $350 to $9,500 cash back after close.
Although you planned and saved for years, life threw you a curve and now you're at risk of missing mortgage payments — and perhaps even falling into foreclosure. If you find yourself in some financial distress, you may be able to find relief in the form of a home loan modification.
What Is a Loan Modification?
A loan modification is a change to the principal amount, interest rate, and/or maturity date of your mortgage, with the goal of preventing non-payment that could lead to foreclosure.
For example, under the terms of a modification a lender may agree to lower your interest rate, extend the length of time you have to pay off the loan, or even reduce your principal amount in order to lower your monthly payments.
Loan modifications are often in the lender's interest as well because foreclosures are often costly and time-consuming and result in economic loss to the lender.
Looking to lower your monthly expenses? Here are 7 ways to lower your mortgage payments.
Loan Modification vs. Refinancing: What's the Difference?
In practical terms, a loan modification is a potential solution for homeowners facing financial hardship to achieve more affordable payments through a restructuring of existing loan terms. Refinancing a mortgage, on the other hand, is a way for homeowners that are regularly making their mortgage payments to get more favorable loan terms through a completely new loan. There are important differences between loan modifications and refinancing that homeowners should consider before pursuing one or the other.
With a modification, you are keeping your existing loan while modifying certain loan terms, and it is often faster — and cheaper — than refinancing as many lenders do not charge fees to process modifications. Also, you will work with your loan servicer to modify the loan, rather than shopping around with different lenders.
Refinancing requires you to obtain an entirely new loan to pay off your existing loan. Generally, an applicant will have trouble qualifying for a refinance if she or he has failed to timely make mortgage payments during the prior year. Many homeowners will refinance their mortgage at least once in order to save money over a span of many years. It is another way to reduce monthly payments, particularly when interest rates are low.
Benefits of Loan Modifications
There are certain situations where a loan modification is the best choice, particularly when you want to keep your home but are faced with potential foreclosure due to unexpected and/or unavoidable financial problems and you want to keep your home. Examples of common financial hardships include:
Unemployment or other income loss
Increased expenses
Medical bills
Death of a family member
Divorce
Disability
If you are past due on your mortgage payments, a loan modification will also get you back to a "current" status on your payments. The past due amounts can either be rolled into your loan balance and amortized or spread out over the remaining term of the loan, or they can be deferred and payable, with or without interest on the deferred amount, when the loan matures or is paid off in full. However, options vary among lenders, so be sure to contact your lender or servicer to find out what options you may be eligible for.
Loan Modification Requirements
If you are considering a modification, the first step is to make sure you fully understand the requirements. Each borrower's financial situation is unique, and rules vary between different lenders, so there are few hard and fast loan modification rules. However, there are two main factors all lenders will consider while evaluating your request for a mortgage modification:
Financial Hardship: You will need to provide evidence of the changes in your personal or professional life that created the need for a modification.
Ability to Pay: Lenders offer modifications as a way to prevent foreclosure, not just delay it. Your modification is much more likely to be approved if you can show evidence that you have sufficient income to make reasonable payments going forward.
Not sure if you're ready to apply for a modification of your Pennymac loan? Review our Loan Modification Checklist to see if you're ready!
The Loan Modification Process
If you can show a hardship and that you have sufficient income to make reasonable payments, you can apply for a loan modification with your lender or servicer. The main steps of the application process for a loan modification are:
Gather your financial information: You will need to document your income and expenses, as well as any recent changes that have led to financial hardship. You will also need a copy of your current mortgage statement for reference.
Contact your lender: You should call your lender or servicer and request to speak with someone about a loan modification. You will typically be assigned a representative or team (often known as SPOCs) that will work with you throughout the loan modification process.
Complete an application: In order to get the formal loan modification process started, you will need to complete an application. The application will request relevant financial information such as your income and expenses, and the details of your hardship that have left you unable to afford your current mortgage payment.
Your lender will review all of this paperwork, along with additional info such as your credit report, to determine if you are eligible for a modification.
Government-Sponsored Loan Modification Programs
There are several government-sponsored programs that provide financial assistance and consumer guidance for mortgage modifications.
Flex Modification: If your mortgage is owned or guaranteed by either Fannie Mae or Freddie Mac, you may be eligible for Flex Modification. This aptly-named program is more flexible, with fewer requirements for borrowers and lenders to follow. This program went into effect Oct. 1, 2017.
USDA Multi-Family Housing loans: The United States Department of Agriculture (USDA) offers a modification plan called the 538 program for low- and mid-income multi-family rural housing such apartment buildings. Under this program, the interest rate is often reduced, and other aspects of the loan remain the same.
State-Level Assistance Programs: Some states offer programs for homeowners seeking modifications, such as Cal Vet Modification.
Loan Modification Tips
If you are still unsure about whether to pursue a modification, there are a few additional ways you can gather information and evaluate your choices. Here are our top tips to stay informed and ensure your mortgage modification process gets you the outcome you want:
Know Your Numbers: An affordable mortgage payment is usually considered to be approximately 31% of your monthly gross income. Under this guideline, if your monthly gross income is $5000, an affordable payment would be $1550. Keeping that benchmark in mind will help you understand what your lender might or might not approve.
Contact A Consultant: Before contacting your lender, you may want to discuss your situation with a nonprofit housing consultant. These consultants work for HUD-approved agencies, and they may be able to give you preliminary information on the loan modification options available to you. They can also help you prepare for negotiations with your lender.
Understand Your Obligations: Once you have an offer to modify your mortgage, make sure that you fully understand what you are agreeing to. Some modifications are only on a trial basis, or they may include a balloon payment.
Have Patience and Perseverance: The loan modification process can take some time, and your lender may require you to submit additional documentation, even after you thought your application was complete. Make sure to respond to all requests as quickly and completely as possible to keep things moving along.
A Loan Modification Can Protect Your Home
No one buys a home with the expectation that they will struggle to make their mortgage payment. Unfortunately, life often changes in unexpected ways. If you do find yourself battling financial hardship, it's important to be aware of the options that can help you. Speak to your lender directly as soon as possible. If you want additional help, a counselor with a housing agency can help you prepare for discussions with your mortgage company.
Share
Categories