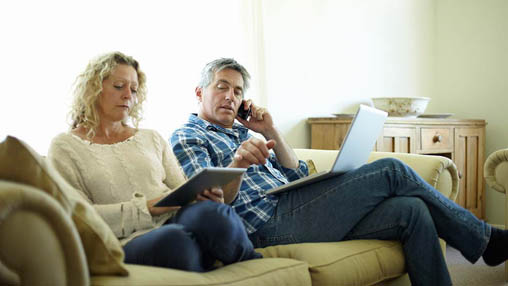 Tell me more!
I'm looking to …
Earn cash back
after close!
With Home Connect, you could earn $350 to $9,500 cash back after close.
If you're struggling to pay your mortgage, the threat of foreclosure is never far from your mind. You feel anxious, frustrated, and possibly even embarrassed. Then, just when you've given up all hope, someone swoops in offering a miraculous solution to your impossible problem. You're saved! ...or are you?
Take a step back to consider the situation. Does it sound too good to be true? If so, you may be the target of a mortgage scam that can cost you your home, your life savings, your credit, and your future.
Mortgage scammers strike when you're most vulnerable, and for good reason: They understand the more desperate you are, the less convincing they'll have to be and the less likely you are to delve deeper into the details of their charade. The scammers will act like they have your best interests at heart, when really their mind is on your money—and sometimes even the deed to your home.
It can be difficult to see these scams coming, especially when the perpetrators put so much thought and effort into duping you. But there are some warning signs that all is not as it seems, and the ability to identify these red flags can save you some serious money, time, and heartbreak.
How Do the Foreclosure Scammers Find Me?
It's not overly difficult for scammers to find their targets. Foreclosures are recorded in county real property records or public court filings. As soon as the foreclosure is filed, the information becomes public and anyone can look it up.
Even if you're not officially in foreclosure yet, the scammers may still be able to track you down—or even get you to come to them by advertising their dishonest services online or in print.
Note: If you're in danger of falling behind on your mortgage, always speak to your lender first. They're there to help, and proactively dealing with your problem affords you far more options than waiting until you get a notice of delinquency.)
How Do Foreclosure Scams Begin?
Once the scammers have found you—or you reach out to them—the game begins in earnest. You'll start getting phone calls and official looking letters. Some of the more aggressive mortgage rescue scammers may even visit you at home.
Regardless of their means of contact, their message is always the same: "We can help you avoid foreclosure, stay in your home, fix your credit rating, lower your interest rate, give you a fresh start, and/or get you the cash you need!"
Some common phrases the foreclosure scammers use include:
"Stop foreclosure now!"
"We have special relationships with banks that can speed up your approval process."
"100% money back guaranteed."
"Keep your home. We know your home is scheduled to be sold. No problem!"
The Most Common Foreclosure Relief Scams
There are several different types of foreclosure scams, and they're all designed to separate you from your hard-earned money and/or the deed to your home without delivering on their lofty promises. We'll take a look at the most common scams below.
The Phantom Help Scam
In this scam, you'll be contacted by a (fake) mortgage counselor who tells you that he's in a great position to negotiate a loan modification, lower your interest rate, put cash back in your pocket, and save your home. The scammer will likely explain that he's worked with your particular lender hundreds of times before, that he has a contact there who regularly works magic, and he had three clients last week alone who are still in their homes because of his work.
And he'll be glad to help you, too—but you'll have to shell out a "bit" of cash (generally between $5,000 and $10,000) for "processing and administrative fees."
Once you pony up the money, he'll insist that you let him handle everything, even going as far as to instruct you not to contact your lender, lawyer, or housing counselor, since that might "negatively impact" ongoing negotiations. Sometimes the scammers will even tell you to stop making your mortgage payments; or worse, instruct you to send your mortgage payments directly to him, where they'll be held until the deal is finalized. He may even file a lawsuit or send your lender a letter on your behalf demanding dozens of categories of documents. These are form documents that are not worth the thousands of dollars you pay them upfront and will not help you receive the relief you are looking for. Lenders will often reach out to these scammers on your behalf, but will not get a response.
Once he has his fee and a few mortgage payments, he disappears into the night, taking your cash with him, and leaving you even further behind than you were when you started.
The Bait and Switch Scam
This scam is simple but incredibly effective from the scammer's point of view. You'll be offered a new loan at a great rate—all you need to do is sign this mile-high stack of papers. You'll be encouraged to sign quickly without reading them, because the deal is time-sensitive, and "it's all standard, anyway."
Except you aren't signing for a new loan. You're signing your deed over to the fraudster. They now own your home, and they won't hesitate to put you out on the street. To add insult to injury, you're still responsible for paying off the mortgage on a house you no longer own.
Lease and Buy Back Scam
Are you behind on your mortgage with no way to catch up on the back payments? Just transfer your title to a "third party investor." You can stay in your home, and once you get your financial feet back underneath you, you can get the deed back. Effectively, you'll just be renting your own home until you can save up enough money to repurchase it from the (non-existent) "investor."
But now that you're renting, the terms are all in your new "landlord's" hands. They'll increase your rent until you're completely priced out of the home or evict you after a single late payment. You lose your home, your money, and any equity you had built up.
Lender Settlement and Class-Action Scams
In this scenario, you'll be contacted by someone who tells you you're owed money from a settlement or a successful class-action lawsuit against your mortgage lender. They'll be happy to wire you the money—all they need is your banking information. It's not surprising that once you provide the information, the money never arrives, and your account is drained.
Other scammers contact you to explain that you've been wronged in some way by your lender and ask for cash to include you in a class-action lawsuit. Be wary to pay to receive money from a settlement or join a class-action suit, because these may not be legitimate law firms.
Loan Modification Scams
If you're in danger of foreclosure or falling behind on your payments due to a financial hardship, a loan modification may be a possibility. But for every legitimate loan modification, there's a fraudulent one, too.
These scams come with the promise of lower monthly payments and an alternative to foreclosure. Homeowners are told they've been approved for a loan modification on the condition that they pay a hefty reinstatement fee and make several "trial payments" to prove that they can hold up their end of the bargain.
But, despite the official looking letters, statements and documents with your mortgage company's logo and account number, your reinstatement fee and trial payments are routed away from your lender and straight into the scammer's wallet. And since you've been working with an imposter, not your lender, your home is still at risk of foreclosure.
If It Sounds Too Good to Be True, It Probably Is!
When you're at risk of losing your home, it's only natural for you to look for any way out of the situation. Foreclosure scams capitalize on this desperation. It's important to look for red flags to alert you that an offer may not be legitimate, such as:
People who guarantee a loan modification or promise to stop the foreclosure process—no matter what your circumstances.
Warnings not to contact your lender, lawyer, or housing counselor.
Asking for an upfront fee before providing services.
Telling you to make your mortgage payments directly to the service, rather than your lender.
If you suspect that an offer is too good to be true, it probably is. As a Pennymac customer, there are steps you can take to protect yourself:
Contact Your Lender. If you're concerned that you may have gotten a fraudulent offer, call us at (866) 545-9070 to confirm before making a payment.
Continue to Make Your Regular Payments. After contacting Pennymac, continue to make your regular payments according to the instructions on your Pennymac monthly statement.
Despite the Scams, Real Loan Help Is Out There
Legitimate companies won't charge distressed homeowners for help. When you're struggling, always speak with your lender first. No one else is better equipped to handle your special circumstances, work with you to find a solution, and keep a bad situation from getting worse. Early intervention is the key.
If you're struggling with your Pennymac mortgage, for example, call us at (866) 545-9070 as soon as possible. Pennymac Home Loan Officers will listen to the circumstances that have you behind on your payments and explore all your options, which may include an affordable repayment and forbearance plan to help you get back on your feet, or potentially loan modification plans that lower payments and help you stay in your home. No fees. No strings attached. Additionally, please note:
Pennymac will NEVER charge a fee for a modification or other loss mitigation plans when you are facing a delinquecy.
Our employees ALWAYS provide their National Mortgage Licensing System ("NMLS") license numbers and use a Pennymac email address.
Pennymac does not require or even accept MoneyGram payments.
Remember, your lender has a vested interest in keeping you in your home. They don't want to foreclose anymore than you want to be foreclosed upon. It's a costly, time-consuming process for all involved, and they would much rather work with you than expend the money and effort a foreclosure requires.
Want outside assistance? We support that! A housing counselor could be right for you. There's no need to pay some fly-by-night scammer for information—the federal government provides the same (if not better) information for free!
Call Homeowner's HOPE™ Hotline at 1-888-995-HOPE (4673) to speak to a housing counselor. These highly trained, legitimate housing counselors will take the time to speak with you about your current situation and work with you and your lender to decide on an appropriate course of action that works for everyone involved.
Unlike scammers, these counselors will provide all agreements and promises in writing, and you won't be prohibited from consulting an attorney, credit counselor, or any other outside resources.
When you reach out to your lender and a qualified (free!) credit counselor as soon as problems begin, you're in a much better position to avoid foreclosure and the mortgage rescue scams that come along with it.
7 Tips to Help You Avoid Foreclosure Scams
We'll say it again: scammers prey on the scared, the anxious, and the desperate, and when your home is threatened by foreclosure, chances are good that you're all three. But there are ways to protect yourself!
Accept the guidance that your lender and/or housing counselor offers. These people are on your side. There's no need to be ashamed of your situation, and help is always free from these resources.
Beware of anyone who asks for money to "counsel you" through a foreclosure or loan modification.
Beware of people who pressure you to sign papers immediately, reassure you with statements like "it's all standard," refuse to let your attorney be present at the signing, or convince you they can save your home if you transfer over the deed to them.
Never sign your home over to any organization, individual or "third party investor" unless you are working directly with your mortgage company to forgive your debt.
Never make a mortgage payment to anyone other than your lender without the lender's written approval.
If anyone "guarantees" a loan modification, steer clear. Only your mortgage company can approve loan modifications.
Beware of anyone who tells you not to contact your lender. This is the worst thing you could possibly do, and scammers typically use this tactic to avoid detection for as long as possible.
If you think you've been scammed, file a complaint with the FTC immediately. This is the best way to ensure that foreclosure relief scams die out and no other unsuspecting victims are harmed.
Additional resources:
Protect Yourself from Home Loan Scams
As an informed homeowner, you can make better decisions about your home loan. Whether you're just beginning to fall behind or already deep in the trenches of a potential foreclosure, help is out there—and that help should come from your lender or a qualified housing counselor, not from a suspicious advertisement.
Pennymac is committed to helping you avoid foreclosure at all costs. We have several different solutions and programs you may qualify for – all you have to do is ask. For free help, contact a Pennymac loan officer today.
Share
Categories