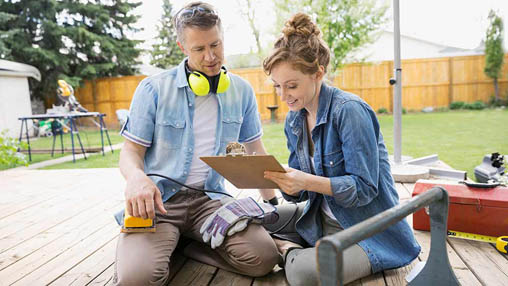 Tell me more!
I'm looking to …
Earn cash back
after close!
With Home Connect, you could earn $350 to $9,500 cash back after close.
When it comes to remodeling plans, most homeowners immediately think of upgrades to be made inside of the house. Kitchen and bathroom updates are some of the first ideas that usually come to mind, but you can get great returns from making outdoor renovations and improvements.
We talked to real estate and renovation experts to gather their tips and insights on renovation projects for your home's exterior living space. Here are the top outdoor renovation ideas for you to focus on this year!
Yard Renovations: Create an Outdoor Living Space
When evaluating potential yard renovation ideas, it is important to consider not just what you want to add, but how those features will be used — by both your family and future potential buyers. The most effective outdoor renovations transform your yard into a natural extension of your indoor living space.
Than Merrill is an expert real estate investor and CEO of the real estate education company FortuneBuilders, and is a sought-after public speaker, best-selling author, and television star of A&E's hit home renovation show, Flip This House. Merrill knows that functional outdoor renovations are often the most worthwhile improvements.
"Renovation projects that help increase the visual appeal and 'usability' of an outdoor space can add significant value to your home. There are many ways you can do this, such as installing lighting and walkways throughout your outdoor space — it will invite family and guests to enjoy the outdoors well after the sun has gone down.
Adding a wooden deck complete with outdoor seating and a pergola creates an outdoor living room, while an area with a barbecue, sink and refrigerator creates the perfect secondary kitchen. Creating additional living spaces to the exterior of your home will entice homebuyers to picture spending warmer months outdoors." — Than Merrill
Stephanie Anton is the President of Luxury Portfolio, and is an expert on the luxury industry, real estate marketing, and luxury consumer targeting. Anton agrees that making outdoor space convenient to use can add significant value to your home.
"When considering renovating your outdoor living spaces, the smart investment today would be a modest investment into an outdoor kitchen, seating area, and/or a water feature.
The key to "modest investment," though, is to keep spending in check if your goal is to add value to a home and potentially get your money back. If you don't overspend, over-personalize, or over-customize, these features can all add value to a home because they extend the living space and the perceived value of how someone will live in a home." — Stephanie Anton
One way to greatly increase the appeal of your outdoor area is to improve the space available for outdoor cooking and entertaining. Mitchell J. Slater, president of Danver Stainless Outdoor Kitchens and Brown Jordan Outdoor Kitchens, is an industry leader in the design and manufacturing of stainless steel outdoor kitchen cabinetry. He advises homeowners to think beyond the basics.
"There is a significant trend these days with respect to how outdoor living is evolving. We have been at the forefront of where the outdoor living room is an extension of the living space of the home, creating additional square footage as an entertainment space for both cooking and socializing.
This adds tremendous value to the home; more so than just adding a "kitchen" (really a barbecue island) to the landscape. We have seen the influence of cabinetry used to beautify the indoor/outdoor space across many areas of the country." — Mitchell J. Slater
Small & Affordable Outdoor Renovation Ideas
Don't have the space or the budget to install a new deck or complete outdoor kitchen? Limited funds, time, or yard space does not necessarily mean that you can't improve the look and the value of your home's exterior.
Cassy Aoyagi, a board member of the LA Chapter of the U.S. Green Building Council (USGBC-LA) and president of FormLA Landscaping, a high-end, sustainable landscaping firm, reminds homeowners that a weekend spent digging in the dirt can yield great returns. She offers these three steps to get you started.
"To add value, try creating an outdoor floor plan. Increasing the flow and usability of outdoor space increases the return on investment.
First, invest in trees: The U.S. Forest Service estimates that trees add a 3-7 percent increase in value to a home. Eighty-four percent of real estate agents agreed, noting homes with trees are as much as 20 percent more salable.
Next, plant small: Small foliage costs less, establishes more effectively, and appreciates in value. A Virginia Tech study found a 36 percent increase in perceived home value between properties with small foliage and those with established, variable foliage.
Finally, choose natives: Native plants are adapted to thrive naturally in a location and will thrive with less work and no chemical intervention." — Cassy Aoyagi
Justin Krzyston is President and Chief Executive Officer of Stonehurst Construction and Design, Inc., where he combines the professionalism of a builder with the personable approach of an interior designer and knowledge of a real estate expert. Here are two of his ideas for ways that you can make big changes to the exterior of your home with a small investment of money and time.
"Think about your front door, porch, and stoop area. First impressions are everything and the first thing a buyer will see is the front of the house. Instead of spending the money to build a new front porch or stoop, just spend a little extra cash to power wash the front stoop and clean your windows. Power washing will clean things up quickly and it is far less money than building a new porch.
To further increase resale value, it is always a good idea to conceal your garbage bins where they cannot be seen from the front of the house. These renovations aren't always necessary to increase resale value, but in most cases it helps. Adding landscaping and larger bushes are the easiest ways to camouflage outdoor garbage bins. Plus, landscaping is always a good investment if you're focused on selling your home." — Justin Krzyston
Swimming Pool or Money Pit?
If you have a large yard and an equally expansive budget, one of the first yard improvement ideas to come to mind might be a swimming pool. Be warned: pools are expensive and time consuming to maintain. Homeowners wanting to recreate their favorite resort vacation at home should take the time to consider several factors before breaking ground. Here is the detailed criteria Anton uses to evaluate pool installation.
"You have to be careful with swimming pools or expensive spas as they can become very pricey very easily and can repel buyers if they see them as high maintenance items. When considering adding a pool or hot tub, it's important to take into account the climate — how long or much during the year they can be used — as well as what other homeowners with similarly sized/valued properties are doing.
If all the other homes in your area that are similar to yours have a pool, for example, it's a bit of a safer bet. If only homes that are significantly more expensive than yours have pools, or nobody around you has one, it is a much bigger risk and you aren't as likely to get a return on your investment." — Stephanie Anton
Make Your Outside Fun and Functional
Whether you are getting ready to sell your home, or want to make changes that you and your loved ones will enjoy for years to come, outside improvements are a great way to get more out of your home. What's more, many of these investments result in substantial positive returns, both in terms of your own enjoyment and when it comes time to sell.
Of course not all renovations provide the most bang for your buck, however these outdoor projects are proven ways to add curb appeal and usable space. You should still think carefully about any big project, and consider the motivation behind the renovation before you make a large commitment.
If you are ready to bring your outdoor ideas to life, a cash-out refinance may be an option for obtaining the funds. Contact a Pennymac Loan Officer to explore your choices.
The views, information, or opinions expressed in this blog do not necessarily represent those of PennyMac Loan Services, LLC and its employees.
Share
Categories