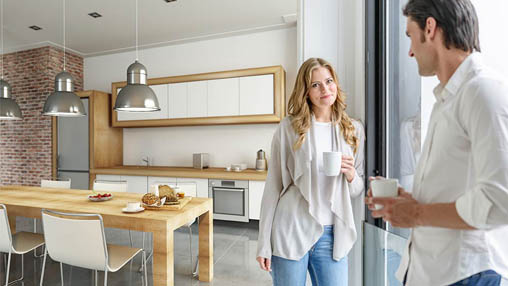 Tell me more!
I'm looking to …
Earn cash back
after close!
With Home Connect, you could earn $350 to $9,500 cash back after close.
Most New Year's resolutions include staying fit and healthy, losing weight, spending less and saving more. We spoke with Tom Kraeutler, the nationally syndicated radio host of The Money Pit Home Improvement Radio Show to discover New Year's resolutions you can make that will help keep your house in great shape year-round.
Heat Wisely. Invest in a smart-tech thermostat such as the Nest, which memorizes energy-use patterns and uses geo-fence technology, to know when you're home and when you're off to work. "It's the perfect thermostat for the lazy guy or girl, just whip out the phone and change the temperature from the comfort of your couch," Kraeutler says. "You can save a lot of money, too, because the older thermostats didn't recognize when you were in the house or not."
Light Smarter. New technology in light switches called "occupancy sensors" will automatically turn overhead lights on or off based on motion in the room. Kids (and adults!) often forget to hit the switch on their way out the door, so this one change could add up in energy savings.
Sleep Securely. Video doorbells and smart-smoke alarms will notify you if someone's knocking at the front door — and even if you're on vacation, you can see who's there. Smart smoke alarms will text you if set off. On one hand, these systems won't automatically call the police or fire department, but on the other hand — no false alarms, and more information is rarely ill-advised.
Spend Wisely. Look at your budget for the upcoming year and plan big renovations. "Don't kid yourself that every home improvement always gives a good return on your investment," Kraeutler says. For example, adding a pool in a region where pools are uncommon features. But some improvements do offer a decent return — for example, outdoor work. Adding a deck or patio is an inexpensive way to add living space, he says.
Update Often. Working on one small fix per month could lead to a sparkling kitchen in a year. "You'll eat better," Kraeutler says, in a kitchen that's been updated — even if you add LED lights to brighten up key areas, paint your kitchen cabinets, get new countertops or a new faucet, or water-impermeable engineered vinyl plank flooring. "These are not hard projects to do," he says.
Increase Efficiency. Look into swapping out your current appliances for Energy Star appliances and Water Sense faucets and fixtures, Kraeutler suggests. Your local utility may even offer rebates or discounts for trading in less-efficient models.
Weatherize well. Winter's cold can be remedied by sealing leaks and improving ventilation. For example, add insulation to achieve an efficient 15-20" in the attic, Kraeutler says. If you can, invest in a professional home energy audit, which evaluates your house's energy "leaks," room by room.
Checkup Now. Take a pair of binoculars for an objective tour around your house exterior, he suggests. Look for decayed wood, loose or missing roof shingles, and whether gutters are clear and if there are any potential leakage issues.
Lose House "Weight." "If you declutter, it will help organize your mind," Kraeutler says. Try rearranging furniture, and toss things you haven't used in a while. But consistency is key — perhaps one room or closet per month over the next 12 months.
Select Safety. Check on one safety-related item per month, whether testing your smoke alarms, adding carbon monoxide detectors, maintaining the furnace, or cleaning dryer exhaust ducts. "Lots of fires are caused by ducts every year," he says. These can be professionally cleaned, or he recommends the "LintEater," a handy dryer vent-cleaning tool.
These ten resolutions are small but important steps to making a better, safer, healthier new year for you — and your house.
Share
Categories