Something went wrong. Please try again.
We're sorry, but our system indicates an issue with the phone number and/or area code we received. You seem to have entered .
Please try again with a different number or call us now at
(866) 549-3583
to speak with one of our helpful representatives.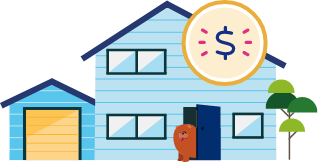 Turn your home equity into cash
Cover unplanned
expenses
Keep your existing low
mortgage rate
Pay off high-
interest debt
*Based on results from Inside Mortgage Finance for last 12 months ending 6/30/23. Includes PMT loan acquisitions, for which PFSI earns a fulfillment fee upon loan funding.
What type of home loan are you looking for?
How will you use your cash?
Let's get started.

Where are you in the homebuying process?
Let's start with the basics. What's your name?
Save $1,0001 + Get 1% off your rate for 1 year2 on your new home loan
Nice to meet you, !
How does your credit score look?
Great. What type of home is this for?
We're more than halfway there.
How do you plan to use this property?
Where is your property, ?
Submit your information below for a personalized quote.
Thank you for submitting
your information, !
A loan expert will contact you shortly to
help with all of your mortgage needs.
#2 Lender in the U.S.*