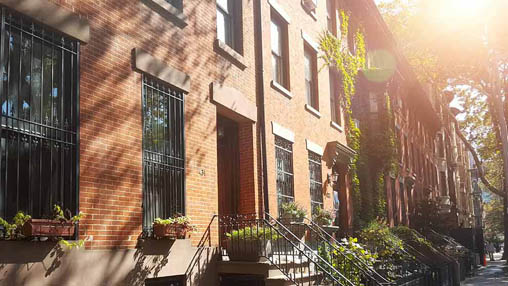 Tell me more!
I'm looking to …
Earn cash back
after close!
With Home Connect, you could earn $350 to $9,500 cash back after close.
It's a common perception that in order to enjoy the convenience of urban living, you must resign to living in a bland, boring and inconveniently small space. Thankfully, this is no longer true. Trends are changing and designers are innovating to make it possible for you to enjoy the amenities of your favorite city while simultaneously maintaining a spacious, well-designed home. Here are the top lifestyle-enhancing urban chic design trends, as chosen by expert architects, developers and builders.
Single Family Home Design and Condo Living: Enjoy the Best of Both Worlds
We saw an opportunity to provide floor plans that evoke the feeling of a single-family residence, but one where residents can also enjoy the views and lifestyle of a luxury building in the city center.
The old narrative goes something like this: young people start their adult lives in crowded, crummy city spaces, and eventually move to suburban single-family homes in search of privacy, and additional space to start a family or even to entertain. Today, you can continue to enjoy the many advantages of city living, while simultaneously enjoying the special features that you could formerly only find in the suburbs.
David Goldman is co-CEO of Belgravia Group, a company specializing in real estate development, sales and marketing, interior design, accounting, customer service, and real estate legal services. Lately, he says, he has seen his condo designs, such as those for the Renelle on the River or Three Sixty West developments, taking their inspiration from single-family-style homes. No longer cramped, some modern urban condos can measure up to 3,500 square feet, offering owners the best of both worlds: A maintenance-free urban lifestyle, combined with privacy and tons of space.
When designing floor plans for [the two Chicago condominium buildings], our research showed it was important to offer homes with defined spaces that incorporate both gracious open areas for entertaining and casual living, as well as rooms that offer privacy and seclusion. We saw an opportunity to provide floor plans that evoke the feeling of a single-family residence, but one where residents can also enjoy the views and lifestyle of a luxury building in the city center.
Lee Golub, Principal and Executive VP of Golub and Company, the development firm behind Fifteen Fifty on the Park, agrees with this trend.
These condominiums offer highly functional space for family living with the traditional advantages of an upscale urban home. … [This] appeals to a wide range of buyers, including those looking for a city residence that feels like a single-family home.
The Principal of Chicago-based Lexington Homes, Jeff Benach is a second-generation homebuilder with more than 36 years of experience in the real estate industry. Having built more than 40,000 homes in the Chicago area, he now works on numerous townhomes, row homes, and single-family home communities in locations throughout the city of Chicago and its surrounding suburbs. He has also noticed that many of today's homebuyers want townhomes with single-family-style features, and they have integrated those ideas into their designs.
But on a particular project, Benach took a different approach:
Townhome footprints are typically long and narrow, but we shifted the layout to be wide instead of deep. This gives the homes a more expansive feel, much like a single-family home in the open-concept kitchen and great room. Plus, the homes have full basements with 9-foot ceilings that add an additional level of living space to the home when finished.
Elissa Morgante is Co-Principal of Morgante Wilson Architects, an Evanston, Illinois-based architecture and interior design firm that specializes in luxury residences, including vacation homes, in Chicago and the Midwest. Morgante has seen kitchens become a large focus in home design, with homeowners in all areas wanting features like spacious banquettes, oversized islands and extensive bar seating — all making the kitchen a more inviting gathering area.
While the functionality of a kitchen is of course very important, many of our clients are also putting an equal priority on elements that turn it into a comfortable living space, knowing that the kitchen is where their family and guests will naturally end up spending time together.
Besides devoting more square footage to the kitchen to accommodate more seating or island space, we're also using more furniture-like pieces, a variety of colors and materials, and open shelving instead of long runs of cabinetry — all of which contribute to a visually engaging design and create that 'unfitted' look that's so popular today.
Functionality is one thing. But how about nailing that urban design? When considering your ideal city home, it's also important to keep your eye on aesthetic trends with lasting power.
Condo Design Trends Anyone Can Master
The increased emphasis on high-quality design extends beyond just the layout of new urban homes — it also means taking a look at the materials with which they are finished. The era of flimsy industrial carpet and drab metal doors is over. Today, homeowners don't want to settle for cheap, cookie-cutter styles and surfaces when buying a condo. Here are a few of our favorite experts' condo design trends for 2019 — from the upscale to the affordable.
Ann Thompson is the Senior Vice President of Architecture and Design at Related Midwest, a popular Chicago-area developer of luxury condominium and rental homes, affordable housing communities, and mixed-use properties. She says she feels that today's urban homebuyers have a greater interest in good design and craftsmanship, when it comes to both the units and common areas of properties where they are considering buying.
Our team considered every design element at [our recent project], including the treatment of the ceilings in many of our amenity spaces. Multilevel surfaces, bold shapes and textures draw the eye upward, and the ceilings' finishes complement so many of the rooms' details–from custom-designed lighting and decorative metalwork to patterned wall coverings, natural flooring materials and luxuriously upholstered furnishings.
[On the exterior of the building], people are quick to notice the warmth of the stone façade and the beauty of the intricate metalwork. Quality craftsmanship, custom design, and a rich material palette help create a legacy residence that stands the test of time.
Julie Whitley is the Director of Architecture Design for Red Seal Homes, a builder with projects in both the Chicagoland area and Nashville. She reminds developers, designers, and buyers to consider the ceiling of their projects, an often forgotten feature that can have a big impact on design.
Buyers sometimes overlook the design value of the so-called 'fifth wall,' so we help identify ways to highlight a room by increasing a ceiling's depth, dimension, and texture. A decorative interest on a ceiling can bring unique detail to the space that makes the room more interesting for little cost, such as using architectural trim to connect rooms.
Whitley added that the simple use of crown molding or ceiling trim can cost just $1,000 and still achieve a dramatic change in a home.
But creating a homey and inviting condo space is not only just about following interior trends. Sometimes you have to bring the outside in as a means of achieving that perfect custom fit.
Taking Inspiration From Your Own Neighborhood
A big reason that a buyer might choose a local condo or townhouse over moving away to a distant single-family home is a love for the city or neighborhood where they currently live. Many homebuyers are looking for a sense of place that sometimes they feel the suburbs don't provide, and integrating a neighborhood's unique heritage into the design of your project (or even just your decor) can offer amazing results.
Lindsey Senn is Senior Vice President for Fifield Cos., a developer of urban office towers and luxury high-rise rental apartments, such as Logan Apartments. Senn has noticed that many new urban projects feature exterior and interior details inspired by the neighborhood and other local buildings that have been a part of a neighborhood's character and history.
For [a mixed-use property in Chicago], we considered vernacular architecture through a brick façade and dark window frames, and we've imagined interiors that celebrate the neighborhood's diversity and its identity as a haven for creatives.
For example, we've commissioned textiles from a neighborhood-based artist whose wall coverings reflect cultural narratives from around the globe, and we're incorporating a historical mural wall into the co-working space.
We've looked out, we've looked in, but ultimately it's up to your own personal style and tastes to create the ultimate urban home project.
Downtown and Your Dream Design: Together at Last
City living has countless benefits, from diverse dining and activities, to the potential for developing equally diverse neighborhood relationships. Today, many homebuyers are looking to take advantage of those urban perks, while still enjoying the great quality of life that a well-designed home can provide. Thankfully, developers have taken notice, and it's easier than ever to find what you want, where you want it. If you are ready to buy your first condo, or just get back into the downtown action with a new townhome, contact a Pennymac Loan Officer or get pre-approved online today.
The views, information, or opinions expressed in this blog do not necessarily represent those of PennyMac Loan Services, LLC and its employees. The inclusion of links to third party sites is not intended to assign importance to those sites or to the information contained therein, nor is it intended to endorse, recommend, or favor any views expressed, or commercial products or services offered on these third party sites, or the vendors sponsoring the sites.
Share
Categories