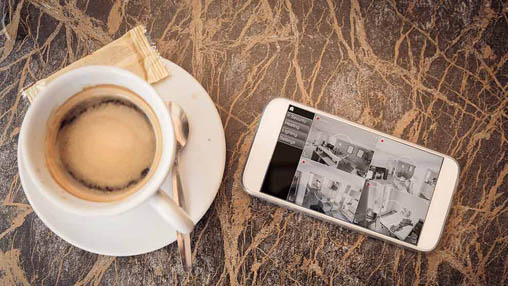 Tell me more!
I'm looking to …
Earn cash back
after close!
With Home Connect, you could earn $350 to $9,500 cash back after close.
Purchasing, updating, and decorating your home was a big investment. It is your family's refuge and holds both treasured memories and valued possessions: in short, all things that you want to protect. We talked with several security experts to discover and share their top tips for home protection.
Their advice was varied, but they all agreed that using a smart combination of the right tools, techniques, and safety measures is the key to protecting your home and family. And you might even save a bit of money in the long run!
First Line of Defense: Securing Your Home Exterior
The first step in improving your household safety is to evaluate the exterior of your home. If burglars or other criminals can't get into your home, they can't do much damage. This is why taking a look at access points like your doors and windows is essential.
Roman Zrazhevskiy is the Co-Founder and CEO of Ready to Go Survival, a company that creates custom survival kits. As a former EMT and lifelong outdoorsman, Zrazhevskiy understands the connection between facility security and your personal safety. He says the best place to start updating your home security is with the exterior doors to your home. Here are his key points:
First, replace all the doors with solid wood or steel doors, and install high-quality deadbolt locks.
Ensure the door frames are made of steel or have steel supports for the door, and that all door hardware is a minimum of three inches long. You can also install a steel bar on the inside that can be closed if needed.
A great product that helps secure your doors is called the Door Sentinel. It comes with all the hardware to reinforce your exterior door so it will be much more difficult to break into.
Identity theft expert, author, and speaker Robert Siciliano covers all aspects of security as they relate to violence and fraud prevention in both the physical and virtual worlds. Here are his top home security tips for way that you can use your doors, windows, and even your landscaping to keep you and your family safe.
Make sure nobody can see inside your windows at night, and be choosy about which drapes to leave open during the day, especially if you have expensive items that can be viewed through windows.
Keep your shrubs and trees manicured so that burglars can't hide near them.
Do a door and lock inventory to make sure they all work—the only time a door should be unlocked is when someone is using it.
The only time a window should be unlocked is when it's open while you're home, and even then, be extremely judicious about this, including for second-story windows that can be climbed up to.
Quick and Easy Home Security Tips
There are also many quick, simple, and inexpensive ways that you can keep your home safe that won't break the bank, including a few tips for home security while on vacation. Siciliano further suggests these three inexpensive, easy, and creative ideas.
When traveling for long stretches, arrange to have someone mow your lawn and park their car in your driveway.
Get a beware of dog sign even if you don't have a dog. Get a big dog food bowl. Place it near your front door.
Go to an Army/Navy store and get a pair of men's boots, put them near your front or back door.
Justin Lavelle is the Chief Communications Officer for BeenVerified, a leading source of online background checks and contact information. Lavelle encourages you to make a few easy, little or no cost changes to your home (and your habits) that can protect you and your family.
The lived-in look is a great deterrent. Many hardware stores sell timers that can run lights in your house. These can be lamps or hardwired fixtures. These timers are easily installed as a do-it-yourself project. It is recommended that you have outdoor lights timed as well. You can set lights inside and out to come on at different times during the evening and morning, giving your home an occupied look even if you are gone. Keep a car in the driveway if possible and keep the radio on. Be sure you remove your mail and any newspapers dropped off on a daily basis.
A big billboard that says you are not home is unattended packages. If you are gone all day at work, consider sending your packages to a trusted neighbor you know will be home during the day. You can also have packages shipped to a P.O. Box and pick them up at your post office. Another option is to have items shipped to the nearest brick and mortar location and pick them up there in the evening or [on the] weekend.
Smart Tech to Keep Your Home Safe
Now that you have considered the physical and structural aspects of home security, it's time to think about ways that digital and virtual tools can help you. Rob Caiello, Vice President of Marketing at Allconnect, helps movers with the purchase and setup of home utilities and services, including finding the right home security system and service. As a security system expert, he encourages all homeowners to take a look at the new technologies available.
Home security systems aren't what they used to be. With the explosion of home technology, home security systems have gotten much smarter. With smart home security systems, you can receive real time alerts to your smartphone if an emergency takes place in your home. Plus, you can also receive texts or email notifications about potential security threats, like a window or door left open for too long.
These systems often require an initial up-front investment, but the benefits of peace of mind are priceless. Plus, adding monitored safety and security devices can often help homeowners dramatically lower their home insurance premiums. As a final security and technology tip, don't post your vacation plans on social media: You don't want the world to know your home will be left unwatched.
New technology has made everything from public data collection to home security quicker, simpler, and more affordable. If your finances are tight, you might consider a cash-out refinance to obtain the funds for security upgrades. Lavelle also encourages homeowners to look into both traditional security system, as well as new tools like web-based digital intercom systems.
It used to be expensive to have a security system installed, but today many DIY kits are available that work with your home's internet wifi for connectivity. Some will provide monitoring services and some will allow you to be notified on your smartphone if there is an intrusion detected. Google the many options that are available to find a system that fits your needs and budget. If nothing else, install a camera prop above your front door and other entrance areas. It will deter most burglars.
Unfortunately we live in a world where opening your front door may be dangerous for you and your family. Camera intercom systems used to be cost prohibitive for many residential applications, but today with internet wifi, smartphones, and small digital cameras, having the ability to answer your door without actually opening it is a reality. There are even systems that allow you to appear to be home and answer the door when you are halfway around the world.
Don't Let Your Castle Be Compromised
Whether you are in town or away on vacation, the world is an unpredictable place so it's important to take precautions to safeguard your home—your castle. From digital solutions to simple DIY steps, there are many means to bolster protection for every house on any budget. Contact a Pennymac Loan Officer to explore the refinancing options to fund security upgrades for your home.
The views, information, or opinions expressed in this blog do not necessarily represent those of PennyMac Loan Services, LLC and its employees.
Share
Categories