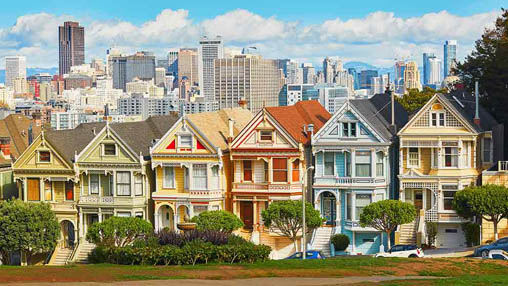 Tell me more!
I'm looking to …
Earn cash back
after close!
With Home Connect, you could earn $350 to $9,500 cash back after close.
Buying a home is a stressful, yet rewarding, process. If you are shopping for property in a competitive market, those stressors can multiply but so can the potential rewards. High-demand housing markets often have their own unwritten rules that can be hard for homebuyers to understand. We spoke with experts who work in these areas and compiled five strategies that can help you succeed in highly competitive real estate markets.
Choose the Right Competitive Offer
One of the most nerve-wracking parts of making an offer on a home, particularly in a high demand housing area, is choosing the right number for your initial offer. Both too low and too high can get you in trouble, so here's what the experts have to say about putting together the best offer possible.
Tom Hume, a Realtor® based in Tacoma, Washington, cautions buyers not to make an offer they would be willing to change.
One mistake that buyers make is not putting their best offer on the table in a multiple offer situation. In our market, sellers commonly lay the offers out and choose one, meaning it is too late for all of the buyers not chosen to make changes.

Buyers should review every detail to see if there is anything they would be willing to improve, such as shortening the inspection timeframe or providing assurance that, even if the property appraises low, the buyer will agree to come in with a larger down payment (up to a limit) so the selling price doesn't have to be lowered. – Tom Hume
House Heroes President Lucas Machado, a real estate expert based in south Florida, has successfully completed over 100 real estate transactions. His advice is similar to Hume's, with an extra warning for buyers about low listing prices.
In competitive markets, lowball offers will be ignored. You will not get a better price by starting low and seeking a counter offer. Submitting your highest and best from the start decreases the chance that someone swoops in with a higher offer.

Buyers also often think that offering at list price is enough to buy the house—this is not true. In hot markets, agents often set list price below market price to create a buzz around the property. Then, the agents request highest and best. Make sure your highest is on the table and don't let list price be your guide. – Lucas Machado
Qulia Bryant is a full time residential agent in the greater Charlotte, North Carolina area who specializes in homeownership education and generational wealth strategies for her clients. She also blogs about the local realty market at Move to Charlotte. She cautions that going too high in their initial offer can also be dangerous for buyers.
In a competitive market, a buyer should make sure their best interests are still being met. Therefore, every offer should still be made with satisfactory terms for all parties. Offering way above asking price may get an acceptance, but it will not end negotiations, especially if the home doesn't appraise [as high as the offer].

Offering above the asking price may not always be accepted, so the key is finding out what terms the sellers are looking for. If the seller prefers a quick closing or plans to make no repairs, then a higher asking price would not be favorable for the buyer or seller. – Qulia Bryant
Make a Splash with a Cash Offer
Now that you know how to come up with the best offer price possible, it's time to think about your payment options. You may have seen listings requesting cash offers, or have heard stories about buyers with an approved mortgage loan losing a home to an all-cash offer. With interest rates being as low as they are (and tax-deductible for most), why would buyers consider making a cash offer? Hume has noticed an increase in the amount of cash offers, and decided to investigate the ways it might benefit homebuyers.
Cash buyers I have talked to fall into three camps on this. First, there are those who plan to refinance later. Then, there are the cash buyers who don't feel like they can earn a better return. And finally, there are buyers who value not having a mortgage payment to make.

In some cases [the cash buyer] is a combination, but what they all have in common is a big advantage in a competitive market. When a buyer is paying cash, there is no appraisal to worry about and no risk of the loan being turned down a month into the transaction. Those are two big potential bumps in the road obliterated. – Tom Hume
Consider Using an Escalation Clause
An additional strategy that can help buyers in a high-demand housing market is the inclusion of an escalation clause in your offer. Florida-based Jamason Realty Group at Smith & Associates Real Estate Broker Associate Liane Jamason explains this uncommon strategy that can be used to outbid other competing offers without overpaying.
The biggest thing I have started using, and I am seeing a few other savvy [Realtors®] using, is something called an escalation clause. The escalation clause may not be legal in every state, but it is here in Florida.

The meat of such an escalation clause is worded something like this: Should the Seller receive an executed offer from another buyer that is higher than this initial offer, buyer hereby agrees to escalate his offer by increments of $500 until such time as Buyer's offer first exceeds the then-existing competing offer. Buyer's offer shall not escalate unless and until Seller has received a competing offer that exceeds the Buyer's existing offer. Buyer's offer shall not escalate beyond a total purchase price of $195,000. – Liane Jamason
Insist on Home Inspections
In the battle to get your offer accepted, some buyers may consider waiving an inspection in order to speed up the process and make the deal more attractive to the seller. Machado cautions that this is almost always a mistake no matter how good the house may look.
Never waive inspection! Buyer beware: Houses hide defects invisible to the untrained eye. This is not a place to seek an advantage in a competitive market. An expert will look behind the walls, on the roof, test electric, termite damage, among many other issues. That re-done basement and attic—did the buyer get permits? If you don't uncover these issues during inspection, you could either lose your escrow deposit, be saddled with huge repairs, or get hit with city fines. – Lucas Machado
Jamason agrees that inspections are essential, but also reminds buyers that their conditions can be modified in order to make an offer more appealing to sellers.
I would never tell a buyer to waive their inspection right. It is, however, a good idea to shorten the inspection window if possible to make a buyer's offer more attractive to a seller. – Liane Jamason
Remember: The Sellers Are Human Too
Not all closed deals in competitive housing markets depend on numbers—some succeed because buyers take the time to consider the seller's needs and wants, and possibly even make an emotional connection with them.
Oksana Tunikova of Rentberry has seen numerous bidding wars recently, particularly in the most competitive housing markets like San Francisco, New York City, and Los Angeles. Due to the demand for apartments and houses, buyers and renters often must work really hard to get the property of their dreams. One strategy that can help is to make yourself as appealing as possible.
Don't think it is always about money. While it's true that plenty of homeowners choose the biggest offer, some might be more interested in making business with trustworthy and honest prospects. This is especially true for renting, not buying. So try to make your application strong, provide positive references, and take care of your credit history. – Oksana Tunikova
Hume also agrees that investigating and considering the seller's needs is essential, and skipping this step is a mistake many buyer's agents make.
It is really important to have a conversation with the listing agent. Perhaps the sellers would benefit by having a short rent back after closing. I have won more than a few bidding wars by offering this, and it was always accomplished by asking questions and finding ways to improve the offer that weren't just with price.

Buyers should also consider writing a letter to the seller. Some sellers are 'people people' and they like to know who is getting their home. But even the pragmatists like to hear they have a motivated buyer who wants to see things through to closing. – Tom Hume
Hot Housing Markets Require Careful Research and Creative Thinking
If you are buying property in a high-demand real estate seller's market, make sure that you investigate each of these five strategies in order to come up with an appropriate and attractive offer, and ensure a smooth closing process. Getting your ideal home in the perfect location requires a combination of savvy financial decisions, and understanding both the seller's needs and your competition.
If you're looking to buy in a hot housing market and need more guidance, give our highly-trained Loan Officers a call to see how they can help you land the deal.
Share
Categories