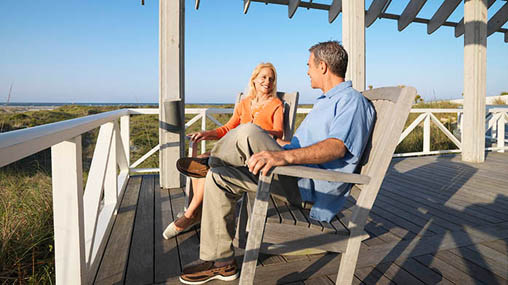 Tell me more!
I'm looking to …
Earn cash back
after close!
With Home Connect, you could earn $350 to $9,500 cash back after close.
If you're thinking of buying a second home, you're not alone. Many people consider financing an additional property for a variety of reasons: it's exciting and potentially lucrative if acquired correctly. Before starting the process, here's everything you need to know about purchasing a second home.
Reasons To Buy A Second Home
Depending on your goals, financial situation and circumstances, there are different strategies for investing in another home. Here are some of the most common reasons and their accompanying benefits.
Vacation Homes
Traveling is a big part of life for some people, and if there's a place you like to visit regularly, purchasing a vacation home in that area becomes even more appealing. With regard to your personal financial goals, owning an additional property can save you money because you aren't paying for hotels and similar travel accommodations. Plus, many people rent out their vacation homes when they aren't using them, which can put money back into your pocket. The property can even be the perfect retirement destination.
Real Estate Investments
People looking to get into the real estate business are the perfect candidates for a second home. Whether you want to take on a project and flip a home or rent out a house, secondary homes are one of the main ways to make a profit. This is one of the more strategic and potentially lucrative options.
Upgrading Your Home & Lifestyle
For those who want to upgrade to a new home but still want to make a profit, consider buying a second home that serves as your primary residence and renting out your first home. Having the means to make the initial purchase for a second home can help you turn your original home into a profitable property and help replenish the cost of your second home.
Buying A Home For Relatives
Whether you're trying to support your child with living arrangements or keeping your parents close by, some people decide that buying a second home is the best option to help out relatives.
How To Buy A Second Home
Costs
As homeowners, people looking for a second home know what kind of money it takes to own a home. However, there are more specific costs to be aware of that might differ from your first home expenses.
Maintenance. Renters rely on landlords who take care of their property. Even if you aren't living in your second home or renting it out, you still have to take care of the property. This includes basic upkeep; more specific concerns like plumbing, HVAC and landscaping; and seasonal or location-related maintenance costs.
Insurance. A second home usually means higher insurance costs for homeowners. The location and type of home you have will influence how much insurance costs, especially if you are getting a vacation home with many appealing amenities. If you're renting, there's also landlord insurance.
Vacancy. Budget for times when a rental property doesn't have tenants or if you rent for short-term periods. As the owner, you may have to front some of those costs if it takes a bit to get long-term tenants.
Utilities. You can charge tenants to pay for utilities, but if you don't have active tenants (or you aren't renting), then you are required to manage utility expenses. There are different energy efficient solutions to help lower bills such as solar panels, but it's ultimately up to the homeowner to manage those payments.
Taxes and Fees. Depending on the area your property is located in, there could be HOA fees, rental management fees and property taxes that you'll need to budget for.
Travel expenses. If you live a good distance from your second property, there will be travel costs to move between homes. If you do live far away, you should also consider setting up a security system to monitor your property while you're away.
Financing & Mortgaging
You have a couple of options when it comes to your second mortgage. Certain types of loans are better than others for buying a second home.
Jumbo loans are a type of non-conforming loan especially suited for higher-priced homes. These will be most useful when it comes to vacation homes since they are typically more luxurious and located in expensive areas. Most lenders won't consider jumbo loans for investment properties. Jumbo loans are financially demanding and have stricter qualifications, so be sure to understand what each lender requires and offers borrowers. However, Pennymac does offer jumbo loans as a product type and can assist if you are in need of one.
Another great financing option for vacation homes is conventional loans, which usually have lower down payments and can be used for rental properties or second homes. Steer clear of government loans such as FHA or VA purchase loans; most federally backed loans can only be used for primary homes. Some people also consider home equity loans, HELOCs or cash-out refinancing on their primary home to help supplement the funds needed for second homes.
Homeowners should also know that buying a second home is riskier in general than buying primary homes, so lenders often have both higher interest rates and higher down payments. This can increase your upfront costs, but larger down payments also help ease the financial strain down the road. Whatever type of financing you need, take time to research different lenders. Not all lenders offer the same loans, let alone the benefits. Be sure to fully understand the requirements, fees, rates and other benefits that a lender has.
Qualifying
There are several aspects of your finances that lenders look at for second home mortgage requirements. Like any type of loan, lenders look at your credit history, credit score, income, assets, employment history and additional financial factors.
Your debt-to-income ratio (DTI) will play a big role in qualifying. Your DTI compares how much debt you have compared to your income. Have you paid off your current home? If not, what are those payments like? Do you pay off a credit card regularly? If you currently have too much debt, lenders may not risk lending with you. Most lenders consider 43% or less a reasonable DTI.
All of these factors will also impact the rates you qualify for: the better your credit score and financial history, the lower interest rates you will be eligible for.
Steps
Find the right home or property for you. Consider your goals, how far and often you can travel, the time you can spend dedicated to the property, the people who will use the home, and what you can afford.
Secure the best financing option. Decide what type of mortgaging option would work best for your financial situation: conventional loan, jumbo loan, etc. You also need to get pre-approved for the mortgage you want. Find the best lender that offers competitive rates, minimal fees and the right type of loan options for second homes.
Establish a budget. Overspending or overestimating what you can take on can lead you down a slippery slope. Plan ahead and figure out what your spending looks like. Determine if you need partners like a property manager, potential travel costs and any other expenses that are relevant to your goals and the property you're investing in.
Close on your second home. Last but not least, take care of all closing costs and paperwork to seal the deal. If you've worked with a real estate agent or attorney, they will ensure everything is processed correctly.
Still have questions about buying a second home? Connect with a Pennymac loan officer today.
Share
Categories