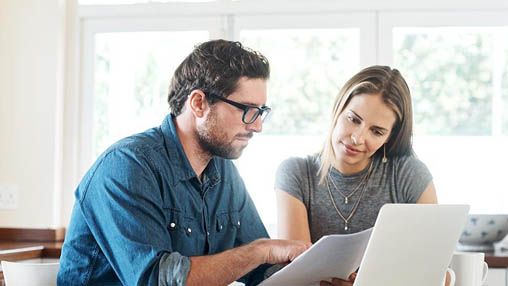 Tell me more!
I'm looking to …
Earn cash back
after close!
With Home Connect, you could earn $350 to $9,500 cash back after close.
Second mortgages can be a great way to use the equity in your home to free up cash for important needs. Just like any other loan, there are some essential components you should know about second mortgages before you begin the application process.
What Is a Second Mortgage?
Generally, a second mortgage allows you to borrow against the equity in your home, and your home is used as collateral for the loan. This loan is called a "second mortgage" because it comes in second lien position behind the existing loan on your property. Second mortgages can be easier to qualify for than other types of loans and are often used to secure additional funds.
"Second mortgages can give you access to the equity in your home without having to touch your first mortgage," says Scott Bridges, Senior Managing Director of Consumer Direct Lending at Pennymac. "Depending on your financial needs, second mortgages can be provided in lump sums or similar to a credit line where you can spend and repay over time."
What Can I Use a Second Mortgage for?
There are numerous ways to use your second mortgage. "We see many of our customers pursue a second mortgage to consolidate high interest rate credit card debt or do home improvements," Bridges says. Some of the most popular ways to use a second mortgage include:
Paying for home improvements. A second mortgage provides an opportunity to reinvest in your home. Making significant home improvements is generally considered the soundest reason to acquire such a loan because the home's value should increase and reflect your financial investment.
Funding an education. The equity in your home can provide a substantial loan to fund educational opportunities for yourself or your children.
Covering healthcare costs. Unexpected healthcare costs can cause significant financial strain. A second mortgage may offer a lower-interest loan option than other loans available.
Debt consolidation. A second mortgage may be a good option for paying off debt from multiple high-interest credit cards. You'll streamline your payment by eliminating credit card payments, and as long as your second mortgage interest rate is lower than the credit cards—which it usually is—you'll save money.
How Does a Second Mortgage Work?
A second mortgage requires an additional mortgage to be taken out on a property that is already mortgaged.
Types of Second Mortgages
A home equity loan and a home equity line of credit are the two types of loans that fall under the broad, informal category of "second mortgage." Both of these use your home as collateral, but there are some nuances between them. Let's take a look at each.
Home Equity Loan. A home equity loan is a traditional loan, meaning that a fixed amount is lent to you for a fixed term, with payments amortized or spread over the life of the loan. You receive all your money in a lump sum when the loan closes. Home equity loans usually come with fixed interest rates.
Home Equity Line of Credit. A Home Equity Line of Credit (HELOC) allows you to draw money as you need it, up to the maximum amount of your credit line, for a certain amount of time called the draw period. During the draw period, payments are typically interest only. Once the draw period ends, your payments are principal and interest, which are then amortized over the remainder of the loan term. Home equity lines of credit usually come with a variable interest rate.
How Do I Get the Money?
You can receive your funds in two different ways, depending on whether you have a home equity loan or a HELOC.
Lump Sum. A home equity loan is a standard second mortgage, a one-time loan that provides a lump sum of money you can use for whatever you wish. With this type of loan, you repay the loan over time, typically with fixed monthly payments. Incorporated into each payment is a portion of the interest, as well as a portion of your loan balance.
Credit Line. With a HELOC, you can get a lump sum of money at once and have a pool of funds you can draw from over time. You may be required to take out an initial draw (a lump sum paid out when the line is opened), but you also have the option to access additional funds if you want to at a later time. Your lender sets a maximum borrowing limit, and you can continue borrowing multiple times until you reach your credit limit. Just like with a credit card, as long as you haven't maxed out your line, you can borrow over and over on a HELOC.
Is a Second Mortgage Different Than Refinancing?
Yes, a second mortgage is different from refinancing. A second mortgage is an additional loan on your home in which you borrow against your home's equity. With a second mortgage, you'll have two home loan payments—your original mortgage and the second mortgage.
Refinancing replaces your current primary mortgage with a completely new one. Homeowners often refinance their homes to take advantage of a lower interest rate, change a loan term or switch from an adjustable to a fixed-rate mortgage. Some people choose to do a cash-out refinance, which is refinancing a home loan for an amount higher than the existing loan balance. You can use the extra funds for renovations, debt consolidation, education or other expenses.
How Do I Get a Second Mortgage?
To get a second mortgage, you'll need to apply for the loan and meet the lender requirements, which may be more stringent than your original loan. Lenders will want to be confident that you'll be able to manage another monthly loan payment.
Approval criteria will vary by lender, but at a minimum, you'll need enough available home equity, a high credit score and a low debt-to-income ratio (DTI).
Second Mortgage Rates: Getting the Most Competitive Rates
Second mortgage rates and terms differ by lenders. Compare your options to find the one that best fits your budget and goals.
Keep in mind that as with your original mortgage, certain factors like credit history and debt will come into play when determining your rates. You'll also need some equity. Bridges says, "The way to get the best rate on a second mortgage is simply to have a strong credit score, a low debt-to-income ratio and equity in the home after the second mortgage is acquired."
Is a Second Mortgage Right for You?
While there are many benefits to having a second mortgage, it is still incurring debt. You'll have to weigh the pros and cons to decide if it's your best decision. In many cases, it could be.
"From a financial planning standpoint, a second mortgage is a good idea when the homeowner has a significantly lower rate on their first mortgage than the current market," Scott Bridges says. "Imagine you have a 3% first mortgage and need $100,000 to consolidate debt or do home improvements. Right now it's typically smarter for homeowners to utilize the second mortgage to tap into their equity instead of refinancing their entire loan balance to today's 6 to 7% rate range."
Exploring Your Options for a Second Mortgage
The bottom line is that while second mortgages are common and convenient, it's important to determine if they're a good fit for you. If you're ready to apply, get started by contacting a Pennymac Loan Expert to learn more about the second mortgage options available to you.
Share
Categories