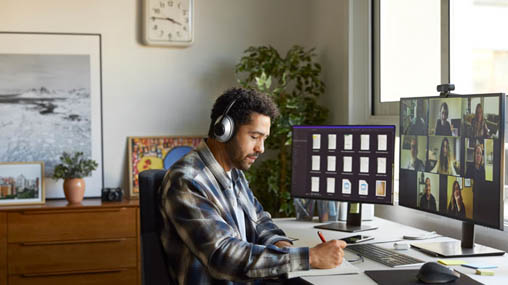 Tell me more!
I'm looking to …
Earn cash back
after close!
With Home Connect, you could earn $350 to $9,500 cash back after close.
More and more companies are offering remote work, especially due to the COVID-19 pandemic. No commute, greater flexibility and higher performance from employees are just some of the work-from-home benefits. Employers will likely continue to hire remote workers, even across state lines.
Another upside to remote work that affects the mortgage industry is how homeowners can purchase a home in an area that suits their lifestyle best. Unless you're in a hybrid work environment where you're still required to regularly come into the office, many people are not required to live near company headquarters. In fact, many online businesses advertise their job listings with "work from anywhere" as a primary benefit.
Having the freedom to choose where you live gives you more options, both personally and financially. Rural areas that would otherwise be too far from an office may be perfect for a remote position. Maybe the housing options in the city you work in are too expensive—which means you can buy a home in a more affordable area and still get the job done. In scenarios like this, getting a mortgage when you work and live in completely different areas may require you to provide a letter of employment, and, more specifically, a remote work letter.
Do I need a remote work letter for my mortgage?
Simply put, yes, some people will need a remote work letter for mortgage loan applications, though it may vary from situation to situation. During the underwriting process of a mortgage loan application, the underwriter is responsible for verifying the information you provide, including income and employment.
A remote work letter for mortgage verification needs to confirm the terms of employment, including that you're allowed to move and live somewhere else. This signed and dated letter more specifically needs to state that you will be a remote wage earner for at least the next three years—this shouldn't be a temporary option. The letter will likely require listing your salary or current pay rate, how long you've been employed, your position and the status of that position. For credibility purposes, the letter must include the company's official letterhead.
Here's an example of what the format of the letter may look like:
03/15/2022
To Whom It May Concern:
Re: Jane Doe
We confirm the following details regarding Jane Doe's employment with [company name]:
Her gross salary is $50,000/year
She is employed on a permanent, full-time basis
She started working with us on 09/04/2017
She is not on probation
Her position is fully remote and does not require her to live in the same state as our company. If you require any additional information, please do not hesitate to contact our Human Resource department at [insert phone number].
Regards,
[Signature]
John Smith
Human Resources Manager
[company name]
All of these requirements affirm for the underwriter (who has the final say on whether your loan is approved or rejected) that you will be reliably employed and able to make minimum payments. If underwriters request the letter, your approval process will go more smoothly if you've already discussed your situation with your employer and they're prepared to send the letter of employment.
Can I buy a house in a different state if I work remotely?
Yes, in terms of qualifying for a mortgage, you can still buy a house in a different state than where your company is located. Some employers won't approve remote work that crosses state lines because they want remote, but local employment, or they require a hybrid version of both on-site hours and remote work. This is the main reason many people who work remotely require a remote work letter. Employment and income are two of the most important qualifications, so a remote work letter goes a long way in reassuring lenders.
What if I'm self-employed?
Self-employment rarely conflicts with mortgage qualifications, including remote work. As long as you can provide official documentation that addresses the stability of your income, location and nature of the business, and length of self-employment, there shouldn't be any hiccups.
Need Help With the Mortgage Process for Remote Workers?
If you're considering moving to a different state while working remotely, your first step is to talk to your employer or HR representative about your company's policy regarding remote work. Some people are nervous to bring up this kind of topic with an employer, but underwriters will hesitate to work with you or approve your loan without job security.
Next, get in contact with a credible lender to discuss your options and what you can do to qualify for a mortgage loan. Pennymac has loan experts ready to answer your questions and help you get started. Contact Pennymac today.
Share
Categories