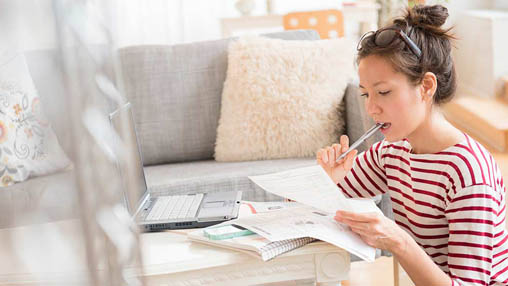 Tell me more!
I'm looking to …
Earn cash back
after close!
With Home Connect, you could earn $350 to $9,500 cash back after close.
When applying for a home loan, prospective homebuyers find themselves tracking down a mountain of paperwork for the lender. Income statements, tax returns, credit reports, and so on — with so much to collect, the application process is intimidating. Fortunately, you don't have to go at it alone.
To help you get started on your home loan application, here is a brief overview of the documents you will need. (Keep in mind that required documents can vary by lender, so double-check your lender's requirements before you get too far along.)
Income and Asset Documents
When applying for a mortgage, your lender may need proof of income. The lender will review your income documents to ensure you have the financial means to pay off your new mortgage, in addition to any other living expenses and long-term debts.
When you apply for a home loan, be prepared to provide copies of the following documents:
Pay Stubs
Borrowers are typically required to provide pay stubs from the past 2-3 months to show proof of current employment and income. If you are employed by a company, pay stubs are the easiest way to do this. If you are self-employed, other documents are discussed below.
W-2 Forms and 1099 Statements
When applying for a mortgage, start gathering your tax forms for the past two years. This includes tax returns, W-2 forms (for company employees) and 1099-MISC statements (for independent contractors and those who are self-employed). The W-2 form shows your current income, employment stability and how much money was taken out for taxes. The 1099 statement and tax returns show only your past income.
These documents are important to lenders because they not only verify your salary but also show trends in your earnings and important information about investment gains or losses. All of this information is used together by the lender to assess your total income level, get an accurate picture of your financial situation, and calculate a loan amount.
Self-Employment Documents
Prospective borrowers who are self-employed or own more than 20% of a company may need to provide a little more information to help verify your source of income. These applicants should be prepared to submit business federal tax returns for the past two years, as well as profit-and-loss statements.
Statement of Assets
In addition to reviewing the money coming in, your lender will want to make sure you have enough cash on hand to cover closing costs and your first few mortgage payments. With that in mind, be ready to submit copies of your bank statements, including savings accounts, retirement accounts, investment accounts, stocks, bonds, and certificates of deposits. The more income you have, the more a lender is willing to lend, so it's in your best interest to show every source of additional assets you own.
Other Income Paperwork
In certain situations, your lender may ask you to submit additional documents related to income:
Child support payments: If you intend on using child support payments received as income to qualify for your loan, then you will need to provide documentation of the child support arrangement. If you are receiving such payments, many lenders require you to show the payments will continue for a certain length of time after closing.
Spousal support payments: If you receive alimony and intend to use such income to qualify for your loan, then you may need to provide a copy of the divorce decree that specifies the spousal support payment arrangement. Similar to child support, if you are receiving such payments, you may need to show the payments will continue for a certain number of years after closing.
Rental property income: In most situations, you can count income from rental properties as long as it is on your tax returns. (And some lenders will accept the income if the down payment on the rental property exceeds a certain percentage, so check with your lender for specifics.)
Gift funds: If you receive a monetary gift to help meet your down payment, lenders typically require the benefactor to sign a "gift letter." This document explains the gift amount, the relationship between the donor and the buyer, and the address of the home being purchased. It also states that the gift is not a loan that needs to be paid back. (Make sure to consult with your lender on allowable down payment sources. For example, many lenders will not acknowledge a gift if a donor is listed as a seller, real estate agent, or home builder.)
Debt Documents
In order to see your full financial picture, your lender will need to understand what money you owe. When you apply for your mortgage, make sure to account for the following documents:
Credit Report
It's always best to know your three FICO credit scores before you apply for the loan. This way, you can review your credit rating before your lender does and make any necessary adjustments. You may want to pay down your account balances, get rid of credit cards you don't need and take other steps to protect your credit during the application process.
While you may not be providing the credit report yourself, this is an important item to keep in mind. The best mortgage rates are almost always reserved for the borrowers with the best credit, so make sure you do everything you can to approach your lender with the best possible credit scores.
Statements of Outstanding Debt
Even though your lender will see your existing debts via your credit report, you will still need to provide documentation of your current outstanding financial obligations. As you work through the application, make sure to gather account statements on your existing mortgage, car loans, student loans, home equity lines of credit and any other debts.
Letters of Explanation
A derogatory mark or a tax lien on your credit report isn't the end of the world, but it helps to explain why certain things appear in your credit history. Consider writing a letter of explanation for credit inquiries, tax liens or other negative marks on your credit report. Depending on the circumstances, you may be required to provide additional documentation about the event.
Preparing Yourself for the Application Process
No matter which lender you choose, make sure to double-check the specific documentation they need. Lenders may ask for different information based on their qualification requirements or your specific financial situation. A lender may also be able to pull some information on their own (with your authorization) rather than having you track it down.
With the right preparation, you can save yourself some undue frustration during the loan application process. Taking the time to collect the right documents and fully understand your financial health — even if it's a hassle — will pay off in the long run with the best possible loan.
If you have questions about what documents you need to get the loan application process started, call a Pennymac Loan Officer today.
Share
Categories