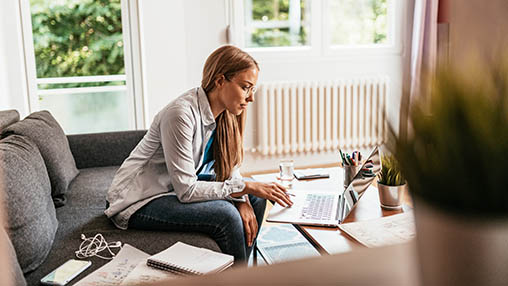 Tell me more!
I'm looking to …
Earn cash back
after close!
With Home Connect, you could earn $350 to $9,500 cash back after close.
Buying a new home is one of the most important and exciting decisions of your life, but it can also be one of the most challenging — especially if you don't know what to expect during the mortgage process. Understanding how home loans work and getting prepared will set you up for success in the home buying process.
Pennymac has developed a blog series called Explaining the Home Loan Process to help homebuyers through the entire loan process. Our step-by-step breakdown of the home loan process is designed to help you navigate the process quickly and easily.
The best form of preparation is education, so our goal is to cover everything you need to be successful. We cover the people involved in the mortgage process, the documents and forms you'll be asked to provide, and the cost of the process itself. Follow the links at the end of the article to navigate to other installments in the Explaining the Home Loan Process series, or contact Pennymac for more information.
Understand and Evaluate Your Financial Health
Before you start the loan application process, it's important to get an accurate picture of your financial health. Understanding your current financial standing will make it much easier to have a discussion with your lender about what you can afford.
Gathering the necessary information at the start of the process will make the process move more quickly and will increase the likelihood of being approved by your lender. While it may be tempting to start searching for your dream home right away, make sure you take care of these three steps first.
Find Your Credit Score Before the Loan Application
All lenders will require a credit report before they let you take out a new mortgage; having good credit history is critical to securing a loan and a good interest rate. As far in advance as possible, make sure to check all three credit scores (Equifax, TransUnion, and Experian) before contacting any lender.
Checking your credit score in advance gives you the opportunity to repair your credit if needed, including paying off debts and scrapping unused credit cards. It will also give you a chance to rectify any errors in your credit report, including errors due to identity theft, outdated information that should no longer be included, or incorrect notations on closed accounts.
A good credit score — and avoiding common credit score mistakes during the loan application process — can help you secure a lower interest rate or be eligible for a larger loan.
Weigh Your Savings Against Settlement Costs & Fees
Buying a home is likely the single largest purchase you will ever make. Therefore, you should start setting aside money as soon as possible. With the exception of loans like VA mortgages, you'll have to put down at least 20% on your mortgage to avoid paying costly private mortgage insurance (PMI). On a $250,000 home, you'll have to put down $50,000 to avoid PMI.
However, the true cost of purchasing a home doesn't stop there. You'll also have to pay settlement costs, such as fees for title services, appraisals, and credit reports. All of these expenses can easily add up to more than $10,000.
Establish a Monthly Budget That Includes Mortgage Payments
Creating a realistic budget is a must. This will help you assess what you can comfortably afford to pay each month. It's best to base your budget on your typical monthly spending habits.
Some lenders may even refer you to a homeownership education counselor for assistance. This representative will work with you to evaluate your current financial health and flexibility.
Remember, different loans and terms will affect the size of your mortgage payment. Therefore, it is important to know how much you can afford to spend each month before you begin discussing mortgage terms.
Familiarize Yourself with the World of Real Estate
Before you start looking into specifics, potential home buyers should familiarize themselves with common loans, rates and terminology. We suggest starting with the basics, such as understanding:
In addition to the Pennymac website, there are valuable resources on third-party sites to help you with the home buying process:
Understand the Other Steps in the Home Loan Process
Understanding the process as a whole will help you navigate complicated steps like the loan application, underwriting, and closing. Read the other installments in our Explaining the Home Loan Process series to learn more.
The Home Loan Application
Part 2 of Explaining the Home Loan Process discusses each section of the Uniform Residential Loan Application so you can follow along and get a better understanding of what information is necessary for each section.
Loan Processing
Part 3 of Explaining the Home Loan Process discusses how your home loan application moves through the loan process, including collecting proof of assets, ordering appraisals, retrieving credit reports, and gathering payoff information.
Mortgage Underwriting
Part 4 of Explaining the Home Loan Process discusses the role of the mortgage underwriter, including how they evaluate your capacity, your credit, and your collateral.
Mortgage Closing
Part 5 of Explaining the Home Loan Process details the closing process, including your role in the mortgage closing, your rights as a home buyer, and the best ways to ensure success at closing time.
Transferring of Loan Service
The final part of the Explaining the Home Loan Process series explains what to expect if the management of your loan is handed off to a new mortgage company after closing.
Understand Your Own Home Loan Process
If you want to gain a clearer understanding of how this would work for your own home loan, contact a Loan Officer at Pennymac. They will explain what to expect during each stage of your personal process to obtain a mortgage.
Jump to...
Share
Categories