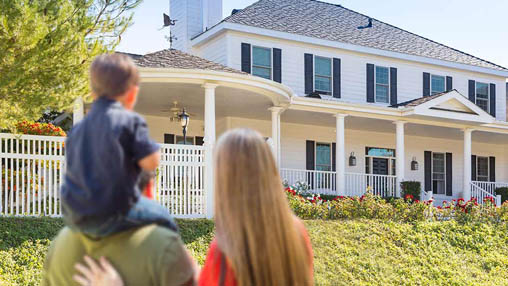 Tell me more!
I'm looking to …
Earn cash back
after close!
With Home Connect, you could earn $350 to $9,500 cash back after close.
When it comes to comparing mortgage lenders, many new homebuyers confuse the annual percentage rate (APR) with the interest rate. In truth, these rates measure two very different things. Understanding the role that each of these numbers play in the total cost of your mortgage isn't only important for personal knowledge, it could save you thousands of dollars over the life of your loan.
The Difference Between APR and Interest Rates
If you're like most homebuyers, you've spent a lot of time focusing on a mortgage's interest rate. After all, the interest rate determines the cost of borrowing the principal loan amount, which is a great indicator of what your monthly payments will be. However, interest rates don't account for other loan charges, such as loan discount points, mortgage insurance premiums, broker fees, or closing costs.
That's where the APR comes in. The APR uses these fees, plus the advertised interest rate, to provide a more complete snapshot of the actual cost of your mortgage. The APR is almost always higher than the interest rate.
Generally, the lower the APR, the lower the total cost of the loan.
The Advantages of Examining APR
The greatest advantage of looking at a loan's APR is that the figure provides borrowers with an apples-to-apples comparison of mortgage products and institutions. For illustration purposes, here are three fictional lenders and their advertised rates for a 30-year fixed-rate mortgage:
| 30-Year Fixed | Interest Rate | Points & Fees | APR* |
| --- | --- | --- | --- |
| Lender A | 3.375% | $7,680 | 3.618% |
| Lender B | 3.625% | $5,150 | 3.791% |
| Lender C | 3.500% | $3,450 | 3.611% |
So, even though Lender A has the lowest interest rate advertised, Lender A's points, fees, and other prepaid finance charges actually make Lender A more expensive than Lender C, which is advertising a higher interest rate but lower points and fees than Lender A. In this case, identifying the APR can help a borrower determine which loan is the most affordable over the long-term.
APR and Truth-in-Lending
To increase lender transparency, and to make loan comparisons easier for the borrower, the federal Truth-in-Lending Act requires lenders to post the annual percentage rate in a disclosure, as well as alongside any interest rate advertisements. These disclosure forms may also be called a Loan Estimate or a Closing Disclosure.
In any case, these documents are designed to ensure that borrowers have all the information they need to select the right mortgage product and institution.
You can always find the APR in the "Comparisons" section of your Loan Estimate.
APR May Vary by Lender
While the APR offers a great starting point for borrowers to compare loans, the APR is not without drawbacks — the biggest being that some lenders apply different fee structures. Be sure to ask your lender about any and all fees calculated within their APR to make sure nothing is left out.
It's also important to remember that the APR represents the total cost of borrowing over the life of the loan, which assumes you'll be paying the mortgage for the full-term. If you choose to move, pay off your mortgage early, or refinance mid-term, conducting an APR comparison may not be as useful.
Lastly, the interest rate for an ARM can fluctuate making it more difficult to compare the APRs on ARMs to the APRs on fixed-rate mortgages.
Lock in APR with a Loan Estimate
Since lenders don't always calculate APRs similarly, it's important that homeowners review all of the loan terms and rates. You can compare loans by obtaining a Loan Estimate from each lender, which will include locked in rates for both the interest rate and the APR as well as an estimate of any fees the lender will charge. If you still have questions, don't be afraid to talk to your lender. They might be able to work out a better deal!
Share
Categories