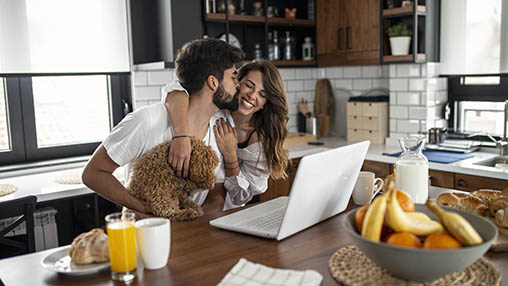 Tell me more!
I'm looking to …
Earn cash back
after close!
With Home Connect, you could earn $350 to $9,500 cash back after close.
Congratulations! You have found a home you want, been approved for the loan you need, and have now entered the final phase of loan processing. You may be ready to start unpacking and decorating, but before you can call the house your own, you must complete one last step: closing on your mortgage.
Mortgage Closing: The Home Stretch
During closing, the property title passes from the seller to the buyer. A closing agent—usually an attorney or official from a title or mortgage company, and not to be confused with your real estate agent—oversees this process, which typically takes place at a title company, escrow office, or your home. The mortgage closing process varies from state to state.
Your closing agent will explain the specifics of your settlement process, and who needs to be there. This agent acts as a mediator between the selling and the buying party, and ensures that all documents are signed and recorded. Finally, he or she will oversee that all funds, including closing fees and escrow payments, are paid and properly disbursed.
Once your loan has been approved, the home closing begins so you need to be ready. Let's go over what your role in the process will be, and then preview the numerous closing documents you'll need to sign when you close.
Your Role at the Closing
In a real estate transaction, the term closing is synonymous with signing. The name of this process comes from the fact that the escrow account that you were using to complete the home buying process will now be closed. During closing (also called settlement or account settlement), you will have to review, authorize, and date numerous legal documents.
While this process may seem tedious, the end result of homeownership is well worth the effort. Being prepared and staying organized can help ensure that your closing is quick and easy. Here are six important things you need to do before you even sign your first closing document:
Confirm the time and date of settlement immediately after receiving loan approval.
Confirm the recipient of closing costs and then request a certified or cashier's check from your bank, before settlement (personal checks frequently are not accepted at closing, particularly for large amounts).
Assemble any documents that you may need to refer to during closing. These can include your contract, proof of title search and insurance, flood certification, proof of homeowners insurance, mortgage insurance, home appraisal, and inspection reports.
Confirm that any repairs mentioned in your contract have been done, which may include a walk-through of the home you are buying 24 hours before closing.
If you will be paying your down payment or any closing costs at your settlement, make sure that you have a check or other acceptable form of payment ready. It is important to check with your settlement agent to verify what types of payments are acceptable since, in some instances, a cashier's check or wire from your financial institution may be required.
Remember to bring your driver's license or other government issued ID to closing.
Home Loan Closing Documents
Want to know more about the legal significance of the many documents your will complete at closing? Let's take a look at the various forms the closing agent will ask you to review and sign, and examine the purpose of each document.
Closing Disclosure
Required by federal law, the Closing Disclosure (CD) is typically the first document you will review with your closing agent. This form will disclose all costs related to the home purchase, including loan fees, real estate taxes, and other miscellaneous expenses. There are many separate costs when buying a home, and this document helps you understand and prepare for them. It contains information regarding the details of your loan, including the amount financed, the annual interest percentage rate, the finance charge, and the payment schedule. This document will also take into consideration any modifications that may have been made to your interest rate or points during the loan process.
Be sure to compare your Closing Disclosure (CD) to your initial Loan Estimate (LE) as the CD will include final closing costs and any modifications that may have been made to your interest rate or points during the loan process. Some changes from your initial LE are normal, but make sure to ask for an explanation if you notice a big shift. Because this document contains a lot of information that is essential for homeowners to review, it is required by law that it be sent to you three business days before closing.
Promissory Note
This document is legal evidence of your mortgage and pledge to repay the loan, and a copy is kept as a public record, often with your county clerk office. The promissory note details the loan amount, interest rate, payment schedule, and length of term. It also lists the penalties the lender can impose if you fail to make routine mortgage payments.
The Deed of Trust
The Deed of Trust is a security instrument, and also may be referred to as a Mortgage depending on the state your property is located in. When you sign the Deed of Trust, you pledge your home as security for a loan. This means, if you fail to make your mortgage payments, the lender has the right to foreclose on your property. Some Western states, including California, use a deed of trust in lieu of a mortgage.
Certificate of Occupancy
This document certified that a newly-constructed home is in compliance with local building codes and laws. If you built or purchased a brand new home, you may need this document in order to legally move into your new residence. This document is usually issued by a local government agency such as your city's building department.
Notice of Right to Cancel
Under federal law, your lender is required to supply you with a Notice of Right to Cancel. The Notice of Right to Cancel provides each borrower under the transaction a three-business day window to cancel the new mortgage loan. If the borrower is purchasing a home with a mortgage loan, once the closing documents are signed, the borrower does not have the right to cancel.
Make sure to ask questions if you are unsure about any part of the process or paperwork.It's important to review these documents carefully, to make sure that they are accurate. For example, make sure you are not being billed for your home appraisal if you paid for it already. Talk to your closing agent if you find errors in the above documents. You want any inconsistencies or discrepancies corrected before settlement.
Be An Informed Home Buyer
Closing can feel like a whirlwind. You are finalizing agreements, signing documents, and exchanging forms. Many small charges add up to one of the largest payment you will probably ever make. It's a big transaction that will change your life, so take the time to request and read all the documents before closing. Being informed and prepared will ensure that you protect yourself, and are able to enjoy a quick and painless closing process.
Ready to go from dreaming to closing? To start the process of buying your first home, contact a Pennymac Loan Officer today to get the information you need. Still researching? Check out the next post in our series on Explaining the Loan Process: Part 6 – Transfer of Loan Servicing.
Jump to...
Share
Categories