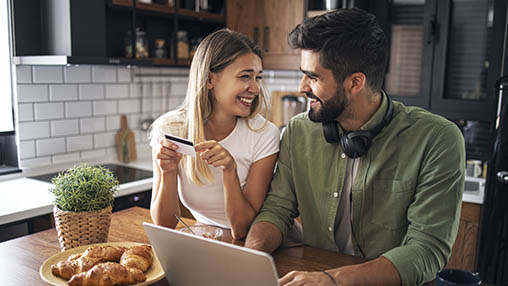 Tell me more!
I'm looking to …
Earn cash back
after close!
With Home Connect, you could earn $350 to $9,500 cash back after close.
You have completed every step of the mortgage process: from the application to underwriting to closing, you have secured your home loan and made the purchase you've been waiting for. However, borrowers often don't realize that mortgage closing isn't the end of the home loan process. Loans are commonly transferred to other companies for servicing—sometimes even before the first payment is made!
In this post, the final segment of our Explaining the Home Loan Process series, we'll cover loan servicing transfer.
Transfer of loan servicing is no reason to panic. In fact, it's quite common in the mortgage industry for loan servicing to be transferred from your initial lender to another company. While it may not be cause for concern, it's important for you to understand your rights as a borrower and what to expect during (and after) the transfer.
Definition: Transfer of Loan Servicing
When your lender transfers servicing, they hand over the management of your loan to a new mortgage or servicing company. For the borrower, all this means is a new institution will be collecting your payments, handling your escrow accounts, dealing with any insurance or tax matters, and answering your questions.
This transaction will not impact your initial mortgage agreement in any way. Your loan amount, interest rate, contractual payment obligation and payment schedule will remain the same. The only change as a result of this transfer will be where you send your monthly mortgage payment.
This transfer could take place at any time during the life of your loan. In some cases, loan servicing can be transferred right after closing—even before a payment is made. Under the Real Estate Settlement Procedures Act (RESPA), lenders are typically required to provide certain disclosures during the mortgage process. This includes a Mortgage Servicing Disclosure Statement, which explains whether the lender intends to service the loan or transfer servicing to another company.
Notice of Transfer of Loan Servicing
When the servicing of your loan is being transferred, you should receive two notices in the mail:
A letter from your current servicer, which should be provided at least 15 days before the effective date of the transfer, commonly referred to as a "goodbye" letter.
A letter from your new servicer, which should be provided within 15 days of the effective date of the transfer, commonly referred to as a "hello" letter.
Both documents will contain information regarding the impending transfer, including the name, location, and phone number of the new mortgage company. The welcome letter from your new loan servicer will also include where and when you should begin sending your monthly payment. Each letter will also provide a statement explaining your rights and what to do if you have any questions or complaints about the servicing of your loan.
Avoid Loan Servicing Transfer Scams
In very rare cases, borrowers may receive a single letter indicating the transfer of loan servicing. If you only receive one letter, it should represent both sides of the servicing equation; it should include the 'goodbye' from your current servicer and the 'welcome' from your new servicer.
However, beware if you only receive a welcome letter. This could be a mortgage scam, designed by a thief who is posing as a new loan servicer to collect your monthly payments.
To avoid scams, always double-check with your current servicer. Upon receiving any notice of transfer in the mail, call your current servicer to certify your loan servicing is truly being transferred before sending any monthly payments to a new company.
Grace Period & Borrower Protections
The switch between loan servicers should be relatively smooth. But in case of any confusion, RESPA grants homeowners a 60-day grace period for 60 days from the date your loan servicing transfers, your new servicer cannot charge you a late fee or treat the payment as late if you sent it to your previous servicer on time or within the applicable grace period. This protects mortgage holders who may send their mortgage payments to their old servicers accidentally. It also serves as a cushion for borrowers who need to reroute automatic electronic payments to their new servicer's address.
Checklist: Loan Servicing Transfer
Most borrowers will undergo a transfer of loan servicing at least once during homeownership. To help you better navigate the transfer, follow the checklist below:
Watch for two notices in the mail
Be certain you receive both a goodbye letter (from your old servicer) and a welcome letter (from your new servicer). If you do not receive both notices, call your old servicer to verify the transfer.
Reroute your mortgage payments
If you pay your mortgage using automatic electronic payments, be sure to reroute your payments to the new company. If you send checks every month, ensure you send your next check to new servicer at the address listed in the welcome letter.
Review homeowners insurance policy
Your loan servicer will likely notify your homeowners insurance carrier that your loan has transferred to new servicer. Make sure to review your next policy renewal notice to verify that the change has been made. If the policy hasn't been updated, contact your insurance company to ensure they update your loan servicing information.
Double-check they have your information right
Double-check that the mortgage account information listed on both notices is correct. It is important to clear up any mistakes sooner rather than later, as they can affect your future mortgage payments.
Moving Forward With Your New Lender
Once your transfer is complete, you shouldn't notice any changes with your mortgage—other than where you send your monthly payments. As mentioned above, transferring the servicing of a loan is rather common so it is possible that your loan servicing could be transferred again in the future.
If you have questions during the transfer process, don't hesitate to ask your new servicer. Your loan servicer is there to help you and they want to make your life as a mortgage holder as simple as possible.
If your mortgage has been transferred to Pennymac, contact a Pennymac Customer Service Representative today. Our highly trained staff will answer any questions you may have on loan servicing or any other portion of the mortgage process.
Explore the Home Loan Process in Further Detail
To learn more about the other typical steps in obtaining a mortgage, take a look at the previous sections of our Explaining the Home Loan Process series:
Jump to...
Share
Categories