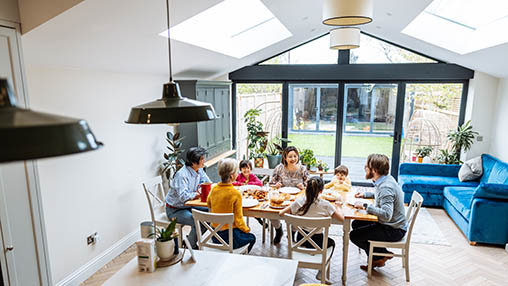 Why Refinance?
Get a lower rate
Reduce monthly payment
Remove mortgage insurance
Customize your term

(+ or -)
Earn cash back
after close!
With Home Connect, you could earn $350 to $9,500 cash back after close.
If you are like many American homeowners, your first mortgage may have been a loan with the Federal Housing Administration (FHA). Loans backed by the FHA are attractive to first-time homebuyers because FHA loans are easier to obtain financing for and require only minimal down payments and fair-to-good credit scores.
On the other hand, FHA loans require certain provisions which can sometimes be a burden on a homeowner's budget, often in the form of premiums paid for mortgage insurance. In such cases, you may want to consider refinancing your FHA loan into a conventional mortgage.
However, before we dive into the pros and cons of refinancing from an FHA to conventional loan, it's important to learn the basics of these mortgage insurance premiums and costs.*
Can You Refinance an FHA Loan?
Can you refinance an FHA loan? The answer to that question depends on certain eligibility factors. You can refinance an FHA loan to a conventional loan, but you'll need to meet minimum requirements. We can structure the private mortgage insurance (PMI) into your interest rate to lower your monthly payment. If you don't meet the equity minimum for a conventional loan, you'll need to account for continued PMI costs until you've reached at least an 80% loan-to-value ratio (or lower).
Understanding Mortgage Insurance Premiums
FHA loans stipulate that borrowers pay two kinds of mortgage insurance: a one-time, upfront mortgage insurance premium (UFMIP) and a monthly mortgage insurance payment (MIP). The monthly MIP is generally required for the life of any FHA loan.
Today, the UFMIP costs roughly 1.75% of a loan's principal balance and is paid at closing. For example, borrowers applying for a $200,000 30-year fixed FHA loan today will have to pay a $3,500 UFMIP. Additionally, these borrowers typically pay an annual premium of $1,700 for every $200,000 borrowed.
The MIP will be calculated at 0.45% to 1.05% of the loan balance throughout the term of an FHA loan. These premiums can add anywhere from $100 to $500 to the monthly payment. While FHA rates may be low, the added costs of mortgage insurance could make refinancing into a conventional loan, even one with a slightly higher interest rate, result in lower monthly payments for the borrower. In other words, if you choose to refinance FHA to conventional, you may stand to save a significant amount over the life of the loan.
Now, let's examine the advantages and disadvantages of an FHA to conventional refinance.
Refinance from FHA to Conventional: Pros
While mortgage rates continue to fluctuate, home values continue to rise, providing more equity to homeowners. This has given homeowners the leverage to successfully refinance from FHA to conventional mortgages.
In fact, one of the biggest advantages of switching to a conventional loan is that it can eliminate the mortgage insurance requirement altogether. While conventional loans have stricter credit requirements, and typically require borrowers to have at least 20% equity in their homes, any mortgage insurance provision is canceled once a homeowner has reached a 78% loan-to-value ratio in their home. You can also refinance your loan into a conventional loan with cheaper PMI.
Additionally, refinancing to a conventional mortgage allows borrowers to take out a larger home loan.
Refinance from FHA to Conventional: Cons
It's important to keep in mind that refinancing comes with costs, such as closing fees, and may require you to present many of the same documents during the application process as you did with your original home purchase. However, some refinance options, such as a Streamline Refinance, can remove these document requirements. Learn more below.
According to SmartAsset, refinancing closing costs can range anywhere from 2-5% of your total loan. For example, if you refinance into a $250,000 loan with 3% closing costs, you'll need to pay $7,500 on your signing appointment day, roll the costs into the loan, or receive a lender rebate to offset the costs.
In addition, if you don't currently meet the equity requirements, you'll need to account for continued PMI costs — that is until you've reached that magic number of 78%, and in some cases, 80%, in loan-to-value ratio.
To apply for a conventional mortgage, you'll need to present a few documents to prove your borrowing worthiness. These documents include:
Pay stubs
Tax returns and W-2's and/or 1099's
Your credit report
Asset statements
You may also need to pay for an appraisal of your home. In some cases, you will not have to present income or asset documentation.
Too Many Requirements to Refinance FHA to Conventional? An FHA Streamline Might Make More Sense
If you can't afford the closing costs associated with refinancing from an FHA into a conventional mortgage, or if you can't provide the needed documents, an alternative option is to apply for an FHA Streamline Refinance.
The FHA Streamline Refinancing program provides homeowners with a quicker, simpler way to refinance without the hassle of in-depth documentation, credit or income verification.
Homeowners who are looking for ways to lower their monthly mortgage payments, or who are hoping to convert an adjustable-rate mortgage into a fixed loan, often benefit from an FHA Streamline Refinance — even if their mortgage is underwater. In fact, the Streamline program was put in place specifically to reduce loan defaults.
To qualify for a Streamline Refinance, you must meet the following requirements:
You must already have an FHA-backed mortgage
All mortgage payments must be up to date
You must wait 210 days or have six months of on-time payments before applying
This refinance cannot be used to obtain cash in excess of $500
It's also important to note that Streamline Refinancing continues the requirement for mortgage insurance, though UFMIPs are typically absorbed in the mortgage and are not paid in cash.
Understanding the Net Tangible Benefit
FHA Streamline Refinancing applicants must demonstrate a valid reason for refinancing, which is determined by something called the Net Tangible Benefit. According to the FHA, this can be either:
A 0.5% reduction of the principal and interest (P&I) of the mortgage payment, plus the annual MIP
A refinancing from an adjustable-rate mortgage (ARM) to a fixed-rate mortgage
Checklist: Is it a Good Time to Refinance FHA Loan to a Conventional Mortgage?
If you're still not sure whether you should refinance from an FHA loan into a conventional mortgage, answer the following checklist questions to help you decide if it's the right move.
1. What are my goals?
If you're looking to lower your monthly payments, or switch from an ARM to a fixed-rate loan, going into a conventional mortgage might be right for you. You may also be eligible to take advantage of a cash-out refinancing option with a conventional loan.
2. Does refinancing make financial sense?
If current interest rates are higher than your existing rate, or if the difference is negligible, refinancing into a conventional loan may not be worth the cost. You can use a loan calculator to estimate your monthly payments — just don't forget about those upfront insurance costs.
3. What is the current value of my home?
Most home values have risen over the years, giving homeowners more equity and making refinancing into a conventional mortgage an attractive option for homeowners. If you owe more on your mortgage than your home is worth, you can still refinance with an FHA Streamline.
4. What is my existing home equity?
If you have more than 20% equity in your home, converting from an FHA into a conventional home loan makes a lot of sense. If you have less than 20% equity, an FHA Streamline Refinance may be better suited to your situation.
5. Can I afford refinancing closing costs and fees?
Refinancing can be pricey — oftentimes thousands of dollars. However, borrowers can typically use a rebate from the lender to offset some of the costs or finance the costs and fees. To understand how financing these fees will impact your monthly payment, be sure to use our handy calculator found here.
6. Can I provide all of the necessary documentation?
Refinancing into a conventional mortgage is a process very similar to purchasing your first home, so it's important to gather all of the right documents. If you can't produce the necessary documents, an FHA Streamline may provide a simpler path to refinancing.
Considering a Refi? Talk to a Mortgage Lender
Even if FHA rates are lower than conventional rates, it may not always be in your best interest to refinance into another FHA loan. A licensed loan officer can help you evaluate the nuances of FHA refinances and help you identify your best financial solution.
To see if a conventional loan refinance makes sense for you, speak with a Pennymac loan officer or apply online today.
*By refinancing your existing loan, your total finance charges may be higher over the life of the loan.
Share
Categories