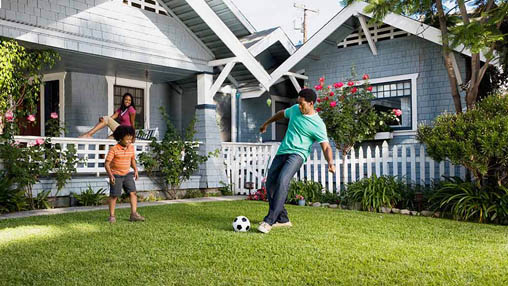 Tell me more!
I'm looking to …
Earn cash back
after close!
With Home Connect, you could earn $350 to $9,500 cash back after close.
When you're evaluating home loan categories, it's easy to get confused by the terms "conventional" and "conforming." As similar as these two terms may sound, their definitions are different so it's important to understand the distinctions. We're here to clear the air.
A conventional loan doesn't have to be guaranteed or insured by the federal government, but it does adhere to Fannie Mae and Freddie Mac guidelines in most cases. A conforming loan, on the other hand, describes a certain set of characteristics, mainly loan amount, contained within a home loan.
Within the mortgage industry, loans are repackaged and sold on the secondary market to mortgage investors, the biggest of which include the government-sponsored entities (GSEs), Fannie Mae and Freddie Mac. When a pool of loans adheres to the standards of Fannie Mae and Freddie Mac, the loans are considered "conforming." When they do not, such as with jumbo loans, they are considered "non-conforming."
Let's take a closer look at the differences of conforming and non-conforming loans, and how borrowers can assess which home loan will benefit them most.
What Is a Conforming Loan?
In order for a mortgage loan to be conforming, it must meet the specific criteria that allow Fannie Mae and Freddie Mac to purchase the loan. The most significant of these criteria is the loan limit, which refers to the maximum amount of the loan that Fannie Mae or Freddie Mac will purchase. The loan limit can change from year to year.
The Federal Housing Finance Agency (FHFA) has increased the conforming loan limit for a single-family, one-unit property—to $726,200 (as of 2023). Certain areas of the country, such as Alaska and Hawaii, have a higher loan limit due to their higher-priced housing markets. Since Fannie Mae and Freddie Mac are managed by FHFA, they align with FHFA's loan limits and will only purchase loans within those limits.
What Are the Benefits of a Conforming Loan?
The primary advantage of a conforming loan is that they typically offer a lower interest rate than a non-conforming loan, which means lower monthly mortgage payments and less money spent over the life of the loan.
What Is a Non-Conforming Loan?
Non-conforming loans are loans that cannot be purchased by Fannie Mae or Freddie Mac. These types of loans include jumbo loans. Jumbo loans exceed the conforming loan limits and have different underwriting guidelines. Due to the higher risk of jumbo loans, they generally have less-favorable terms and are more difficult to sell on the secondary market.
What Are the Benefits of a Non-Conforming Loan?
While riskier and less common than conforming loans, non-conforming loans allow individuals to borrow larger amounts than is possible with a conforming loan.
You may have heard the term "jumbo loan" before. These include any loans above the conforming limit. In most U.S. counties, the conforming loan limit is $726,200. However, in areas with a high cost of housing, such as San Francisco, the conforming limits are much higher (in that case, $1,089,300).
Jumbo loans are usually geared toward high-income earners who have good credit and plentiful assets. Due to the size of the loan, as well as the lack of government insurance, lenders assume greater risk with these mortgages.
To reduce the risk, many lenders require borrowers to place a down payment of 20 percent (or higher) or require anywhere from six to 12 months of mortgage payments in an asset account as additional security. The risk to the lender is also offset through generally higher interest rates, greater upfront fees, and stricter underwriting requirements.
Choosing the Home Loan Option That's Best for You
As described above, the loan amount, and your financial situation, along with a variety of other factors, dictate which loan type you qualify for. However, there are times when the borrower has a choice.
In either case, it's very important to follow all the same best practices: comparison-shop lenders to understand different programs, rates, fees, and, of course, to confirm the lenders' quality.
To find out more information about the current loan limits and loan programs, contact a Pennymac Loan Officer today.
Share
Categories