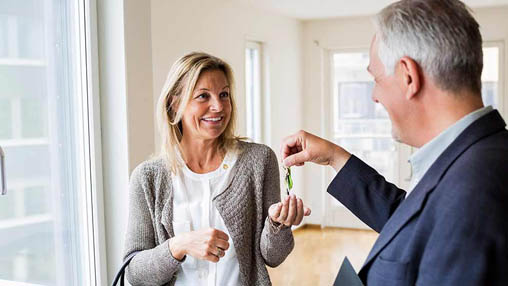 Tell me more!
I'm looking to …
Earn cash back
after close!
With Home Connect, you could earn $350 to $9,500 cash back after close.
Buying your own home has many benefits: you can gain equity, have access to potential tax savings, and on top of it all, gain a sense of security and freedom that comes from homeownership. Owning a single-family home also comes with responsibilities that you would occasionally need to set time aside for, such as landscaping and home repair projects. However, if you are looking for the benefits of homeownership in a lower-maintenance package, then buying a condo might be the right choice for you.
Choosing a condo instead of a single-family home can also allow you to own in popular neighborhoods at a lower price. Plus, many condos offer access to desirable community features such as a pool, jacuzzi, or gym. If you are sold on the lifestyle and amenities that condo living can offer, it's time to learn how to get the loan you need to make your future vision a reality.
What Is a Condo?
A "condo," short for "condominium," is a privately owned unit within a larger building. Condos may look like apartments or townhouses, but they aren't owned by an apartment complex or paid for through a rent system. Instead, each condo is owned individually, though it may be part of a larger grouping of units. Many people are drawn to condos because while the owner is responsible for maintaining the individual condo, there's usually a property manager responsible for the rest. Condos very often include common areas that all owners can use but aren't responsible for maintaining. Some condos have a condominium association that will maintain common areas, and each owner is responsible for paying dues to the association.
Does a Condo Match Your Needs?
Whether you want amazing amenities, affordable homeownership, or just a life free from lawn mowing, there are many reasons to consider buying a condo. There can also be a few downsides to purchasing a condo to be aware of before moving forward. These are the pros and cons of condo ownership:
Pros
You don't have to worry about exterior property maintenance
You get to build equity while still taking advantage of apartment-style amenities
Condos are often cheaper than homes but still let you own property
Condo associations can help provide a sense of community
Cons
You're limited on remodeling and some lifestyle choices by the condo association
Condos could have higher monthly costs or mortgage rates, depending on your lender and the condo itself
Condos can be harder to sell than a home if you need to move
If the pros of condo ownership sound right for you, then you'll need to move forward with understanding condo mortgages and how they might be different from a home mortgage.
Why Condo Mortgages Are Unique
Whether you are shopping for your first mortgage or have owned homes in the past, you may be surprised to learn that condo mortgages or condo loans are different from other types of mortgages and loans. It's important to first find out if the condo is eligible for mortgage financing, as there are many different factors that influence financing eligibility outside the buyer's control.
You and your real estate agent will need to research whether or not the particular properties you are interested in are eligible for a loan. If a property is eligible, there will most likely be a few more steps to take in order to get approved.
Overall, there are multiple options available to you as a buyer. Make sure you partner with a lender who can clearly explain the choices available and how each one will impact your budget on both a monthly and on a long-term basis.
Down Payments on Condos
As mentioned before, the down payment that you make on your condo purchase can have a big impact on your loan rate. You will need to put at least 25% down on a condo to get the lowest rates possible on a Fannie Mae loan, but remember the more you put down, the more your rate can decrease. FHA loans allow down payments of as little as 3.5% on condos, but rates may be higher than if you put down more money. The options available to you will depend on both your credit and the complex you are interested in.
Saving for a down payment? We've collected these tips from expert resources and industry insiders to help homebuyers get on track with saving.
Non-Warrantable Condo
When you start searching for a condo, you might see a property you like that is non-warrantable. This means the condo project doesn't meet the requirements for Fannie Mae, Freddie Mac, FHA, or VA financing. Each agency has their own set of condo requirements for a project to be eligible, or "warrantable." A condo could meet one Agency's requirements and not another's, so you need to double check to see what type of loan you can use to purchase the condo.
Qualifying for Condo Loans
Condominium communities have to deal with many interdependent factors that don't impact single-family homes, including occupancy, construction status, and the financial health of the condo project. Many of these factors will influence whether you can get a mortgage for a particular condo. Although relatively rare, here are some of the reasons that a condominium could be ineligible for financing:
The complex contains segmented ownership, a manufactured home, or timeshare units.
The condo complex contains more than 35% commercial or mixed-use space.
The complex functions as both a condo and a hotel or offers hotel amenities, including the HOA offering short-term rentals for condos in the complex.
The property is a cooperative (or co-op).
The condo complex is owned by the developer, with condos being leased by the HOA.
The condo project requires all homeowners to pay fees to use a country club or golf course.
The percentage of condos sold and closed amounts to less than 90% of the total condos in the complex.
Once you have determined that the complex you are interested in is eligible for financing, and you have saved enough for the down payment, you may think that you are ready to start packing for your move. However, your lender will need to verify a few additional items before you reach the finish line. Here are some general rules that will apply to almost any condo loan application:
HOA delinquency minimums: In a condo complex, it's essential that the homeowners pay their HOA dues in a timely manner. This allows the HOA to maintain common areas and amenities, and generally keep the complex in good physical and fiscal shape. Most lenders require that at least 85% of HOA dues be paid on time.
No pending legislation: Lawsuits are costly and can take years to resolve — make sure that the complex you are interested in is not involved in any.
No restrictive covenants: Most lenders require that the condo title can be transferred in fee simple. In other words, there cannot be any claims or restrictions against the property and the holder of the title must have absolute ownership.
Proper insurance coverage: The condo complex you are interested in must have appropriate insurance, including hazard, liability, and flood insurance.
Urban, suburban, or rural? When looking for a new house or condo, it's important to know what's best for you and your family.
HOA Considerations
Being able to have at-home, maintenance-free access to amenities like a pool, gym, tennis courts and other conveniences are a big part of what makes condo living appealing. Access to these shared amenities does come with some costs - the most obvious being your monthly condo or HOA fees.
HOAs are typically responsible for the maintenance and repairs for the building exteriors, the grounds, and any shared facilities or amenities. Such projects are funded by the dues paid by condo owners each month. HOA dues are not fixed or guaranteed and can be increased (or occasionally decreased) if the HOA's needs or reserves change.
HOA dues can vary widely, depending on the amenities offered, what the fees include (such as, in some cases, water or cable), and the costs of maintaining the property. And while you may at first think of HOA fees as an extra cost in addition to your monthly mortgage payment, they actually can end up saving you money when you consider what they give back in return. From small costs like landscaping or a gym membership to major potential bills like a roof replacement, your HOA will provide a lot of benefits that single-family homeowners don't have access to.
You may also find you'll enjoy some other extra benefits gained by living in a community environment. Besides a gym or pool and jacuzzi, some developments may also offer recreation rooms that you can have parties in or theaters. Some communities are even developed to cater to certain groups, such as young professionals, families, or older adults, and may offer organized group activities and other community social events. So be prepared to possibly meet some new friends should you decide this type of community living is for you!
Besides the social benefits, you'll also want to consider the safety perks of living in such a community. Often condo developments offer extensive security, such as gated entry, doorkeepers and other professional security personnel, video monitoring, and alarm systems. Also, don't forget there's usually safety in numbers, and having a neighbor just a few steps away can not only be convenient but sometimes safer, especially for those who live alone.
Want to learn more about HOAs? Check out Pennymac's Guide to Homeowners Associations and get the information you need.
Types of Condo Financing
If your condo community of choice has met all of the previous requirements, it's time to start considering the type of condo loans that you are eligible for and interested in. Many of the same types of loans available to single-family home buyers (such as conventional, FHA, and VA mortgages) are also available to condo buyers.
Conventional Loans
A conventional loan is a standard mortgage that is insured by Fannie Mae or Freddie Mac. If you are applying for a conventional loan for a condo, your lender will need to review both your application and the condo complex, and HOA operations very carefully. Here are some of the things your lender will look for:
HOA delinquency minimums: Most lenders require that at least 85% of HOA dues be paid on time.
HOA reserves: Is the HOA saving at least 10% of its budget for future or emergency expenses?
Occupancy details: Most lenders will want the units in the complex to be at least 90% occupied. In addition, they may require a certain amount of the other units in the complex to be primary or vacation homes, not rentals.
FHA Rules for a Condo Loan
Condos are often a popular choice for first-time home buyers due to their lower prices, and FHA loans are an equally popular funding source for first-time buyers due to their low down payment options. Insured by the Federal Housing Administration, FHA loans allow borrowers to finance homes with down payments as low as 3.5%. Your rate will still vary based on your unique situation and don't forget to account for the FHA mortgage insurance fee of approximately 1.75% of the loan amount. In order to buy a condo with an FHA loan, you will need to make sure that your purchase meets the following requirements:
FHA-Approved Condo List: The condo must be listed on the FHA-approved condominium list.
Primary Residence: The condo you are buying must be your primary residence, not an investment or vacation home.
Percentage of FHA Loans: FHA will only allow up to 50% of the units to be financed with FHA.
Percentage of Owner-Occupied Units: At least 50% of the units in the complex have to be owner-occupied, regardless of how they are financed.
VA Loans for Condos
Loans backed by the United States Department of Veterans Affairs (VA) are known as VA loans and are only offered to veterans, active service members, and their spouses. While VA loan funding is provided by private lenders, the VA guarantees (or "backs") a portion of the loan, protecting the lender's investment and allowing them to offer lower down payments and interest rates to buyers.
VA loans can be used to purchase condos, as long as the condo complex is approved by the VA. You can check the VA's condo database to see if the condo you want to purchase is in an approved complex.
If you're interested in a condo complex that is not in the approved database, it is possible to ask the VA to approve a new complex, but keep in mind that this process may take time to complete.
USDA Loans
USDA loans are backed by the U.S. Department of Agriculture. Geared toward buyers of rural (and some suburban) properties, these loans can be made for a condo purchase if both the complex and buyer can meet the USDA loan requirements. USDA loan eligible condos must be:
A "decent, safe, and sanitary" home
Certified as structurally sound by a state-licensed home inspector
Meet all lender requirements for a USDA loan
Be on the approved-condo lists of the FHA, VA, or warrantable by Fannie Mae, or Freddie Mac.
In addition to the condo complex requirements, USDA loan eligible buyers must be unable to secure a home loan from traditional sources and have an adjusted income at or below the low-income limit for their area.
Mortgages for Townhomes
Townhomes (or townhouses) can be purchased as a single-family residence or a condominium. They have HOAs, common amenities, and sometimes shared walls (they can be attached, detached, or semi-detached).
A townhome refers to the type of construction, rather than the type of ownership and can be viewed differently by mortgage lenders. Depending on the buyer's credit score and other factors, it may have a lower interest rate and an easier underwriting process if being processed as a single-family dwelling.
Getting Started with a Condo Mortgage
Getting a condo mortgage may seem complex at first, but partnering with an experienced lender will make the process quick and easy. If you are ready to start shopping for a condo, take the first step: get pre-approved online or contact a Pennymac Loan Officer today.
Share
Categories