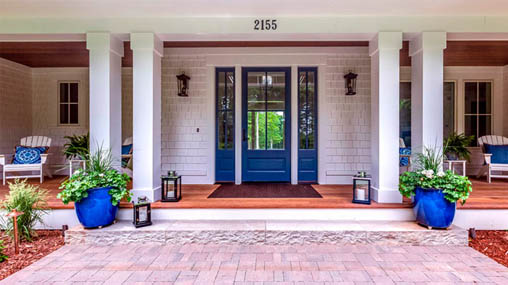 Tell me more!
I'm looking to …
Earn cash back
after close!
With Home Connect, you could earn $350 to $9,500 cash back after close.
So you've found the home you really want , and it's perfect. The only problem is it has a pretty large price tag, and while reasonably within your budget, you can't find a standard loan large enough to cover it. Does that mean you need to give up on your perfect house? Nope! The good news is you have other options if a standard, conforming loan isn't going to work for your house. One option you have is to apply for a jumbo loan. But what are jumbo loans and how can you get one? We'll break down jumbo loans and walk you through all the details to help you decide if this loan is the right fit for you.
What Is a Jumbo Loan?
A jumbo loan is a loan that exceeds the limits set by the Federal Housing Finance Agency (FHFA) to help you finance a home in a higher price range. Traditional mortgages have a limit of $726,200 in most counties and $1,089,300 in pricy areas like Washington D.C. Most mortgages have this limit because conventional loans are guaranteed by Fannie Mae and Freddie Mac, which can provide some protection from losses if the borrower defaults. A jumbo loan isn't guaranteed by Fannie Mae or Freddie Mac because it exceeds the standard limits that those government-sponsored enterprises have established. A jumbo loan is a special financing option that was initially designed to help people buy mansions, vacation properties, and other expensive real estate. In today's hot housing market, more and more homebuyers are in need of a loan for an amount that goes above the standard loan limit, making it an increasingly common option.
How to Qualify for a Jumbo Loan
Because a jumbo loan isn't guaranteed, it involves more risk to the lender, which is why there are stricter qualifications one must meet in order to get a jumbo loan. These are some of the requirements to qualify for a jumbo loan:
High Credit Score
Your credit score is an important factor in any loan and mortgage application, but you'll need a higher credit score to qualify for a jumbo loan compared to a standard, conforming loan. In general, the minimum credit score is a FICO score of 680, but most people who qualify generally have a credit score over 700, sometimes 720. The exact credit score required will ultimately depend on the lender, but you should plan on needing to have a minimum score of around 700 to qualify.
Cash Reserves
For most mortgages, it's always important to show that you have cash to cover several mortgage payments. For a jumbo loan, you'll need to show that you have enough cash reserves to make several mortgage payments — often an entire year's worth. These funds will give lenders confidence that you will be able to make payments for at least a year and help you qualify for the jumbo loan.
Debt-to-Income Ratio
Your debt-to-income ratio will tell lenders how much of your monthly income goes to debt. A low ratio is a good way to qualify for a jumbo loan because it means more of your monthly income is free to pay mortgage payments. Most jumbo loan lenders have a maximum of 45% DTI ratio.
To show your qualifications for a jumbo loan, you will most likely need to show more documentation than for a typical mortgage loan. You may be asked to show up to two years' worth of tax returns, W-2s, and more. Some lenders also require a second home appraisal, so you may need that as well to qualify.
Who Should Take Out a Jumbo Loan?
Jumbo loans are designed to help people take out a mortgage on a large or expensive property. If you don't need to exceed the regular home loan limits, you shouldn't consider a jumbo loan. But there are many people who should consider a jumbo loan:
If you're buying a home in a pricey neighborhood
If you're buying a vacation home
If you're buying vacation properties
In general, these loans are designed for high-income earners who haven't yet accumulated millions in assets. Most of these individuals make around $250,000 and $500,000 annually but are usually new to large funds. These loans allow them to expand their assets and portfolio within their means. Ultimately, if a conforming loan is too little for what you're trying to buy, then you are someone who should look into getting a jumbo loan.
Jumbo Loans vs. Conforming Loans
A jumbo loan is considered a non-conforming loan. Most mortgages are financed with conforming loans, which differ from jumbo loans in a few key ways:
Down payments. Jumbo loans generally require a minimum 20% down payment, compared to the lower percentages allowed with conforming loans. That being said, going with a conventional loan for a home with a higher price tag can cause the need for a down payment well above 20% to pay for the portion of the sale price that cannot be financed. Therefore, as a result of its larger financing capabilities, a Jumbo loan can ultimately serve to reduce the cash amount required for someone buying a high-priced home.
Interest rates. As a result of the higher risk for lenders, Jumbo loans often have a slightly higher interest rate than conforming loans.
Closing costs and fees. Jumbo loans can have higher closing costs and fees than a conforming loan.
Overall, jumbo loans are larger loans with higher limits for people who are looking to buy expensive homes or vacation properties. They may have stricter qualifications, but they can be extremely beneficial in the right situation for the right house. At the end of the day, jumbo loans are a great way to finance the home you want.
Check out this guide if you would like to learn more about the jumbo loan and determine if it's the right option for you. To explore your home loan options, connect with a Pennymac loan expert today.
Share
Categories