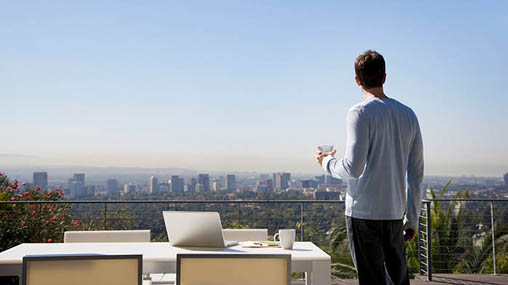 Tell me more!
I'm looking to …
Earn cash back
after close!
With Home Connect, you could earn $350 to $9,500 cash back after close.
So you have your eye on a new home, but the loan you need to finance it would have to be larger than the conforming loan limit — what are your options?
A jumbo loan can be a great fit for homebuyers in a strong financial position who want to secure a large loan. Learn more about jumbo mortgages and decide whether or not it's the right type of loan for you.
What Is a Jumbo Loan?
A jumbo loan is a non-conforming mortgage, used when a homebuyer wants to finance a home for a dollar amount that is larger than the region's standard conforming loan limit.
Potential homebuyers typically need to be in a strong financial situation — that is, with a high credit score, low debt-to-income ratio, and plenty of cash reserves — to secure a jumbo loan.
A jumbo mortgage is considered non-conforming because the loan amount exceeds the limit for a conforming mortgage (i.e., loans that conform to Fannie Mae and Freddie Mac standards). The 2023 limit on conforming loans is $726,200 in most parts of the country, but in high-cost areas this limit can be as high as $1,089,300. If the loan you are seeking is higher than the limit in your area (and you meet other financial requirements), you may want to pursue a jumbo loan.
A jumbo loan means taking on a larger financial burden. Jumbo mortgages cannot be handled by Fannie Mae or Freddie Mac (the two government-sponsored enterprises that purchase loans from mortgage lenders), so the loan must either be kept on the lender's own books or transferred to another entity.
Lenders set their own underwriting guidelines for jumbo loans, so eligibility requirements may vary among lenders. Make sure to get as much information as you can from each lender to understand the lender's specific requirements and underwriting procedures for jumbo loans.
Jumbo Loans vs. Conforming Loans
Jumbo loans differ from conforming loans in several important ways. Keep in mind that these variations will depend on the specific lender and the jumbo loan program they offer.
The Down Payment
Down payment requirements for jumbo loans can sometimes be stricter than those for conforming mortgages. Many homebuyers will be required to make the typical 20 percent down payment for a jumbo loan, but this varies among lenders. Depending on the loan amount, property type (e.g., owner-occupied versus a second home) and program, some lenders allow as little as 10 percent down, or require as much as 30 percent for a jumbo purchase loan.
For those who want to make a smaller down payment, there may be a trade-off for that benefit. For example, perhaps you'll have a higher interest rate to offset the smaller down payment, since the lender must take on a greater risk in that scenario. Talk with your lender for more specifics on negotiating your down payment.
Credit Score
Similar to down payments, credit requirements are higher for jumbo loans than for conforming loans. To secure a jumbo mortgage, most lenders require a strong credit score. Depending on the amount being financed amongst other factors, some lenders will approve borrowers in the 680-700 range, while others have a minimum credit score of 720-740. The lender may also take a closer look at your payment and credit history, including the number of current or former lines of credit in your credit history.
Depending on your situation, the lender may check for a satisfactory mortgage or rental history from the past few years to verify your ability to make payments and manage your funds.
Income Level
Jumbo loans are often attractive to homebuyers with more complex sources of income. With that in mind, it's common for jumbo loans to require more paperwork and income documentation than conventional loans. Self-employed buyers, for example, may be required to provide multiple years' worth of tax returns, rather than just one year, to verify ongoing income.
Lenders may also require a stronger debt-to-income (DTI) ratio to secure a jumbo mortgage. Many lenders require a DTI ratio no higher than 45 percent, meaning your monthly mortgage payment and credit liabilities can't be more than 45 percent of your pretax income.
Interest Rates
Historically, interest rates for jumbo mortgages have typically run a little higher than conforming mortgages, but today that isn't always the case. With a competitive market in which jumbo loans are becoming more and more prevalent alongside rising housing costs, interest rates for jumbo loans can be reasonably comparable to conforming loans.
Cash Reserves
For a conforming mortgage, lenders typically want to see that you have a few months' worth of mortgage payments set aside (i.e., "in reserve"). Given the size of jumbo loans, lenders may ask to see 6-12 months' worth of mortgage payments in reserve. Requirements may vary among lenders, but many will want to see some of these reserves in liquid form (checking or savings), as well as some from a non-liquid source, such as a retirement account.
Eligible Homes
There are more stringent restrictions on property eligibility for jumbo loans compared to conforming loans. Some lenders may only offer jumbo mortgages for the buyer's primary residence, but others (such as Pennymac, for example) will allow jumbo mortgages for second homes. Some lenders will not underwrite a jumbo loan for a short sale or a foreclosed home, and some have specific requirements for condominiums vs. houses. When it comes to eligibility requirements, check with your lender for more specific information before you apply.
Is a Jumbo Mortgage Right for You?
Jumbo loans are usually geared toward high-income earners who have good credit and plentiful assets. On account of the size of the loan as well as the lack of government backing, lenders assume greater risk with these mortgages, which necessitates more extensive requirements than those for conforming loans.
A jumbo mortgage may be right for you if:
Your finances are strong and healthy.
You wish to secure financing for a high-priced home.
You want to avoid having to make too large of a down payment (beyond 20%) on a home with a large price tag that would otherwise be required with a conforming loan.
You're prepared to take on a substantial, long-term financial commitment.
To learn whether a jumbo mortgage is the right choice for either your next primary home or investment home purchase, or even a cash-out refinance, explore your options with a Pennymac loan expert today.
Share
Categories