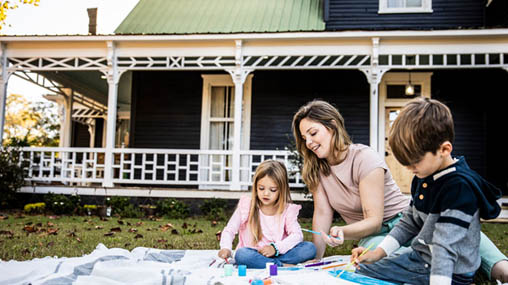 Tell me more!
I'm looking to …
Earn cash back
after close!
With Home Connect, you could earn $350 to $9,500 cash back after close.
Buying your first home can be a very exciting time. You're finally going to have your own space, and you're ready to start a new chapter in your life as a homeowner. However, purchasing a property can be quite the process. We'll walk you through the loan qualification requirements, various first-time homebuyer programs, and loan options available.
How Do I Get a First Time Homebuyer Loan?
The first step in obtaining a mortgage loan is determining your financial goals and how much home you can afford. Once you've found a property in your budget, you can begin researching different lenders and explore all available loan options to help you get the best rates and financial support you need. The lender you choose will guide you through the pre-qualification process and examine all necessary documents required for approval.
Loan Requirements and Qualifications
Depending on the loan you choose, you'll have to meet various requirements and qualifications specific to your mortgage. The first requirement for all first-time homebuyers is to meet the definition of a first-time homebuyer—which may be broader than you expect. According to HUD, a first-time homebuyer is someone who meets any of the following criteria:
Has not owned a principal residence in the last 3 years
Has not owned a home jointly as a married couple within the last 3 years (if you owned a home but your spouse hasn't, you can still qualify)
A single parent who has only owned a house with a former spouse while married
Has only owned property prior to applying that didn't comply with building codes
Has only owned property that didn't have a permanent foundation
In order to qualify for a first-time homebuyer loan, most lenders will evaluate the following criteria:
Your credit score. Depending on the loan, you'll need a specific score to qualify, but it will depend on your specific loan.
Your debt-to-income ratio (DTI). Your DTI is determined by how much you owe in debt and how much your income is—specifically how much of your income goes toward debt. Having less of your income go to debt is a good indicator of being able to qualify for a loan.
Your income. Many lenders will want to verify how much you make each month or year to determine if you're able to make the monthly mortgage payments.
Your credit history, DTI and monthly income will determine how much of a mortgage you qualify for and the housing price range you can move forward with.
First-Time Homebuyer Loan Options
First-time homebuyers have a variety of loan options available. You will have the chance to choose a type of loan—or a beneficial program—that will fit your needs and financial goals.
Programs
There are many programs available to first-time homebuyers that can help make home ownership a reality. These programs can come through your state or local programs like non-profit organizations or housing authorities. Your loan officer or real estate agent can be a valuable resource to find some of these local assistance programs to help with your first home loan.
Grants
Unlike a loan, grants are money given to you by an organization or government that won't need to be repaid. A grant is essentially free money you can use to put toward your house. One common type of grant is a down payment grant that can help first-time homebuyers pay the down payment required at closing—as well as the closing costs. These types of grants are usually given to low- to medium-income individuals or families earning no more than 80% of the area median income (AMI). You can apply for many grants at the same time, so if you think you could qualify, it's worth applying to as many as you can find. Oftentimes, you can find grants through bank programs, non-profits or associations.
Tax deduction
Homeowners and first-time homebuyers can qualify for quite a few tax deductions. Many homeowners are able to deduct their mortgage interest for a primary home up to $750,000 if married or $350,000 if single. There are many other under-used tax deductions that could benefit you as a first-time homeowner.
Closing assistance
Closing costs can add up quickly and can be substantial. There are programs through the government, organizations, banks, or other places that can help you pay some of the initial payments you'll need to make on your home. Closing assistance can come through a grant, but it can also come through loans, which will need to be repaid. These loans typically have lower interest rates and the possibility for deferred payments. Your lender may also be able to offer you loan options to help you close on your first home.
There are also down payment matching options that can help you with your first closing costs. With down payment matching, you put money into an account, and the amount you put in is matched by your lender. The money can then only go toward closing costs and the down payment. Some states will offer $3 for every $1 saved toward closing costs, which can go a long way to helping you pay closing costs for your first home.
Federal Options
When it comes to choosing a mortgage loan, there are a few main options: federal loans or private loans. If you're interested in government loans, there are several options you can choose from.
Government Loans
Government loans come through federal departments like the Federal Housing Administration, Department of Veterans Affairs, or Department of Agriculture. Although they are technically considered government loans, they're still funded by and approved through mortgage lenders. So if you choose a government loan, you can go through your lender of choice. These are a few of the most common government loans for first-time homebuyers:
FHA loans. FHA loans are offered through the Federal Housing Administration. These loans have specific credit score requirements. If you don't include a down payment of at least 20%, you will need to pay mortgage insurance.
VA loans. Veterans Affairs loans are available to eligible military personnel—active duty personnel, veterans and eligible family members. VA loans don't require a down payment, but they do require a funding fee (which can be rolled into your monthly costs). VA loans come with lower interest rates than other loans.
NADL loans. The Native American Direct Loan (NADL) is another loan through the VA department, and the department is directly the lender, unlike with other VA loans. This financing option is available for Native American veterans and their spouses. If eligible, you can receive financing to build a home or improve a property on federal trust land.
USDA loans. This type of loan comes from the U.S. Department of Agriculture, and it's available to help homebuyers in rural areas. You don't need to purchase a farm to qualify, but your home will need to be in a USDA eligible area. Some USDA loans are eligible for no down payment, which can benefit first-time homebuyers.
HomePath Ready Buyer
This federal loan program is designed for first-time homebuyers interested in purchasing a foreclosed home owned by Fannie Mae. This program does limit your choice of properties, and you may end up with a property that needs repairs. However, if you take a homebuyer education course, you could be eligible to receive up to 3% in closing cost assistance as a part of your loan. This program isn't for every first-time buyer, but it can be extremely beneficial for those who are interested in buying a foreclosed home.
Good Neighbor Next Door
This program comes through the U.S. Department of Housing and Urban Development (HUD) and is designed for law enforcement officers, emergency responders, firefighters and pre-school through high school teachers. If you qualify for this program and buy a property in a "revitalization area," you could receive up to 50% off your home price. That financial assistance can make purchasing a first home more affordable. Your state lists all the eligible properties that you can look for as you decide what kind of loan you want to purchase for your first home.
Energy-Efficient Mortgage (EEM)
Using a loan of your choice, you can also apply an energy-efficient mortgage to your monthly payments. Essentially, this financing option allows you to incorporate the costs of green and environmentally friendly upgrades to a home or property into your primary loan. So, instead of paying for the improvements out-of-pocket, you can roll the costs into your monthly mortgage payment. The mortgage payments could be more expensive since you're borrowing more, but if you're looking to create an energy-efficient home, an EEM could be a beneficial option.
Non-Profit Programs
The federal government isn't the only avenue for first-time home loans and loan programs. Non-profit organizations also offer programs and assistance that can help you purchase your first home well within your budget. Non-profits can be based in particular regions or only applicable for certain types of families or income situations.
Habitat for Humanity
Habitat for Humanity is one of the most well-known international non-profit organizations. This organization has a goal to provide simple and affordable housing for low-income families. For these homes, volunteers will build them, and Habitat for Humanity won't take any profit after you close. Because of its focus on providing affordable housing, Habitat for Humanity homes are more affordable than others in the area. First-time homebuyers can take advantage of this non-profit assistance to buy an affordable home.
NACA
The Neighborhood Assistance Corporation of America (NACA) is another non-profit dedicated to helping low-income or financially unstable families become first-time homebuyers. Through this program, you would receive mortgage counseling and take advantage of mortgage education to better understand the homebuying process and the requirements and implications of a mortgage. NACA teams will also help you find lenders that are able to help you through the mortgage process and work with you even with a credit score, DTI or income that might not qualify everywhere. NACA also offers loans that require no minimum credit score or down payments.
The Bottom Line
There are many loan programs and assistance available to first-time homebuyers. From government loan assistance and grants to non-profit assistance, you have ways to help pay for your first home. The key is to talk with your lender and find every opportunity for funding that you can—and apply for every possible grant. Ultimately, you will need to have a lender that will guide you through the process and help you find the right loan for your first-time home buying experience.
At Pennymac, you can apply for loan approval now and get started right away with your homebuying process. Our loan experts will help you find the right loan and get approved for your first mortgage. Apply for loan approval today.
Share
Categories