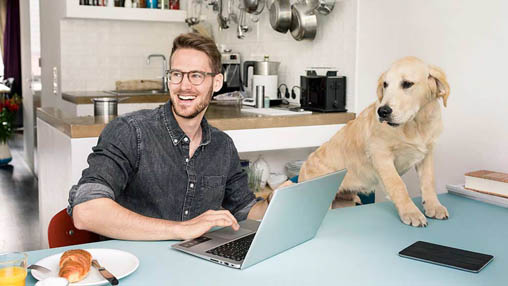 Tell me more!
I'm looking to …
Earn cash back
after close!
With Home Connect, you could earn $350 to $9,500 cash back after close.
Homeownership is a keystone of the American dream. The ability to decorate your walls, or paint them sky blue, and live with a pet without landlord approval makes buying a home attractive, as do the substantial financial benefits such as tax savings and equity building. There's nothing like the peace of mind that comes from the knowledge that your home is truly yours.
Still, there are important factors to consider before deciding between renting or owning a home. Let's look at some of the pros and cons of buying a house or renting, and then examine the financial and lifestyle considerations you should have in order to make an informed decision.
Comparing the Pros and Cons of Buying a House and Renting
As with any major decision, there are advantages and disadvantages to both renting and buying. Take a look at the comparison tables for both options here, and then see in-depth information below.
Pros and Cons of Buying a House
| Pro | Con |
| --- | --- |
| Buyer builds equity in the home | Requires upfront costs for down payment, closing fees, etc. |
| Credit scores increase with positive payment history | Process can be complex |
| Mortgage interest and property taxes may be tax deductible | Property taxes and HOA fees are the buyer's responsibility |
| Buyer has full control over home improvements and upgrades | Buyer incurs any maintenance and repair cost |
| Homes frequently increase in value over the life of a mortgage | Typically a long term investment |
Pros and Cons of Renting
| Pro | Con |
| --- | --- |
| Fewer upfront expenses | The landlord can decide at any time to raise the rent |
| Certain utilities may be included in the rent | A landlord has the final say on pets, property modifications, etc. |
| No long-term commitment once the lease ends | Less stability—it's the landlord's choice whether or not to renew a lease |
| Landlord pays for necessary repairs and maintenance | Renting does not build equity |
| Rental insurance is inexpensive | May be required to allow landlord access to home for inspections |
Financial Considerations for Buying
While your financial picture is not the only deciding factor in the rent vs. buy debate, it's definitely among the most important. After all, a home is one of the biggest purchases you're likely to make in your lifetime. Let's consider the largest costs of purchasing a home.
Mortgage Matters
While the majority of your home's purchase price will be financed into the mortgage, you will still need a down payment. This can be anywhere between 3% - 20% of the total cost of the home. For instance, for a $275,000 home, the down payment would be between $8,250 and $55,000.
While the 20% down payment that comes with a traditional mortgage might be out of reach for some buyers, there are a range of other options, like down payment assistance programs. Don't let a down payment discourage you—there are many alternative funding sources out there to help!
Along with a down payment, a homebuyer will typically pay an additional 2% to 5% of the home purchase price in closing fees. These fees cover the costs of title companies, appraisers, real estate brokers, attorneys, and other third parties involved in the buying process.
While you may ask the seller to cover part (or all) of the closing costs, the reality is that the buyer is generally responsible forthese fees, which can vary widely depending on your loan program, location, and other factors.
Beyond the Mortgage: Other Costs Associated With Homeownership
The financial considerations of homeownership do not end when you sign on the dotted line. There are plenty of ongoing costs associated with owning your new home.
You Pay Property Taxes
Based on the assessed value of your home, property taxes are used to pay for roads, schools, emergency services, etc. in your area. Depending on your location and the terms of your mortgage, you may pay them monthly (included in your mortgage payment), quarterly, or annually.
You Pay for Upkeep and Repairs
When you own your home, there is no landlord to pay for repairs. This means if your heater quits during a blizzard, your septic tank fails just before houseguests are due to arrive, or your roof is getting old, it's your responsibility. For these reasons, it's necessary to have an emergency fund set aside.
Utilities Are Your Responsibility
When you rent, sometimes the owner will cover certain utilities such as water, garbage collection, and sewer. Some landlords even provide internet and cable television services. However, as a homeowner, these now become line items in your own budget.
Financial Benefits of Homeownership
Despite the costs of homeownership, there are some serious financial benefits that come along with it as well.
You Get Tax Deductions
If you plan to itemize your deductions on your income tax return, you may be able to deduct your mortgage interest on loans up to $750,000. You also can deduct your state, local, and property taxes up to a combined $10,000. This can significantly reduce the money you owe on your federal income taxes, effectively allowing you to keep more of your hard-earned money.
You Build Equity
Equity is defined as your assets minus your liabilities.
For instance: Imagine you buy a $275,000 home with 20% down. This leaves $220,000 still owed. Using the formula assets minus liabilities, you have $55,000 (or 20%) in equity—the percentage of the house you already "own"—straight out of the gate. The equity increases as the amount you owe decreases and if your property value appreciates.
You can think of home equity as "forced savings"—a way to contribute to your future without even thinking about it, knowing that your money is being saved in the form of a property asset. You may not be putting money into a savings account each month, but if you're paying your mortgage each month, you're building equity.
You can build equity faster by paying more than the required monthly mortgage payment and contributing more to your principal balance. You can also make improvements to your home, increasing its value—an increase in value means an increase in equity.
Home equity also increases your borrowing power. The greater your equity, the more money you can borrow against it. Cash-Out Refinancing is a popular way to get cash for just about anything—renovations, the purchase of a second home, or other long-term investments for your future.
Financial Considerations for Renting
Homeownership comes with advantages and disadvantages. As another option, renting has financial considerations of its own. Here are some of the most important things to keep in mind.
Fewer Unexpected Expenses
While homeownership can come with a myriad of unknowns, the cost of renting tends to remain the same each month, for the term of the lease. During that time, you'll pay a fixed cost to live in the rental—even if the bathroom sink refuses to drain or the water heater fails.
No Large Down Payment
Generally, the cost of moving into a rental is much less than a down payment on a home. While you do incur several costs—first and last month's rent, a security deposit, and occasional non-refundable fees associated with cleaning or pets—renting requires less cash upfront than buying.
Monthly Expenses May Be Lower
Although mortgage payments are generally lower than rental costs, other factors come into play.
Utilities can be lower in a rental. Sometimes the landlord subsidizes all or part of the monthly fees and since rental properties like apartments can be smaller than owner-occupied homes, it can cost less to heat, cool, and provide electricity for rentals.
Renters insurance is far cheaper than homeowners insurance. The national average cost of renters insurance is $187 per year as of 2019 while the average cost of homeowners insurance is $1,083.
Property taxes and other fees such as homeowner association (HOA) dues are usually included in the rent and handled by the landlord, saving a renter both time and money.
Calculate Your Price-to-Rent Ratio
Most renters pay 30% of their income in rent, while the average homeowner pays only 15% of their income towards the mortgage. Those numbers, however, may not be telling the entire story. Calculating your price-to-rent ratio can be a helpful way to see the true cost of renting vs. buying.
The formula is simple:
Asking price of the house ÷ your annual rent = your price-to-rent ratio
If the ratio is under 15, it's a good time to buy. If it's over 20, you might consider renting for a bit longer.
Do you know if you're ready for homeownership?
There are long-term financial considerations for both buying and renting your home.
But while money is a huge factor, it's not the only factor. Considering your lifestyle and future is also important.
Lifestyle Considerations for Renting vs. Buying
Whether you buy or rent, the place you live should always feel like home. Just as high rent in an area you love might not be the best option for your financial future, a great deal on a house miles from your friends and family can impact your personal life.
Money matters, but lifestyle matters, too. Before you make the decision to rent or buy, ask yourself the following questions to weigh the pros and cons of buying a house or renting:
How Long Do You Plan to Stay?
Data from the U.S. Census Bureau suggests that the average person will move 12 times over the course of their life.
If you are planning to buy, consider what renovations you need to make, in the near term and the future. Will you need to add to the house if your family grows?
If you're planning to rent, what will you do if a rent increase exceeds your budget? Are you prepared to leave in 30 to 60 days if your landlord decides to sell to a new owner?
Are You Prepared to Put in the Time and Effort?
Homeownership can require more than just money; there's physical labor and time as well. Things like lawn maintenance, basic repairs, and upkeep—take time and effort (and if you're outsourcing, money).
It's important to be sure that you're ready for all the responsibilities that come with homeownership before you make your final decision.
Where Do You Want to Live?
Whether renting or buying, it's important to consider the things that come along with every potential location. If you have children, or plan to have children, schools, yard size, proximity to parks and green spaces, and safety will be considerations.
You will also want to consider day-to-day factors, such as proximity to work, entertainment, and friends and family. Imagine the unique benefits and challenges for each potential location.
Deciding to Rent or Buy
Renting and buying each come with significant advantages and drawbacks, and it's crucial to weigh them both before you come to a decision.
If you're looking for flexibility, low move-in costs, and little to no responsibility for upkeep, repairs, and maintenance, renting may be for you.
However, if you're interested in building equity and investing in your future while having complete control over the home you own, then it's time for homeownership!
After evaluating the pros and cons of buying a house, are you ready to start your home buying journey? Begin your online application now, if you still have questions contact a Pennymac Loan Officer. We'll help you evaluate your options and decide the best course of action for your unique situation.
Share
Categories