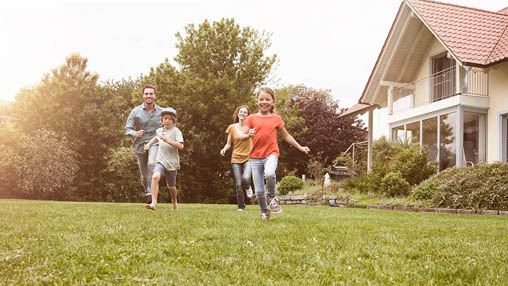 Tell me more!
I'm looking to …
Earn cash back
after close!
With Home Connect, you could earn $350 to $9,500 cash back after close.
From a high-rise New York loft to a sprawling historic farm in Minnesota, it seems as if there are about as many different types of housing as there are people. Some people are in love with the fast-paced life of the city. Some love the convenience and community of the suburbs, or the quiet peace of the country.
Which one are you? Maybe you're somewhere in between. You're not sure where you fit in and you'd rather weigh the pros and cons of each living scenario. Keep reading and you'll discover what's best for you and your family.
Big City Life: Is It for You?
The sparkling lights. The art and music. The variety of delicious food. There's a reason the majority of movies take place in big cities. There is a lot going on! Excitement abounds, and if you're the type of person that hates boredom, you'll never run out of things to do. If you've ever thought about making the move to a city, you're not alone. Over 80% of Americans live in an urban setting. The growth of cities has increased over the past few decades.
Pros of Urban Living
There are lots of jobs. One of the most common reasons people make a move to a bigger city is because of the job opportunities available there. While jobs in the suburbs are shrinking, employment opportunities in city centers are skyrocketing.
It's cheap to get around. Owning a vehicle is expensive. The average American spends over $8,000 a year on payments, gas, insurance and maintenance for one vehicle. Not to mention the cost of parking! Living in the city enables you to utilize public transportation and ride-sharing apps. Many urban-dwellers choose to forgo having a vehicle, and along with it the burden of upkeep and the huge addition to their budget. In fact, if you live in New York City, using public transit can save you upwards of $10,000 a year.
There is so much to do! If you love entertainment, the city has it all! Whether your scene is museums and theaters, or bars and clubs, there are endless things to do. But you don't have to be young and single to enjoy city life. If you have a family, there is plenty of kid-friendly activities. You won't have to travel far for great museums, theaters, zoos, and other cultural draws. Cities are great places for the whole family to explore.
Cons of Urban Living
The city is expensive. Housing costs in cities like New York and San Francisco are some of the highest in the nation. In fact, it costs about $71,000 more to live in NYC than in a nearby suburb! Many people simply can't afford the cost of living in a big city.
Air and noise pollution. Another thing to consider when contemplating city life is the pollution. More than half the US population already lives in areas amid unhealthy smog, and if you're sensitive to noise then urban life might not be the best option.
Higher crime rates. While violent crimes have dropped in the past 2 decades, the majority of crime still happens in big cities. Even though crime is often most prevalent in specific areas of a city, it is a fact of urban life that should be taken into consideration.
City life isn't for everyone. Because of the cost of living, it's harder to find affordable housing with enough space for pets or a growing family. However, many people gladly put up with these inconveniences to be in the center of a bustling, active city.
Living in an urban area can be expensive, so make sure you're considering all the costs of a buying new home.
Rocking the 'Burbs
Fresh cut lawns. Neighbors out walking their dogs. Kids playing at the nearby playground. Lots of Americans love life in the suburbs, and for good reason! Suburban life gives you many of the same amenities of the city, while having some of the space and feel of the country. Many millennials are choosing homes in the suburbs instead of more urban areas.
Pros of the Suburbs
It's a lower living cost. Living outside of a city center has its advantages and cost is one of them. For the most part, you can get way more house (and yard) for your buck than in the city. There's plenty of space for pets and kids.
Suburbs have great schools. Many parents choose to live in the suburbs because of the good selection of schools. A lot of families choose neighborhoods based on the public school system.
Parks, parks and more parks! If you live in the suburbs, you're never far from a park. It's easier to live a healthy lifestyle when there are plenty of places outside to run and play.
Cons of the Suburbs
The long commute. However, the suburbs aren't all perfect. Long daily commute time is easily the worst part about suburban living. Being stuck in traffic can be stressful and the gas money and wear and tear on your vehicle are high.
There is less stuff to do. While there are plenty of shopping locales, restaurants, and movie theaters in the suburbs, you may need to drive into the city for richer cultural experiences.
There are more restrictions. Subdivisions mean homeowners associations, which mean restrictions. Choosing the suburbs over somewhere more rural will put more restrictions on what you can do with your house and landscape.
In the suburbs you get aspects of both city and country life—urban amenities with a more rural feel. Good schools, safer neighborhoods, and a slower pace of life are often desirable, but some people may be happier at one end of the spectrum or the other.
Relocating for work often results in a choice between city and suburban home options. Get some tips on relocation from the experts.
Country Living for Comfort and Quiet
Pickup trucks, rocking chairs on porches, and peace and quiet! While it's not for everyone, many people live and love the country lifestyle. About 19% of the US population lives in rural areas. If you're thinking of buying in the country, here are some things to think about.
Pros of Country Life
Wide, open space. Most people who move to the country want the space away from the noise of the city. You can enjoy seclusion and even build your dream home for a fraction of what it costs to live in a city.
There is room for animals. Whether you want a huge yard for your dog to run, or dream of starting a hobby farm with chickens and goats, a rural setting will give you the space and freedom for animals.
It's good for your health, and safe. We all know country air is better for you, but did you know research has proved living in the country is actually better for you mentally, too? You are far less likely to suffer from psychiatric disorders than if you live in an urban setting. The country is a great place to raise a family in a safe environment. Crime in rural settings is lower than in more populated.
Cons of Country Life
It's boring to some people. The main disadvantage of living in a rural area is the lack of amenities. You will definitely need a reliable car just to buy groceries or get to your favorite restaurant. Public transportation is sparse at best, and ride-sharing like Uber or Lyft is nearly non-existent.
There is a lack of convenience. You may not be able to get a pizza delivered or receive one-day shipping on items you order online. Your internet may not be very fast either, and your choice of ISP providers will be limited.
Rural poverty is quite real. Remoteness from population centers means that lucrative job opportunities are few and far between. Unemployment still plagues rural America, and most new jobs are in the city.
If you really want to get away from it all, buying a home in a rural area is the ideal choice. Plus you can measure your land in acres instead of feet, and raise those pigs you've always dreamt about. Escaping the bustle of the city and the conformity of the suburbs is possible with a home in the country.
Choose a Home to Suit Your Lifestyle
With all the different options on where to live, the most important thing is to do your research and make a decision based on what is best for you and your family. Whether you desire to the action of the city, the convenience of the suburbs, or the peace and quiet of the country, there's a place for you. Contact a Pennymac Loan Officer and we will help get you on the road to owning your dream home.
Share
Categories