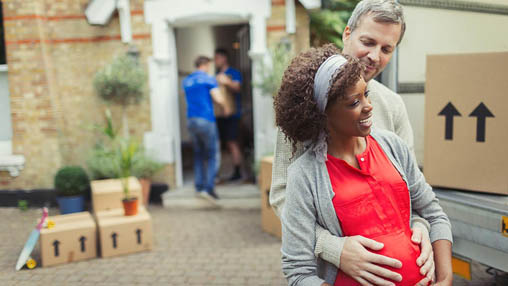 Tell me more!
I'm looking to …
Earn cash back
after close!
With Home Connect, you could earn $350 to $9,500 cash back after close.
The good news is that you have found (and been offered) your dream job. The bad news is that it's located way beyond commuting distance. The decision to relocate for your job is a tough choice that many of us will face during our career. Here are tips on how to evaluate your options, and how to make your potential move as painless as possible.
Should You Relocate for the Job in the First Place?
You have been offered a new job in a new city, and everything about it sounds wonderful. However, there is more to most of our lives than our jobs. Caroline Bowersock, the Client Relations Manager at Naviga, is an experienced recruiter who has guided many clients through the corporate relocation process. Before you even start planning your big move, there are important questions she recommends you consider as you make your decision:
"Is your spouse and family (if applicable) on board with relocating to the area the job is located?
Do you have children in school? If so, will you move them during the school year or wait until summer or winter break?
If your family is not moving at the same time as you, will your employer cover your travel expenses so you can visit them frequently?
Will you need temporary housing, and if so, is the employer providing?
Is the employer providing relocation assistance? If so, find out the details of the assistance; are they providing a lump sum or reimbursing you for the cost?
If your employer does not provide relocation assistance...does the opportunity outweigh the immediate cost to relocate yourself? Look at the big picture to determine if it's worth your while." – Caroline Bowersock
Even if you have the financial and logistical aspects of your move decided, there are other lifestyle choices to work through. John Powell, who has been with Help-U-Sell for 28 years and is currently the Chief Development Officer, advises that you think beyond the black and white of your budget. Figure out if the broader implications of relocation will allow you to support the mode of living you're accustomed too.
"When relocating for a new job there are many considerations people should be aware of. Will the new town match your lifestyle? If you're moving from a small town to a large metropolitan area or vice versa; the culture shock can be quite dramatic.
If you're moving from a low cost of living area to a high cost of living town, will any increase in salary be enough to maintain the lifestyle you're accustomed to? Will you be able to afford suitable housing for your budget? In other words, make sure the new location matches your preferred lifestyle—there's more to life than money." – John Powell
Relocation is not a decision that should be made lightly. Make sure to think about all the ramifications that such a move would have on your individual life, as well as that of your family.
Should I Sell My Home if I Relocate?
Once you have formally accepted your new job, and figured out what you want life in your new city to be like, it's time to figure out what to do about your existing home. Lisa Fettner, VP of Marketing for ReferralExchange, shares her advice for what you should do with your old home.
"Unless you're planning to retire or move back to your previous location at some point, it's probably better to sell your home when you move. Trying to manage a rental property in a different location can be difficult, time-consuming—and pricey if you need to use a property management company." – Lisa Fettner
Of course, deciding what to do with your old home is half the process. You'll need to find a new place to live as well.
How to Find a Real Estate Agent During a Relocation
Of course, you'll also need help finding a new home in the area you'll be relocating to, particularly if you will not receive a relocation assistance package. Fettner offers these tips for finding a great real estate buyer's agent to help you through the relocation process.
"When searching for a local agent in your new location, ask your current agent if they have any connections in your new market. If not, you can use an agent search or connection resource like ReferralExchange to help you find your perfect match.
When interviewing an agent, be specific about your needs. Many agents focus on certain neighborhoods, so it's important to find one who's an expert where you're looking. You should also let them know if you're in a contingency situation, as well as the factors most important to you—walkability, schools, etc." – Lisa Fettner
How to Speed Up the Homebuying Process when Relocating
Buying a new home is always a complex process, but when combined with a work relocation, there can be even more urgency. Brian Wasson became a long-distance, accidental landlord in Chicago when he relocated to Virginia for a job. He is now an experienced buyer, seller, landlord, and licensed Realtor® with Center Coast Realty. He offers these ideas for keeping things moving quickly (and easily) when buying a home as a part of your relocation process.
"If you want the additional freedoms and are comfortable with the additional responsibilities that come with home ownership, and you feel confident in the long-term prospects that your new job and new city will offer, ask your [Realtor®] for a lender referral.
Talk to the lender to understand your mortgage options and get pre-qualified. Because you are on a tight timeline, you are looking for a lender with a history of closing on-time. It is also important that you respond quickly and thoroughly to the lender's requests for tax returns, bank statements, W2's, etc.
If you decide to buy and you don't have at least a month and a half between signing your offer letter and the date you need to move, you'll need to investigate temporary housing accommodations. The homebuying process often takes a minimum of two months from start to finish. If necessary, consider storing your household goods as a part of the move. You do not want a moving truck showing up with your household goods, when you don't yet have access to your new home." – Brian Wasson
How to Smooth Out Your Job Relocation
Now that you have made the big decisions regarding your job and your home, it's time to start making the hundreds of small decisions that make up the actual moving process. Jacquie Denny, Founder and Chief Development Officer at Everything But The House (EBTH), a white-glove estate sale service, encourages anyone relocating to "travel light" by purging any items that they do not need before they move. Here is her list of categories for cutting down:
"Taking less items means you have less to pack, and buying less expensive packing materials. It also means you can get away with a smaller rental truck. The areas easiest to impact when shedding belongings quickly are:
Clothing: If you haven't worn it in a year or you are dragging wool parkas to a warm climate, look into sites like EVERYTHING BUT THE HOUSE (EBTH) or consignment shops — they're a great outlet for paring down.
Furniture: It's so expensive to move with moving companies and it's so much energy when moving on your own.
Books: Books equate to a lot of weight in a move, so look into used book stores to sell for cash or credit (if they are national) or donate to the library.
Kitchen: Consider donating housewares or used decorative items for a tax write off.
Create a memory: Invite family, friends and coworkers over for one last bash before the move. Empty food from the pantry and the fridge and pass out phony money for an auction — it is great to see everyone love our stuff as much as we do." – Jacquie Denny
Once you have pared down and packed your possessions, it's time to hit the road and start the process of getting set up in your new home. Bowersock offers her favorite high-tech tips to stay organized professionally and personally when making a change in both your job and home.
"Use Excel, a calendar and a device like an Echo or Alexa to set up important reminders with specific dates and times included. You can do the same using your phone reminders, and check each item off once the task is complete. " – Caroline Bowersock
Relocate for Work with Ease
Making the decision to move for a job is not always easy, but it is often the best choice for your career and lifestyle. Following these expert relocation tips will lead to an organized, efficient move. Weigh your options, do your research, and contact a Pennymac Loan Officer if you have questions about buying a home in your new city.
The views, information, or opinions expressed in this blog do not necessarily represent those of PennyMac Loan Services, LLC and its employees.
Share
Categories