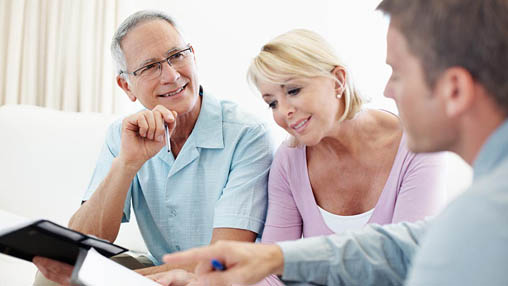 Tell me more!
I'm looking to …
Earn cash back
after close!
With Home Connect, you could earn $350 to $9,500 cash back after close.
Purchasing a new home is a huge undertaking. Whether you're a first-time homebuyer or you've navigated the waters before, the process can be overwhelming. But you don't have to go it alone. A real estate agent — specifically a buyer's agent — can help you through every step of the homebuying process.
A good buyer's agent paves the way to a smooth and successful homebuying experience. But what exactly does a buyer's agent do, and why are they so important?
What Is a Real Estate Buyer's Agent?
A buyer's agent is a licensed real estate professional with a fiduciary responsibility to the homebuyer. The agent helps prospective homebuyers find properties that fit their specific needs and wishes, negotiates better deals with sellers, handles much of the paperwork and provides step-by-step guidance throughout the homebuying process.
Why Should I Use a Buyer's Agent?
Ultimately, through their expertise, buyer's agents save you time and money. These professionals have extensive knowledge of real estate and the homebuying process in general, but also bring an intimate familiarity with the municipalities and neighborhoods they serve. This can help you avoid common (and not-so-common) pitfalls in the market. Because of the complexities of real estate transactions, first-time homebuyers in particular are encouraged to work with a buyer's agent.
These are some of the primary reasons why nine out of ten homebuyers use a real estate agent, however there are other reasons you should consider using a buyer's agent.
What Does a Buyer's Agent Do for You?
Your buyer's agent is your primary advocate throughout the homebuying process. In addition to negotiating the price of the home and handling mountains of paperwork, they will:
Listen to your wants, needs, likes, and dislikes. Your buyer's agent will help you find the right house for your lifestyle. Need a good local school for the kids? They can steer you in the right direction. Looking for a split-level with an inground pool? They know just the place. You won't waste time looking at homes that don't fit the bill because your buyer's agent will have already removed those homes from consideration.
Be in constant communication. When you find the perfect home, you need to act quickly. A good buyer's agent is in constant communication and they're ready to drop everything and run when you call, whether it's Tuesday after work or at 9:00 a.m. Saturday morning.
Advise you of potential problems. Your buyer's agent has seen it all and their job is to steer you away from bad investments. Listen to their advice. If they say the home is in bad shape or that the neighborhood isn't great, they're doing it for your benefit.
Put you in touch with other professionals. Buyer's agents have connections to other industry minds, such as home insurance professionals, inspectors, mortgage lenders and more. Your buyer's agent works with these people every day; they know the good from the bad.
Act as a proxy or go-between. Sometimes, despite everyone's best attempts, things don't go as planned and, in something as high-stakes as a home sale, emotions can run high. Your buyer's agent can act as a proxy between you and the seller, helping to keep things professional and moving forward towards the closing.
How Much Is a Buyer's Agent Fee, and Who Pays?
Both buyer's and seller's agents work on commission, which averages about 5-6%, though that amount is split approximately 50/50 between both agents as well as their respective brokerage firms, according to Redfin's recent statistics.
While it's often the seller that pays the commissions of each agent, that cost is usually incorporated into the proceeds of the home sale and thus is effectively split between the buyer and seller. You may end up incurring some of the cost for the agent, however it is frequently considered part of the total amount you pay for your house. You will not have to pay directly out of pocket for your agent.
It should be noted that you can negotiate the commission with your agent prior to entering into an agreement with him or her.
Should You Sign an Exclusive Buyer Agreement With Your Agent?
Some buyer's agents will ask you to sign an exclusivity agreement stating that you'll work with them and only them throughout the homebuying process.
The primary benefit of an exclusive agreement is that you, as the homebuyer, are assured you're getting a high level of service and attention from your agent. It should also be noted that these agreements protect the agent's interests, since a typical agency agreement doesn't require you to stick with one agent. Your agent will generally offer some sort of incentive for your participation since it ensures they will get your business.
Whether or not you choose to use an exclusive buyer's agent should depend on how much you like and trust the agent, and if you think such an agreement is in your best interest. Some homebuyers find it easier to deal with a single agent, however other people prefer the flexibility and range of multiple agents.
If you do sign with an exclusive buyer's agent, you're limiting yourself to a specific, single agent for a set amount of time — usually weeks or months — however the length of the contract is negotiable. Be sure you are confident in your choice before tethering yourself to any single agent.
The Bottom Line: You Probably Want a Buyer's Agent
A buyer's agent is your ticket for a smooth journey to homeownership. The benefits are clear: from start to finish, they are on your side, will save you time, provide real estate expertise and professionalism — and with no immediate cost to you.
Need more information on how a buyer's agent figures into the mortgage process? Pennymac Loan Officers are ready to answer your questions. You can also get started on your mortgage pre-approval so you're best prepared once it's time to make offers. Give us a call or apply online today!
Share
Categories