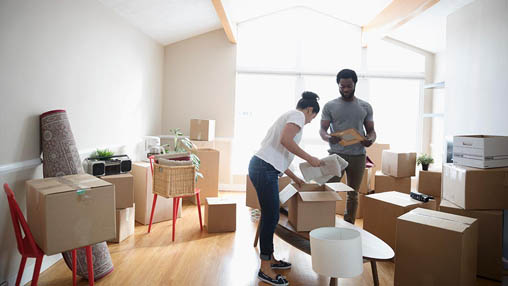 Tell me more!
I'm looking to …
Earn cash back
after close!
With Home Connect, you could earn $350 to $9,500 cash back after close.
When you purchased your first home it was perfect! But as time went on and your lifestyle changed and your family grew, cozy somehow became cramped. Here's how to figure out if you have outgrown your home, and how to plan for buying as much house as you will actually need.
Whether you are looking for bigger bedrooms, expanded family space, or more storage solutions, buying larger home—or even just a moving to different layout or location—might be a change that you need to make.
Think about how you live…and how you WILL live in the future.
Have You Outgrown Your Home?
Most of us have had disorganized moments or crowded dinners that lead us to feel like a bigger home is a must-have. However, moving is a big decision that can come with an equally big price tag. How do you know if you really have grown out of your house?
Alison Bernstein is the founder of the The Suburban Jungle, a real estate firm exclusively focused on buyers leaving the city for the suburbs. She advises that growing families think about their daily life needs when looking for a new home.
You have outgrown your home when the space begins to greatly impact your quality of life—such as loss of sleep because not enough bedrooms and you have a crying baby …or lack of privacy.
Many homes can be quickly reconfigured to adjust, such as making a formal dining room that is hardly used [into] an additional hang out space for kids or an office. However if quality of life begins to significantly be impacted, it is time to find more space.
Even if you are still comfortable in your home right now, do you foresee life events on the horizon that may lead to things getting cramped? Bernstein encourages both current homeowners and potential homebuyers to carefully look at their future plans.
Think about how you live…and how you WILL live in the future. For example, your little kids that need a playroom will need more space to do homework one day versus a dumping ground for toys.
Talk to friends and neighbors about how their needs have changed as their family hit different stages of life. Do you need a place for a live-in babysitter now? Will your aging in-laws need to move in with you a few years down the road?
Amy Tierce is the Vice President of Sales and Marketing at Mortgage Equity Partners, a mortgage banking firm. She cautions homebuyers that there is not one issue that causes families to need a bigger house. Instead, think about all parts of your individual situation.
Buying the right size is going to be about the needs of the family, and their financial ability to qualify for what they need in the community where they want to live. The answer to this question is different for all, [especially when] considering their financial situation and their needs.
For example, the need of those who are working from home have different needs from people who work out of the house. Other potential issues for buyers to consider are:
Needing a full time nanny
Parents moving in
Kids needing their own rooms
Closet space
A family of 4 sharing one bathroom
A yard, different school or other desired features
Not sure where to begin? Get insightful real estate tips from the experts on how to buy your next house.
How To Find A Larger House On A Smaller Budget
Moving involves a considerable amount of expense, stress, and time. Many people try to avoid it by buying a home that will meet their needs for many years to come. However, it is also important not to buy a bigger house than you really need. Maintenance requirements, increased utility bills, and an expensive mortgage payment can be significant burdens. When buying a home, how can you be prepared for a growing family without overstretching your budget?
Desare Kohn-Laski has been a Realtor® since 2006 and now works with Skye Louis Realty. She is a Certified Property Management Specialist, Certified Seniors Specialist, Certified Technology Specialist, and Certified Financing Specialist. Here is her advice for families that want both a comfortable home and equally comfortable financial situation.
When buying a home, you can prepare for a growing family without overstretching your budget by purchasing a home with only one additional bedroom beyond your current needs. Don't go crazy and buy a home with two or three additional bedrooms. Check for homes with lower taxes and insurance rates as well, this can help stretch your housing budget.
Make sure that you stay within budget and don't overextend yourself. Too much space can sometimes equate to too much stuff. Purge and donate items regularly to keep your space requirements in check!
Dominique Hargreaves is the executive director of the US Green Building Council's LA Chapter. She is a rating system enthusiast with credentials in LEED, WELL, EcoDistricts, Envision, and GPRO, and is also a licensed real estate salesperson. She has financial tips for homeowners that go beyond home size and even price.
Bigger isn't always better! Consider homes with energy efficient systems that can offset your utility bills. A home with solar and battery storage and sustainable landscaping can almost eliminate your energy bill and free up some of your budget while adding value to the home.
Consider a property with an ADU (accessory dwelling unit), such as a duplex, guest house, or "mother-in-law" unit. ADUs are great for families and they can come in handy if older relatives want to move in and wish to have some personal space. ADUs also can be rented out and become a source of extra income.
If you are considering renting out your ADU or other extra space, check out our experts' advice on maintaining a rental property.
Before founding Wanderlust Wealth (an independent investment advisory firm) in 2015, Michael Tanney helped run one of the most successful wealth management teams in Goldman Sachs, and he is a certified Personal Finance Counselor. He has two tips that can help homeowners as they search for a home that can easily grow with their family.
First, focus on 'sleep-able' square footage and placement of structural walls. There are dwellings with massive hallways or entryways that add a lot to the total square footage, but are useless if you need to repurpose the space as your family grows.
Next, review architectural drawings to learn which walls are load bearing. The remaining walls can be modified (or removed) to enhance the layout and accommodate the needs of a growing family. These are two tips that don't cost you more money, and can save you a ton of aggravation later on, as your needs for the space evolve.
Want to start your new home search now? See how much your current home is worth, and then go beyond home affordability calculators to determine how much house you can actually afford.
Do You Need A Big Change?
Choosing a home that is the right size for your life today and tomorrow involves balancing both your family needs and your budget. Remember: the true price of a home includes many additional costs. If you are looking for a larger or more flexible space and you're ready to evaluate your options, contact a Pennymac Loan Officer today.
The views, information, or opinions expressed in this blog do not necessarily represent those of PennyMac Loan Services, LLC and its employees.
Share
Categories