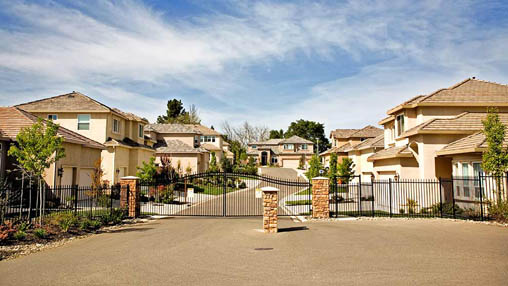 Tell me more!
I'm looking to …
Earn cash back
after close!
With Home Connect, you could earn $350 to $9,500 cash back after close.
Nationwide, more than 371,000 homeowners associations (HOAs) benefit community members, according to HOA-USA, an online resource for U.S. townhome, condominium, and single-family homeowner associations.
HOAs became more widespread in the 1960s and 1970s, and include condos in Chicago and New York City to single-family homes in suburban Alabama and Washington State.
But why would anyone want to willingly purchase a home where a board of volunteers regulates the size, site and depth of your backyard pool?
A consistent look means a more stable housing inventory, and maintains your home's worth. "HOAs regulations are there to protect property values," says Jim Laumann, both a HOA resident and founder of HOA-USA.
As a private non-profit corporation, the HOA has the power and authority to manage the neighborhood's architectural style with covenants and restrictions. So a neighbor won't build his adorable home into a Frankenhouse, nor place a single-wide trailer on the front lawn, unless they wish to pay onerous fees.
Rules and regulations governing the formation and maintenance of HOAs vary by state. For example, in North Carolina, any development with 20 or more homes must by state statute form an HOA, Laumann says. Most HOAs are run by homeowner volunteers.
Another reason to purchase in a HOA-managed community: Pools. Clubhouses. Walking Trails. Golf courses. Tennis courts. In-city parking. Managed yard maintenance. Not all associations offer such benefits, but those that do spread facility costs across the community, making access more affordable for everyone, Laumann says.
For example, The Villages is a HOA-managed retiree community of 51,000 residents outside Orlando, and is essentially a small city with bus transportation, fishing lakes, community classes, theaters, a performing arts center, and more.
How HOAs Work
When you purchase a home in a HOA-managed subdivision, you're agreeing to abide by the community's Covenants, Conditions and Restrictions as well as the bylaws and rules of the community. Restrictions may include aspects such as how tall a fence may be built, required yard maintenance, a restricted palette of house colors, and even where to park a car or store a trash can. Before any homeowner can make physical alterations to the exterior, they must submit an architectural request to the HOA, which will determine if the alteration is consistent with the HOA covenants.
If a homeowner runs afoul of the HOA, they can expect letters asking for compliance. A lack of compliance leads to attending a board hearing (BYOA: bring your own attorney). The board then makes a decision, and fines can run up to $100 per day or more depending on state laws and the covenants, Laumann says, depending on the infraction and HOA. Of course, if the homeowner can rally support for her cause, the governing documents can be amended – but doing so usually requires a 2/3 or 3/4 majority vote, depending on the established regulations.
HOAs aren't a great match for everyone, of course. Those determined to erect a 40-foot tall flagpole or park a car on the lawn -- no matter what anyone says -- may not be a good fit for HOA membership.
Some don't figure this out until after they've moved in. Laumann offers an example of an individual who attempted to add a tiki hut and pool house and lost despite taking the case to the North Carolina Supreme Court. Others have attempted to install non-regulation swingsets and pools, which divided the community with bitter arguments.
Check Out Your HOA
HOAs vary widely from community to community; some are well-managed, while others are problematic. "If you're making an investment worth hundreds of thousands of dollars, pay $200-$300 to get the HOA package," Laumann says. You'll find the covenant, bylaws, amendments, any resolutions passed and regulations. Perhaps a 20-foot flagpole may be permitted.
Think about the long-term ramifications, as well. For example, if purchasing a condo in a 55-and-over community where all residents must meet an age minimum, what happens when the owner passes on – and the heir is less than 55? If there are rental restrictions, the heir may have a difficult time dealing with the condo. In fact, many HOAs do not allow Airbnbs or other vacation home rentals within the subdivision.
As well, check on the financial statements from the HOA – any special assessments for failing balconies? Outstanding dues or pending lawsuits? "You want to make sure that the HOA is solid, properly run and financially secure," Laumann says. How about reserve funds for unwelcome surprises? If the community has a lake with a dam that malfunctions three months in – without a rainy-day repair fund – your personal savings may get drained as you pay a special assessment.
"You get excited about the curb appeal and perfect floor plan," he says, and may neglect the fine print. Take a closer look. It might not be the right HOA for you – or you may have found the ideal home – and the community that accompanies.
Share
Categories