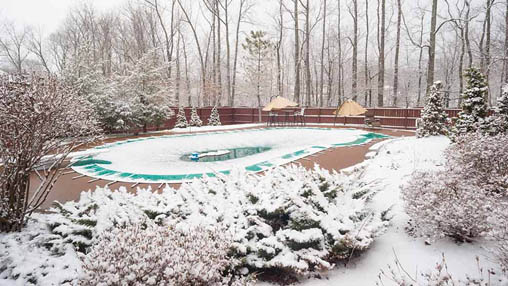 Tell me more!
I'm looking to …
Earn cash back
after close!
With Home Connect, you could earn $350 to $9,500 cash back after close.
While many think of summer as "home improvement season," winter can offer easier scheduling, better contractor choices and stronger negotiating power. To discover which home improvement and maintenance choices to focus on in winter, we spoke with Don Vandervort, the founder and resident expert at hometips.com and who has written more than 30 books on home improvement.
"Some contractors are really booked up in summer and more available in winter," Vandervort says. A few such examples? Air conditioning contractors, window blinds and shades salespeople, and ceiling fan installers. "With these kinds of improvements, you might be more likely to get someone in to do the work and at a lower price," Vandervort says.
Air conditioning work is particularly important in winter. In climates that get very hot in summer, it's common for central A/C units to break down and waiting for an overworked service person can be uncomfortable, at best.
"In a heat wave, when fixing your air conditioner is urgent for you, it's urgent for everyone else as well," Vandervort says.
While HVAC (heating, ventilation and air conditioning) contractors are also busy in winter, it's a fine time to make a no-fuss, no-stress appointment to do general maintenance: check out the system, make sure equipment is running and change out the filters.
Winter is also a good time for other types of indoor-appliance maintenance, such as cleaning refrigerator coils or flushing out the water heater.
Department of the Interior
In almost any climate, indoor work can be undertaken as well, including home wiring, plumbing, flooring, heating and tilework. It's a smart time to do work, as contractors in general see slower business in winter and you might be able to negotiate rates.
However, it might not be wise to open up the shell of a home in most climates — replacing roofs, windows and doors — due to rain and weather fluctuations. Both basement and attic conversions don't require such invasive efforts, Vandervort says.
Insulating the attic is one job that can be extremely difficult in summer, due to the super-heated temps that can occur in an uninsulated attic. Often, this is scheduled for spring, but can be undertaken in winter.
Some issues become more apparent in winter: leaking roofs, broken or clogged gutters, yard drainage issues, waterproofing failures and pest invasion. Take care of those problems as soon as possible, Vandervort says.
"Save some of your recreational time in summer by taking care of these things now," Vandervort says. After all, if you're traveling this summer, you won't have as much time to oversee a contractor's work. Installing a security system in winter checks one to-do off your list, and increases protection for a home's valuable items while you're out of town in summer.
Even if you're planning to hold off on major renovations until spring or summer, winter is the time to get the planning, designing and permitting process underway. "With any major improvement, designing and planning can take months," Vandervort says.
Outside In
Outdoor winter work may depend on your climate. Parts of the country with mild winters can best take advantage of winter improvements.
For example, winter can be a good time to add trees, if the soil isn't frozen. "Planting trees is best done when trees are dormant in late winter and early spring," he says. Bountiful rain pleases trees, and the roots approve of the cool soil.
Aerating the lawn and spraying for weeds can be done in winter, and landscapers aren't as busy as in summer. Building fences, gazebos and outdoor play equipment is fine — once again, as long as the ground isn't frozen for necessary digging or foundation work.
Outdoor improvements can also be achieved in winter, including pool installation, replastering and remodeling for summertime fun with family and friends.
"If you live in a climate to do pool work, do it in winter," Vandervort says. "Certainly before spring when people really start thinking seriously about pools. Beat them to the punch."
And in home improvement scheduling and cost control, that's half the battle.
Share
Categories