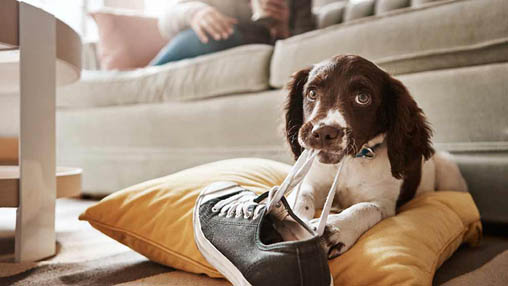 Tell me more!
I'm looking to …
Earn cash back
after close!
With Home Connect, you could earn $350 to $9,500 cash back after close.
As you started shopping for your new home, did you make sure that you considered the needs of all of your family members — including those with paws and claws? More than half of U.S. households include pets, so making the home you are buying (or selling) welcoming to animal companions can definitely pay off. From quick fixes to bigger projects, read on for expert veterinary and home design advice on how to make your home pet-friendly.
Hunting for a Pet Friendly Home
House hunting is one of the few things in life that seems to be equal parts exciting and utterly overwhelming. With so many factors to consider, it can be pretty easy to forget about those little things that will truly help to make your new house a pet-friendly home.
When you find yourself shopping for a new home, remember that this is your opportunity to start fresh with a new space that works harmoniously for all aspects of your life, which includes, of course, your beloved pets! If you don't think there is a way to make your home more pet-friendly, think again. There are actually a lot of things you can do to make your home a more rewarding and comforting environment for all family members, especially the furry ones.
As vice president of marketing for Oxyfresh, Melissa Gulbranson is passionate about educating pet parents with the latest and most trustworthy research, tips, education and solutions. Having been a leader in the pet industry for 20 years, she enjoys sharing her insights in the pet dental and grooming industry, heavily focusing on non-toxic ingredients for pets. Gulbranson advises house-hunting pet owners to consider both the features of an individual home, as well as the neighborhood where it's located.
House hunting is one of the few things in life that seems to be equal parts exciting and utterly overwhelming. With so many factors to consider, it can be pretty easy to forget about those little things that will truly help to make your new house a pet-friendly home.
First things first: A yard. You'll want to make sure that your new place has plenty of safe outdoor space for your favorite [four-legged] friend to enjoy. While landscaping can always be changed out or modified, it's a lot of work. So, keep in mind that certain types of plants and ground coverings can be harmful to your pet.
You'll also want to consider the neighborhood itself. Are there sidewalks, is the home positioned next to busy roads or airports, are there loud dogs in the community? Many pets suffer from acute anxiety, and extraneous environmental stress factors can severely alter your best friend's mood or behavior.
Finally, consider your pet's age and ability. If you're looking at a multi-story home, or a house that has features such as a pool, or an old patio, you might want to think twice. Then again, maybe your pup can't wait to finally take a dip in the new pool! Did someone say 'cannonball?'
Dr. Judy Morgan currently operates two veterinary hospitals based in southern New Jersey that offer an integrative approach combining holistic medicine with traditional Western techniques. Dr. Morgan is a best-selling author of four books, hundreds of online and print magazine articles, and host of the Naturally Healthy Pets radio show. Here are her tips (a personal wishlist) for choosing the ultimate pet-friendly home.
Pet owners like tile and hardwood floors for easy cleanup, however, if there are senior pets with mobility issues, these floors can be more problematic. For bathing, having a home with a walk-in shower makes pet washing much easier for large dogs. For smaller dogs, a utility sink big enough to fit them is also helpful. Having an area that can be blocked off easily to confine pets if they are not allowed free roam of the house may also be desirable.
I personally like [easy-to-clean] painted walls, minimal stairs, and a separate area where I can feed my pets that is not in the kitchen. We finished part of our basement to make a pet feeding room, but unfortunately, we have to carry our senior dogs up and down the stairs.
Goals for our next house [include] a pet room on the main level with [easy-to-clean] floors and no stairs, plus their own washer, dryer, and walk-in bathing area. [We also want to have] a refrigerator and freezer in there for their food (they eat raw or home-prepared cooked foods).
Keeping Your Companions Safe at Home
Another important issue to consider as you shop for and set up your new home is your pets' safety. Choosing a home with the right layout, as well as adding security features after you move in, will ensure that you and your furry friends are protected.
Johanna Reel, a registered veterinary technician (RVT) at NHV Natural Pet, has spent over 10 years working at different types of veterinary clinics and hospitals. She has both simple and high tech suggestions for homeowners to make sure that their pets stay safe — even when the owners have to step away.
We all know about 'child proofing' homes, but pets can get into as much, if not more trouble than children if left to their own devices. 'Pet proofing' a home is very important, especially for young kittens and puppies. Hazards can be all around the home.
Be sure to tuck away loose wires; keep anything that could be chewed out of reach. Get down to their level and have a look around. "What could you get into that would cause problems or danger?" Many products used for child-proofing can also be used for pet-proofing.
If you need to spend most days away from your pet, consider using wifi cameras to monitor them. Many of these cameras allow you to speak to your pet; you can monitor what they do with their day and see if they're getting into any trouble. There are also cameras marketed specifically for pets that will allow you to dispense treats throughout the day.
Paul Foresman is vice president at Design Basics. For over 30 years, Foresman has focused primarily on helping builders succeed and has written dozens of articles on home design and marketing, spoken at numerous home builder conferences, and has appeared on radio and TV. Here are a few of his favorite home design ideas that can help keep your pets out of trouble.
For one homeowner with multiple dogs, Foresman created a mudroom that doubled as a pet center. An open hallway led into the home from the pet center, but the homeowner designed a lower cabinet door that swung out, partially closing off that hallway, and further installed a sliding gate on the back of that cabinet door to fully corral their four dogs in the pet area. The dogs were then restricted to the main floor of their three-level home by wood bi-fold gates at the stairs.
You don't want 'planning where the dog beds and/or kennel(s) will go' to be an afterthought. [My client] repeated the retractable gate idea in the doors of a 4-foot wide x 4-foot high x 18-inch deep kennel built into the hallway just off the pet center, where his two dachshunds sleep.
Russell Hartstein is a renowned behaviorist and sought-after dog trainer. With over 30 years of experience in animal behavior, nutrition, and pet care expertise, he has received numerous media spots, and offers his dog training services within the Los Angeles area. When designing your new home and yard, keep these pet-protecting ideas from Hartstein in mind.
[It's a good idea to add] dog or cat doors so that pets can come and go as they wish. Split doors also may be very helpful as they act as built-in visual blockers that still allow cats to jump over, but many dogs can't get over them.
[Make sure to] pick non-toxic chemicals and flame retardants in home materials and furniture to avoid offending your sensitive pets' olfactory glands. Choose tactile flooring so that pets can have traction and not slip and injure themselves.
He also has tips for a pet-friendly landscaped yard.
Add many shade elements and strategically placed trees to block the wind and sun for pets to lounge outdoors. Dog runs and 'catios' are very helpful and keep predators from harming your pets and your pets safe and able to enjoy the outdoors without risking their lives.
Pet-Friendly Home Upgrade Ideas
Even if you are not planning a move, there are many ways that you can make your existing home more comfortable and enjoyable for both you and your pets. From temporary solutions to built-in updates, you can increase both the fun and function in your home with these expert ideas.
Cynthia Chomos is the founder of Catio Spaces, where she combines her expertise as a feng shui consultant and general contractor to create custom 'catios' (visually appealing outdoor enclosures) to enhance the lives of cats and their humans. Chomos echoes some of Foresman's advice.
Pet-friendly, tactile flooring choices include bamboo, engineered hardwood, cork, vinyl, tile or stone. Add attractive, slip-free rugs for warmth and doormats to help keep muddy paws from tracking dirt into your home.
Also consider your furniture and fabric choices, Chomos says.
If your comfort-seeking pet likes the sofa or chair, a slipcover or throw can protect fabrics and be removed for cleaning or when guests visit. Durable fabrics include leather, synthetic microfibers and various outdoor textiles. Patterns and darker colors will hide pet stains.
For pets that chew and scratch, metal-legged tables and furniture are a good choice. A cat scratcher, essential for removing nail sheaths and daily stretching, can be placed in a family room out of direct viewing.
[Don't forget] a serene pet feeding area. Avoid placing water and food bowls in traffic flow areas of the kitchen as this can affect your pet's digestion (and become a tripping hazard for two-legged family members)! Choose a calm location and consider a raised feeder, which can provide easy access while promoting better posture. Water-resistant placemats and oversized, decorative canisters can add a creative touch.
Once you have your indoor design complete, it's time to consider how your pets will safely enjoy your outdoor spaces. Here is both a quick tip and a larger project idea from Chomos, who offers a variety of online DIY catio plans and tips.
[Pick] pet-safe plants. Many indoor and outdoor plants are toxic to pets. For a complete list, visit the ASPCA'S website. Also, avoid lawn and garden pesticides and chemicals that can harm pets and wildlife.
Cats love sunshine and territorial views so a family room with east, and west facing windows offers a 'purrfect' spot to catnap and enjoy birdwatching. Cats naturally want to be outdoors to enjoy fresh air and the stimulation of nature, but unlike dogs who can be contained in a fenced backyard, cats can easily scale a fence and encounter a variety of outdoor hazards as well as hunt and injure birds.
To keep a cat safe and stimulated, catios, outdoor 'cat patios,' are a popular trend and can be designed for a window, deck, patio or yard. A catio provides an exciting outdoor experience while also protecting your cat, as well as birds and other wildlife. From a simple window box to a large and luxurious haven (with space for human seating), catios can complement your home and garden.
Pets bring you lots of joy, but they also collect lots of toys, bedding, food, grooming tools, and other accessories. Paul Foresman reminds homeowners that they will also need to consider these items when planning the layout of their space.
Don't overlook storage. Just where are you going to keep dog food, hairbrushes, harnesses, and other pet supplies? Adjoining [the] shower [in one of our most popular home design layouts], there are pull-out storage bins (similar to pull-out wastebasket drawers) for dog food, storage above for treats, leashes, toys, and other supplies, and the food and water bowls in a toe-kick drawer at the bottom. [My other client's] pet center is similar, though he opted to utilize a tilt-out cabinet that can hold 40-pound bags of dog food.
Don't have room for a pet center? Consider a flip-up bench in your rear foyer. Handy for sitting down to remove shoes, the storage inside can be used for your pet products, extra food bowls, and dog coats.
Ultimately, there's no one right answer. Your options for pet-friendly features are as myriad as the pets themselves. It's up to you to customize or seek out that home with pet features that are just 'purrfect.'
Creating a Home That is the Cat's Meow
When you are making a list of your wants and needs for your new home (or updates to your current home), don't forget to consider the four-legged members of your household. Pet-friendly design can be easy, affordable, and is a great way to improve everyone's happiness. If you are ready to start shopping for a new home that makes your tail wag, get started online today or contact a Pennymac Loan Officer.
The views, information, or opinions expressed in this blog do not necessarily represent those of PennyMac Loan Services, LLC and its employees. The inclusion of links to third party sites is not intended to assign importance to those sites or to the information contained therein, nor is it intended to endorse, recommend, or favor any views expressed, or commercial products or services offered on these third party sites, or the vendors sponsoring the sites.
Share
Categories