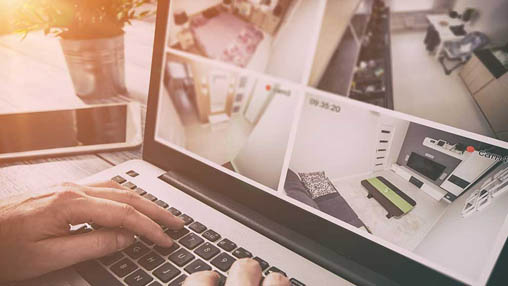 Tell me more!
I'm looking to …
Earn cash back
after close!
With Home Connect, you could earn $350 to $9,500 cash back after close.
Although flying cars haven't arrived just yet, the smart home technology available in 2019 is very impressive. Beyond playing music by voice command and hands-free Googling, the devices and apps now available to homeowners can help with your everyday needs like cooking, cleaning, managing your utility use, and even improving your home's security.
Home tech options now allow for automating tasks and the convenient remote control of certain devices. From pumping your perfect playlist to stopping an emergency before it starts, here are our best smart home device picks for 2019.
What Can Smart Home Devices Do?
Most of us are familiar with the functions of smart speakers and task-specific devices like robotic vacuums, but what other smart home devices are available and how can they increase your quality of life? Generally, smart home tools and technology can allow for the following:
Control: Smart thermostats can manage the temperature in your home and smart lighting hubs or bridges connect your smart light bulbs, giving you the ability to turn lights on and off at set times or based on commands from wherever you might be located.
Monitoring: Security systems and smoke, water, and other detectors can keep your family safe from intruders or disasters. These systems will also give you peace of mind knowing that your home is safe from crime or other damage even when you aren't physically there.
Automation: This third category of smart home devices will run regular activities on the date and time that you schedule. Starting your dinner before you even leave work or mowing your lawn every Saturday at noon are examples of tasks that you can automate with smart home >technology.
Voice Assistant
Voice assistants are one of the most common and identifiable smart home features. On their own, they are convenient, but they do have limited functionality and features. Where voice assistants become really useful is when they are integrated as a part of a smart home ecosystem, composed of a network of compatible, interactive smart home devices. Many voice assistant devices are compatible across different ecosystems, but you will still need to consider compatibility when buying a new device. Most products will clearly list which ecosystem(s) they work with, so just take the time to check carefully before you buy.
Not sure where to start with creating your smart home? Here's insight on three of the most popular ecosystems from major technology companies. Each has different features, so evaluate your options carefully.
Google Assistant: The major advantage that Google Assistant has is the ability to answer questions and complete commands that other systems can't, thanks to Google's dominance of search engine technology. Because of this, it can offer a higher percentage of correct answers to your questions and has a better understanding of how people naturally speak, giving you fewer literal responses to your commands. Google Assistant can easily integrate into an ecosystem containing products from many top brands, as well as popular apps including Spotify and Uber.
Amazon Alexa: If you are looking to control nearly all elements of your life from a single device, the Amazon Alexa is probably the right choice for you. Alexa has the ability to integrate and speak to most other smart devices and apps — the most third-party integrations of any smart ecosystem. From TVs to thermostats, most smart home products work with Alexa. While shopping for the other products that will make up your Alexa-based ecosystem, just look for the 'Works with Amazon Alexa' indication.
Apple's Siri and Homekit: By setting up your HomePod and Homekit accessories in the Home app on your apple devices (iPhone, Apple Watch, iPad, or computer), it's possible to create a robust smart home ecosystem managed by Siri. You can even set up a home hub to control them remotely.
Automation is just one path to streamlining your home — another is protecting your home using high tech security tools.
Smart Upgrades for Your Home
Whether you already have a robust smart home set up or are new to the ideas of smart home control and automation, there are great upgrades constantly being released in almost every category of technology. Here are our top picks in numerous useful and fun categories.
The Best Hubs and Smart Speakers
Amazon Echo Dot (3rd generation): For only $50, this small speaker offers great sound for playing music as well as making calls via voice commands.
Google Home: At $100, ($50 for the Google Home Mini), this smart speaker can answer numerous questions, keep you entertained, and help you stay on top of your schedule, reminders, calls, and even daily news.
Apple HomePod: Apple devotees can use Siri to control this $300 speaker. With Access to both Apple Music and your own personal digital music library, the HomePod uses 360-degree design, powerful drivers, and automatic calibration to offer amazing sound quality.
The Best Lighting Upgrades
Lifx mini wifi smart bulb: For less than $20 each, these LED bulbs can easily be controlled by your smart home ecosystem, offering potential increases in security and convenience (and decreases in utility bills.)
Nanoleaf rhythm smarter kit: For an upgrade that is more fun than functional, consider using these $300 modular light panels to create dynamic and interesting home design. The Rhythm Module syncs light patterns to your music in real-time, and the panels can also be controlled using the Nanoleaf App, your voice, or the physical controller.
Philips SpaceWise wireless technology DT: Looking for serious energy savings? Philips' new luminaire level lighting control system promises to eliminate energy waste and simplifies the commissioning process with an Android App. You don't have to be a controls expert to use it and your office could be looking at up to 75 percent in energy savings.
The Best Gadgets for Safety and Security
Nest Hello: Video doorbells have become a popular smart home feature due to the convenience and security they offer. For $230, the Nest Hello video doorbell has night vision, a 160 degree field of view with clear, sharp video, and can even play pre-recorded messages for anyone who comes to your door.
Wyze Cam V2: For just $25, this small and inexpensive camera offers sharp 1080p video that can be generated by both motion and sound triggered recordings. It also offers night vision, time-lapse recording, and motion tracking.
SimpliSafe: For home security beyond a camera, the SimpliSafe 3.0 kit starts at $229 for the base station, a keypad, a motion sensor, and an open/close sensors. It can then be customized with a selection of eight different sensors to detect smoke or even the sound of glass breaking. There are no contracts required, but If you'd like any extra support, SimpliSafe does offer an optional $15-a-month professional monitoring package that can be cancelled at any time.
Nest Protect: For a little over $100, the Nest Protect can detect smoke, carbon monoxide, and both slow and fast burning fires. This sensor can even tell you which room the fire is located in and can be linked to the other devices in your smart home ecosystem.
Concerns about devices compromising privacy at home? Read on to make sure you're being smart about your smart devices.
The Best Smart Plug
Belkin WeMo Insight Smart Plug: From its easy set up to its compact size, the $50 Belkin WeMo Insight Smart Plug uses your home Wi-Fi to turn devices on and off remotely and gives you insight into your home energy usage. It also pairs with Amazon Alexa or Google Home for voice control.
ConnectSense Smart Outlet 2: Pairs with Amazon Alexa, Apple HomeKit or Google Assistant, with no hub required. The feature-rich outlet (which has two sockets) also comes with a bonus 2.4 amp USB charging port for juicing up smartphones and tablets.
iHome iSP6X SmartPlug: This $30 device lets you use Amazon Alexa, Google Assistant, or the Apple HomeKit to control whatever item or appliance you have plugged into it. You can even control it remotely via an app.
The Best Smart Thermostats
Ecobee SmartThermostat: This $250 smart thermostat lets you control one of your largest monthly expense creators: your home heating and air conditioning systems. Using an app, or with your voice via Alexa, Google Assistant, and Siri, you can keep your home comfortable and your bills lower. One additional exciting feature of the Ecobee is a remote temperature sensor that can read the temperature of whatever room it's located in and adjust accordingly.
Nest Learning Thermostat: At a similar price to the Ecobee, the Nest smart thermostat has a large, clear display and sensors that can track where you are in your home. It integrates easily with Google Assistant and Alexa.
The Best Smart Robot Vacuum
iRobot Roomba 960: Relatively quiet with solid navigation capabilities and additionally displays a map of cleaned areas. Can be controlled via a smartphone app or voice control using either Google Assistant or Amazon Alexa and comes in just under $500.
Neato Botvac D4: Dying to control your robot vacuum with your Apple Watch? Look no further than the Neato Botvac D4, which ⁠— in addition to its smartwatch functionality and relatively low price tag ($399) ⁠— also comes equipped with laser navigation and smart charging.
Roborock S50 Smart Robot Vacuum Cleaner: This home cleaning helper offers a lot of features for $500: strong suction, intelligent room-mapping for efficient cleaning, a slim profile that can easily fit under furniture, and 2.5 hours of work off of each charge.
The Best Smart Devices for Your Kitchen
Anova Culinary Precision Cooker Wi-Fi: This tool uses the sous vide method to cook food to an exact temperature, ensuring maximum tenderness and moisture retention. For $160, it can be used to cook meat, fish, vegetables, soups, and even desserts.
AmazonBasics Microwave: For only $60, you can easily control your microwave with your voice. It also includes 10 power levels, a kitchen timer, a child lock, and a turntable.
Drop Scale: If you want to modify a recipe but are not sure that you are doing the math correctly, the Drop Scale can help. This $35 tool can scale any recipe by ingredient, and also offers simple ingredient substitutions, and hundreds of new step-by-step interactive recipes.
Best Robot Lawnmower
Husqvarna Automower 315X: This high-end $1,999.95 robotic lawnmower can be easily controlled via a user-friendly app that allows you to start and stop the mower, monitor its progress, create mowing schedules, and track where it has been in your yard. Most importantly, it cuts well, and does it quietly.
Landroid M 20V: Looking for a deal? This automated lawn mower costs about half, at $999.99 has great cutting performance while still managing to be quiet. Its mobile app is user-friendly and it also comes with Wi-Fi and GPS radios. And should it rain? The mower has a sensor that tells it to return back to charger station.
Robomow RS622: If you don't mind the price tag ($2,199) or the upfront setup work required, the Robomow RS622 is extremely quiet with high performance cutting technology. It can also be controlled from iOS or Android device and no bag is needed for discarded cuttings.
Find out the best time to buy these and other common household items.
Make Your Ideal Smart Home a Reality Today
Whether you want to automate every aspect of your daily life, or keep a remote vacation home safe and secure, today's smart home technology makes it easy to seamlessly connect to your home, with multiple options. You may want to upgrade your current home by adding new smart features for your convenience, or start fresh with a new home you know would accommodate your smart home dreams more efficiently.
Decided on purchasing a new space to turn into the perfect smart home? Get pre-approved online before you start shopping, or contact a Pennymac Loan Officer today to get a free analysis of your options.
Share
Categories